2015 CDI Mechelen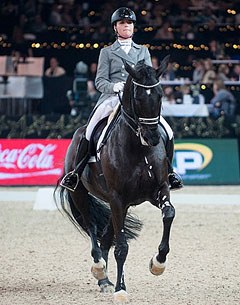 Jumping Mechelen is gearing up for the last World Dressage Masters competition of the year 2015. While Christmas is being celebrated right now, in only three days time the 2015 CDI Mechelen will begin with a 5* big tour as well as a smaller small tour vision on Sunday 27 December 2015.
Five Belgian riders are on that list for the Grand Prix, of which four of them have represented Belgium at the recent European Championships and World Equestrian Games.  Jeroen Devroe, Julie de Deken, Delphine Meiresonne, Fanny Verliefden and Jorinde Verwimp will be competing on home turf in one of only two CDI's organized in Belgium in 2015.

Belgium's northern neigbour The Netherlands will be represented by Katja Gevers, Tommie Visser, and Patrick van der Meer. Jessica von Bredow-Werndl is the only German making the trip to Belgium to compete between Christmas and New Year.
Dressage in Mechelen begins on Sunday 27 December 2015 with the Prix St Georges at 8 AM followed by the 5* Grand Prix at 11 AM.
The participants for Mechelen include:
Big Tour:

Morgan Barbançon Mestre (ESP)
Lucia Gallardo-Munoz (ESP)
Jeroen Devroe (BEL)
Jorinde Verwimp (BEL)
Fanny Verliefden (BEL)
Delphine Meiresonne (BEL)
Julie de Deken (BEL)
Jessica Von Bredow-Werndl (GER)
Katja Gevers (NED)
Tommie Visser (NED)
Patrick Van Der Meer (NED)
Patrik Kittel (SWE)
Inna Logutenkova (UKR)
Katherine Berning (RSA)
Kathleen Raine (USA)
Inessa Merkulova (RUS)
Gonçalo Carvalho (POR)

Small Tour:

Sophie Van Lent-Baetens (BEL)
Isabel Cool (BEL)
Jeroen Devroe (BEL)
Françoise Hologne-Joux (BEL)
Liselot Dupont (BEL)
Jorinde Verwimp (BEL)
Katja Gevers (NED)
Patrick Van Der Meer (NED)
Tommie Visser (NED)
Naoufal Hassani (MAR)
Jessica Von Bredow-Werndl (GER)
Related Links
Heijkoop Beats Cornelissen in 2014 CDI Mechelen Grand Prix Kur to Music
Cornelissen Edges Out Kittel in 2014 CDI Mechelen Grand Prix
Verwimp in Charge of U25 Division at 2014 CDI Mechelen