Swiss Dressage News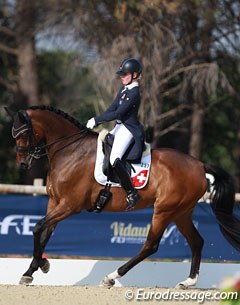 The dressage selection committee of the Swiss Equestrian Federation has announced the dressage teams from pony to senior level for 2016.
The squad listed riders are eligible to compete in national and international dressage championships.
The elite A-team squad for senior Grand Prix riders is supported by team captain Genevieve Pfister.  The pony, childre, junior, young rider and Under 25 rider are supported by Heidi Bemelmans.
The Swiss teams for 2016 include:
Senior Elite Team
Anna-Mengia Aerne-Caliezi
Caroline Häcki-Rindlisbacher
Antonella Joannou
Marcela Krinke Susmelj
Birgit Wientzek Pläge
 Senior Perspective Team
Simona Aeberhard
Markus Graf
Melanie Hofmann
Jessica Neuhauser
Gilles Ngovan
Josephine Rosen
Patricia Schärli
Philine von Bremen
Alexandra Zurbrügg
Under 25 Team
Anthea Hartmann
Andrina Suter
Estelle Wettstein
Young Riders Team
Sharon Höltschi
Estelle Wettstein
Junior Riders Team
Léonie Guerra
Stephanie Hartmann
Elena Krattiger
Ramona Schmid
Naomi Winnewisser
Children Team
Pony Team
Victoria Huet
Nerine Niessen
Katarina Scheufele
Renée Stadler
Photo © Astrid Appels
Related Links
Wyss and Pfister Join Swiss Equestrian Federation's Technical Dressage Staff
Korsch, Winnewisser, Wettstein, Aerne-Caliezi Win 2015 Swiss Dressage Championships
Swiss Dressage Teams for 2015 Announced