American Breeding News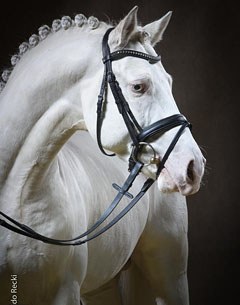 These past five years German Riding Pony stallion owner Melissa Mulchahey has assembled a stellar collection of pony stallions. An enthusiastic pony breeder, she's devoted to increasing the availability of top quality pony stallions for the USA
as well as supporting breeders in Germany, USA, Australia and the European Union. Her stallion collection includes the 2012 Bundeschampion and historical record holder, Golden State, as well as noted FEI competitor Petit Marc Aurel. However, the crown jewel is her cremello stallion, 2014 and 2015 Bundeschampion Golden West (by HET Golden Dream x FS Golden Moonlight), affectionately known as "Westi". 
Plans for 2016
Golden West's success and popularity both at home and abroad inspired Mulchahey to maximize the availability of Golden West while balancing competition goals. She developed a strategic plan in consultation with stallion manager Heiner Rohmann and trainer Wibke Hartmann-Stommel. Golden West will be available for breeding worldwide in 2016; he will continue to stand in 2016 via fresh semen at Hengststation Rohmann, frozen semen has been processed for EU mares and frozen semen will be shipped to the USA and Australia in early 2016.
Additionally, Golden West will transition to the five-year old pony classes under a junior rider. Up and coming FEI Pony rider Julia Rohmann, daughter of Heiner and Caroline Rohmann, recently stepped into the stirrups from Hartmann-Stommel. Julia has achieved FEI pony class success on her pony stallion Dankeschoen with wins and scores over 70%. Julia is very excited to have the ride on Westi.
"I have ridden a lot of horses and ponies but Westi is without words; a 12 is not enough for the rideability. He has so much rhythm with every step like the other. He really is a Dream Pony and I am thrilled and thankful to be able to ride him," said Rohmann.
Julia and Golden West will continue working with Hartmann-Stommel and with Julia's long term trainer Helen Langehanenberg to prepare for the Bundeschampionate and the International Dressage Pony Cup in Verden.
The Jewel in the Crown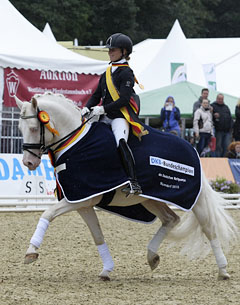 Bred in 2010 by noted pony breeder Bianca Weidner, out of a distinguished damline from Ulrike Hemschenherm of Gestuet Hesselteich, Westi was sold as a foal and reared by Matthieu Beckmann. Westi's full sister is 2011 Bundeschampion Golden Daydream and his half-brother is 2015 Bronze Medalist Diamond Touch. After becoming 3rd Reserve Champion of the Westfalen pony licensing, Golden West was put into the experienced hands of noted pony trainer Hartmann–Stommel.
"Wibke and I had great success working together with Golden State, so we had a well-established partnership before Westi. It's a partnership based on a mutual love for pony stallions, correct training and competitive spirit," says Mulchahey.
Under Hartmann – Stommel's expertise Golden West became a two-time Bundeschampion in 2014 and 2015 as well as 2015 Westfalen Champion. Westi recently capped his four-year old season as winner of his stallion test with an overall 8,89.
Möhrentaxi!
The proof of Golden West's high rideability is demonstrated by lifetime rideability scores no less than 9.5 or 10 from guest riders at competitions and at his stallion test. Golden West has quickly risen to the top despite having only four shows in his lifetime. Hartmann –Stommel says he is "always willing to work, never has any stallion manners, gives an excellent feeling to the rider and is always on your side. He is the same at home as he is at shows and is very reliable." New rider Julia confirms Westi is "very calm but very attentive to the rider. He's very focused on working and constantly pays attention to what I want from him during training."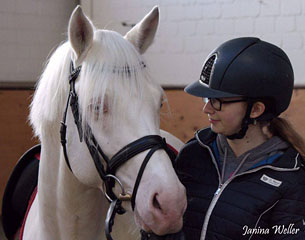 His special character and noteworthy fondness for carrots always entertains at the stable. Each day Julia brings carrots to her ponies and calls out, "Möhrentaxi!" Julia describes: "Westi whinnies loudly, because he's so happy that I'm going to come to him. It's so sweet and he loves to cuddle, he eats his carrots and then he lays his head in my arms."
His relaxed personality in the show ring, stable and the breeding shed has enabled him to stand a very full book of mares the past two years with over forty foals born in 2015 and the same expected again in 2016. Heiner Rohmann confirms "Golden West is a very good breeding stallion, easy to handle, very fertile and knows his job in the breeding shed. He is professional and never seems to have any confusion between breeding and training. We are happy that he is so clear mentally and physically hardy to stand the rigors of a full book as well as competing."
Westfalen breeding director, Wilken Treu, says of Westi's first foal crop: "the foals are very consistent making it easy to see what he brings to the mare; a good pony type face, a well set neck and a positively constructed topline and strong back that gives power to move and to carry the rider. We look forward to seeing the next group of foals in 2016 and are very happy Mrs. Mulchahey is making him available in Germany again."
For more information on Golden West and Roselane Westfalians, visit www.roselanesporthorses.com or Golden West on Facebook
Photos © Recki, Packeiser, Weller
Related Links
Golden West, Price Highlight at 2013 Westfalian Pony Stallion Auction
Riding Pony Power with Wibke Hartmann-Stommel in Charge at 2014 Bundeschampionate
Westphalian Association, Most Successful Breed Society at 2014 Bundeschampionate