History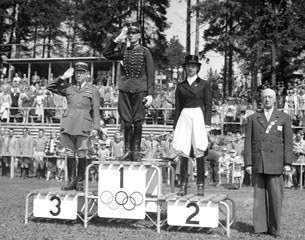 Helsinki probably was the most peaceful location ever to battle for Olympic dressage glory. In the middle of the woods of Helsinki's biggest park the dressage arena was naturally nestled into a wood-glade. It seemed horses and riders who warmed up to enter this natural arena were on a walk through the park with thousands on their feet to accompany them. However, books should never judged by its cover: In reality this piece of wood near Ruskeasuo only provided a deceptively idyllic spot for the run for gold, silver and bronze.
Twenty-seven riders from 10 different nations, of which 8 provided teams with three riders, had come to the north of Scandinavia to contest on the Olympic stage. Compared to today it was a minor field, but it was an improvement to London 1948 when, three years after the war, only 19 riders from 9 nations and just 5 teams competed on a level below Grand Prix. Five of these 19 horses from London reappeared in Helsinki where the Grand Prix was reintroduced to the Olympic Games.
The FEI had wisely not asked for the highest level in 1948 when many countries still suffered the consequences of World War II. Preparing horses for Grand Prix-level takes years of meticulous training and even when Helsinki 1952 approached, many countries had a hard time fielding a team of three. To broaden the world-class the FEI decided in 1950 that from now on women and non-commissioned officers were also be allowed to compete at the Olympic Games. This decision actually fulfilled its intention to a certain degree, even though no real shift of power was recognised at Helsinki and in the years to come.
Who would make it?
Unlike these days there were no absolute favourites in the run-up to the Games.
Opportunities to contest against each other were still comparatively small, even though the FEI revived their FEI championships in 1949. Held as an international event between Olympic Games before WW II, these championships on Grand Prix- and PSG- level allowed the European competitors to at least ascertain their standings. However, travelling was complicated and costs high, so only three or four riders took part in the first two contests before Helsinki, in 1949 and 1951 and they gave no real picture for the Olympic Games.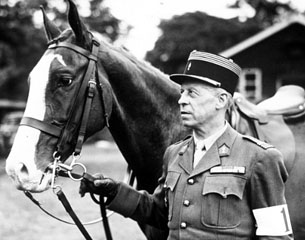 The winner of the 1951 FEI championships in Berne, Colonel André Jousseaume from France, was also silver medalist at London. He would again ride his chestnut Anglo Arab Harpagon. The rest of the French team didn't look too promising, even though they were the defending Olympic team champions. One of their best horses, Colibri, went lame and had to be replaced. The Swedish team, with exactly the same riders as 4 years earlier, was probably the favourite, even though only one of its horses had competed already in 1948. This was Gehnäll Persson's dark bay stocky Knaust (by Eros, SWB) who had been three times Nordic champion until 1951 (with 3 more wins to follow until 1957!). However, both were also the reason that Sweden lost its gold medal of the previous Olympic Games half a year later. Persson, who had been an NCO, was quickly upgraded by the Swedish military to the rank of a lieutenant to make him eligible to compete at the 1948 Olympic team, but got downgraded shortly afterwards. When this became known, Sweden as a team was disqualified and France became Olympic champion.
In 1952 the problem of military ranks was no longer existent and Sweden no longer need to use little tricks to overcome a doubtful rule. Germany, the last Olympic champions at Grand Prix-level in 1936, were rather a tough call, despite their promising appearances at the German shows earlier that year. What had been known was that Otto Lörke was doing his magic again, but would it be sufficient for Germany's Olympic "comeback"? For the German press at that time there seemed no doubt that the German riders would be able to win back gold. However, three Swiss army men from Berne whose horses were comparatively inexperienced at this level were in the picture as well, as they had been placed highly a year before in the FEI championships at PSG-level on their home-turf.
So when the competition started on 28 July 1952 the spectators, who sat on simple wooden benches in the stands, were curious what the teams and individual riders would be.
The Programme of 1952
Despite the rather small field of less than 30 horse-and rider combinations, two days were scheduled for the Grand Prix in which the team as well as individual medals were decided. The reason was to be found in the Grand Prix programme which had to be ridden back then and which was quite time-consuming: 15 minutes were allowed and for each second over this time limit half a point was reduced from the end result.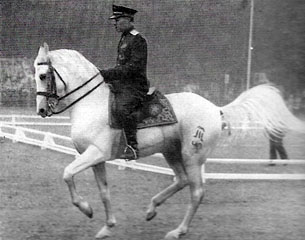 The test foresaw extensive periods of walk movements, such as medium, collected and extended walk, walk half-passes as well as walk half-pirouettes on both reins. Later on a transition from collected canter to collected walk, followed by a schaukel with two rein-backs, one time three and another 6 steps backwards and transition again into collected canter. Remarkably the first Olympic Grand Prix since 1936 also required an extensive piaffe-passage-tour in the middle of the programme: 4 piaffes of 10-12 steps in succession, only interrupted by phases of passage. Both movements were given the highest coefficient of all movements: 30! This part of the programme had been criticised by the press back then, which claimed it to be exaggerated to ask for four passages and piaffes. Many horses were not able to show piaffe and passage sufficiently and suffered from the demands, as did their final result, even if they showed a pleasant ride otherwise.
Subsequently to the disputed piaffe-passage-tour a halt with immobility for 6 to 8 seconds was also required This checked if the horses were ridden with tension beforehand.
Compared to the Grand Prix programmes of our time, the one of 1952 still asked for working trot as well rising trot in working and extended tempo. The first trot extension across the diagonal had to be ridden with the reins in one hand, a good check if the horses were balanced and not leaning on the bit and forehand.
The rides in Helsinki were judged by five judges who all sat at the short side. They came from Switzerland, Holland, Sweden, France and Belgium and their judging revealed that a common vision of dressage was still a far cry, even though the FEI rules as directives were already existent since 1929. Nationalistic tendencies in judging could sometimes not be overseen, something which has plagued dressage from the sport's beginnings. In Helsinki the FEI tried to prevent that by applying for the first and last time in Olympic dressage history something which is now back up for discussion: The highest and lowest score were dropped. What seemed a practicable solution at first sight, didn't result in the desired effect: the remaining scores still revealed huge discrepancies between the judges.
For example Swiss Colonel Max Thommen placed his own Chammartin first and Trachsel second, whereas Olympic champion St. Cyr was put third, while silver medalist Hartel ranked ninth and bronze medalist Jousseaume 18th. French judge Colonel Challan-Belval put his own rider Jousseaume first and French rider Jean de Saint-André seventh (while he ended up being 17th). Swedish judge Colonel Claes König placed the Swedish riders in the first three spots: Persson, who finally became 9th, he placed first place, while winner St. Cyr second and Boltenstern 3rd (he finished 4th in the end).
It should not go unmentioned that nationalistic judging was only partly in an attempt to get the riders from their own country up in the ranking. It was also a consequence of the different schools and approaches to dressage which were still existing  in the 1950s. A common notion in which attitude the horses should move and how specific movements should look like, was printed in theory in the FEI Rule book, but against it stood the individual upbringing and training which each of the judges got in their own country and this might have been stronger on their minds and behind their eyes than the FEI rules.
Spectators, riders and trainers had to be patient. Even though the FEI recommended to announce the results in public as soon as possible, nothing was broadcast until the end of the competition and onlookers had much time to speculate and discuss about the final outcome which in the end was just one big surprise. The final results were only officially announced at the medal ceremony.
Two Ex-Eventers Take the Highest Honour
Studying the still existent reports on dressage in Helsinki, it is surprising to find out how imperfect the riders and horses were, even those winning or in the medals. Those reports not only judge on technical perfection or imperfections of the single movements, but much more so on the attitude in which the horses performed these, making obvious how correctly trained or not they had been. Unfortunately this is something that seems to have vanished these days! 
After having won clearly in London in 1948, only to be disqualified some time later, the Swedish team got their second chance in Helsinki and was able to use it. Their three riders Henri St. Cyr (on Master Rufus), Gustaf Boltenstern (on Krest) and Gehnäll Persson (on Knaust) were unrivalled by any other team on these two summer days in late July 1952.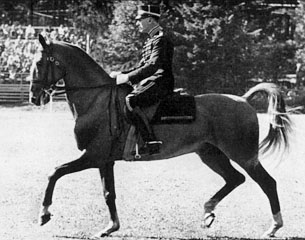 The best pair not only of the team, but also individually was Henri St. Cyr with the already 15-year-old Swedish bred chestnut Master Rufus. This long gelding (by Garant) had been trained and formerly competed by another Swedish rider who took the individual gold in the three-day-event at Helsinki: Count Hans von Blixen-Finecke. With Von Blixen Master Rufus had won the Nordic championships in eventing five years earlier, before becoming a dressage horse.
St. Cyr, who rode the horse to double gold in dressage, was an Olympic eventing rider himself when he represented Sweden at the 1936 Olympic Games in Berlin. He got his in depth dressage training during his time at the Cavalry School in Saumur, where he trained under the tutelage of chief-rider Lt.-Col. Georges Margot.
While the French press celebrated St. Cyr's gold medals as a victory of the French style of dressage, the German press critiqued it more. The legendary Dr. Gustav Rau had rather withering comments, remarking that Master Rufus moved mechanically and was not enough in front of the rider. To him this was the reason that the horse remained in the same frame throughout his ride. The ride, however, was described as a very accurate one without real highlights.
All three Swedish horses were criticsed for not being active enough behind and honestly pushing onto the bit. German expert Erich Glahn, whose reference book "Reitkunst Am Scheideweg" was published 1956, concluded that "without engagement of the hind-legs no lowering of the haunches, without lowering of the haunches no real piaffe and passage."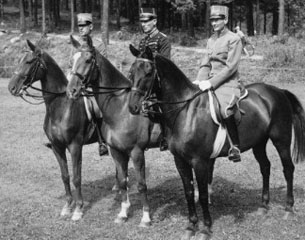 The Swedish gold medal was no real surprise, but Switzerland's silver was for the small Alp republic. With three riders and horses who had only successful been shown at PSG-level the year before, their solid honest, work paid off at the most important of all sports events. For Henri Chammartin from Fribourg, Helsinki was the beginning of an Olympic career of the grandest kind. Working at the Swiss Cavalry Depot in Berne, Chammartin would become one of the most successul dressage Olympians in history and 12 years later he crowned his career with individual gold, winning his last of five medals in 1968. In Finland he rode the youngest horse in the field, the short-legged sturdy, yet harmonious dark-bay Swedish warmblood Wöhler. According to his daughter he was "his most favourite horse. A quick learner and a hard worker, Wöhler pleased my father day by day", Marianne Chammartin told Eurodressage in 2011.
This exceptional character must have been the reason that the small but heavy horse, which would later win the FEI championships and compete again at the 1956 Olympics, was able to debut at the Olympics aged 6! Glahn's comment mirrored the inexperience of the Swiss horses at that level. For him the Swiss team showed correctly ridden horses which had not been made short in the necks as the riders strove to ride them from rear to the front. He also stated that "the way is the right one, but the final goal is not yet achieved." While the seat and style of the Swiss riders proved popular as  they were uniform and very correct, their horses were described as "average cavalry youngsters," even though Gustav Fischer's grey Souliman had above average good gaits.
Germany appeared in Helsinki on three black horses, two Westfalians and a thoroughbred stallion which all had been bred in Westfalia by Count von Nagel-Dornick. At his castle Vornholz near Oelde, German dressage doyen Otto Lörke had trained the horses and riders who now represented Germany at its Olympic comeback after being banned from London 1948.
The German Come Back
While the German press and experts were disappointed by the acceptance of the German horses in Helsinki and some even thought the Germans should have captured the gold medal, their bronze medal was still a remarkable success given the short and forced preparation. Best on the German team was 1936 double Olympic champion Heinz Pollay with the strong gelding Adular (by Oxyd). Aged seven the horse was at the beginning of a promising career which would lead to two more Olympic medals four years later. Heinz Pollay reappeared on the Olympic scene in 1972 as dressage judge in Munich. Adular's half-sister Afrika (by Oxyd) was presented by Countess Ida von Nagel, the sister of the mare's breeder. She became the first female medal winner in dressage for Germany with almost countless more to follow until today. Remarkably Germany's dressage team also included jumping legend Fritz Thiedemann who had been chosen to ride Chronist xx, a horse usually competed by Willi Schultheis but who as a professional wasn't allowed to ride the horse himself. Thiedemann, made immortal on the massive Holsteiner gelding Meteor (by Diskant), managed to win the individual bronze medal in jumping a few days later with this legendary horse.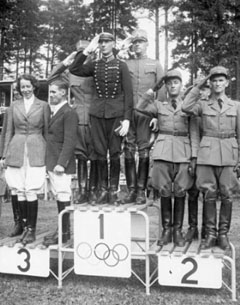 The defending Olympic team champion, France, were only a shadow of its pre-war glory when they were a big force in dressage. Dr. Rau found clear words in his report, stating that Colonel André Jousseaume, silver medalist four years earlier, "was a disappointment." Rau found it unacceptable that a horse which "gaped widely and pulled the tongue up, which "hastened in walk"" and which "had a backwards tendency in the first piaffe" still managed to win the individual bronze medal. The gaping mouths and pulled up tongues are still seen today and tolerated by the judges as long as the horse is flashy enough. Harpagon AA (by Royal Nostre), this refined eleven-year-old which was born in the famous national stud of Pompadour, was without a doubt an impressive horse and his rider Jousseaume, a four-times Olympic medalist since 1932, was one of the most respected riders on the international scene who had remained from pre-war times. It seems hard to assess the 1952 Olympic situation today, but maybe Jousseaume rode a bit on his reputation because also in the following years the horse's bad mouth and all the negative consequences caused by it were mentioned in the press, while the horse continued to be successful.
The other team medalists of London, the USA and Portugal, had no chance to repeat their success in the enlarged field of Helsinki. The USA, now 6th, had justified hopes that Captain Robert Borg, one of their most accomplished riders at the time, would maybe fight for individual medals. His gorgeous Trakehner chestnut Bill Biddle had been doing exceptionally well at the German shows prior to Helsinki, but when it counted he was "over the top" and only a shadow of himself, finishing 11th. The United States first female rider, Marjorie Haines, finished 17th, even though experts raved about her horse, the Hanoverian The Flying Dutchman, describing him as "picture-perfect with an ideal conformation. The horse could have placed highly." The horse had been trained and the rider prepared by the U.S. based German post-war ex patriot Fritz Stecken.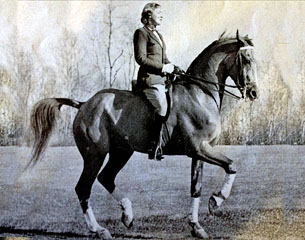 The Soviet Union and Chile had their team debut in Helsinki. For different reasons both countries were more or less isolated from international dressage from 1912 onwards.
The Soviet Union's riders still were significantly influenced by the style which James Fillis had taught during his time as chief instructor at the Cavalry School in St. Petersburg. This for example showed in the Fillis-hold-of-reins the Russian riders practised. Like in the decades to come, they sat on outstandingly beautiful horses, among them the Arab Cecar, ridden by Nikolaj Sitko who would later serve as the Soviet Union's team coach. Even though the well-sitting riders and their talented horses left an impression at Helsinki, they lacked ring experience to place higher than their 7th place.
Denmark's lady surprise
Olympic dressage in Helsinki today might not be remembered in first place for the Swedish triumphs or its beautiful location, but for the first woman able to win a medal in equitation. Denmark's Lis Hartel was no complete stranger to the international dressage scene.
A double Danish champion during the war, the young lady from Copenhagen suffered a severe polio attack from which she recovered through her iron will and fierce determination to sit on a horse again. The often fatal illness left her paralyzed below the knees; moreover her thighs, arms and hands remained comparatively weak. During a time when it was not usual that handicapped people practise riding, neither for therapeutic nor sportive reasons, Hartel took up competing again at the end of the 1940s.
First successful at M-level, her reliable Danish bred mare Jubilee (by Rockwood xx) carried her to a first international win in 1951 in Rotterdam when they placed first in the Prix St Georges.
In Helsinki the ladies' pair competed in one of their first Grand Prix tests and Hartel was totally unsure beforehand if the ride would mean complete failure or rather be a success. Lis Hartel and Jubilee excelled, even enchanted the crowds at Ruskeasuo.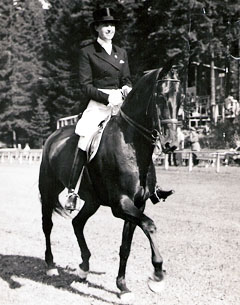 Germany's Dr. Rau, this brilliant yet critical mind, wrote that he had seen "a very nice attractive pair" and "a completely submissive horse." A horse which moved in exemplary self-carriage and with a light contact, a horse which showed a beautiful passage and fluent flying changes, even though there was a hiccup in the one-tempi changes. Jubilee's only weak spot had been and remained for the rest of her career the piaffe which was only some dribbling. Erich Glahn, back then a well respected expert in dressage, distinguished the great harmony and elegance which emanated from the Danish duo and remarked that while some movements were close to perfection, the mare's piaffe was almost non-existent, just like the one of St. Cyr's Master Rufus. Glahn criticised the decision of the judges in Helsinki to place the Swedish horse ahead of the Danish as he saw the more correctly trained horse in Jubilee.
However, Hartel's silver medal had definitely a golden touch for many reasons. She was the first woman on the Olympic podium in dressage, a podium onto which she had to be helped and on which she struggled to stand upright. Only during her first Olympic moment of glory, the equestrian world became aware of her severe handicap and her incredible achievement which was now exposed to the world.
Much more than any medal winner before, much more than gold medalist Henri St. Cyr, Hartel and Jubilee were able to inspire people and won them over to the beauty of dressage. It is not exaggerated to say that Helsinki was the proverbial birth-place of dressage's first real "pop star."
© Silke Rottermann for Eurodressage - Photos © private
Read Part I: The 1952 Olympic Games in Helsinki: En Route to the Games
References

Max E. Ammann, Bucher's Geschichte des Pferdesports, Luzern und Frankfurt 1976, p. 117-119.

Max E. Ammann, The FEI Championships, Lausanne 2007, p. 137

Franz-Rudolf Bissinger (publisher), Sankt Georg Almanach 1952, Neuss am Rhein 1952, p. 20-73; 191 – 201.

Harry Boldt, Das Dressurpferd, Lippe-Lage 1978, p. 74/75, 83

Erich Glahn, Reitkunst am Scheideweg, Heidenheim 1956, p. 55 – 59.

http://library.la84.org/6oic/OfficialReports/1952/OR1952.pdf