2015 CDI Roosendaal Indoor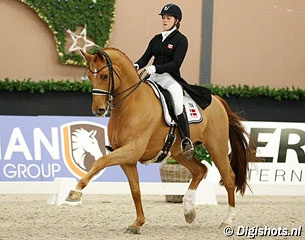 Danish Cathrine Dufour and her double European Young Riders Champion Atterupgaards Cassidy recovered from their "false start" at the CDI-W Odense to be in sync at the 2015 CDI Roosendaal Indoor on Friday morning 4 December 2015. They immediately shot to the top of the leader board in their second senior Grand Prix test ever.
Dufour and her 12-year old Danish warmblood gelding Cassidy (by Caprimond x Donnerhall) made their senior debut at the World Cup qualifier in Odense almost two months ago and scored 64.540% after a difficult test in which her temperamental chestnut was unable to keep the lid on the cooker, spooking from the live jumbotron. In Roosendaal, however, the duo was on the same wavelength.
The 4* Grand Prix in Roosendaal featured no less than 31 riders from a variety of nations world wide and was judged by Eddy de Wolff, Isobel Wessels, Peter Holler, Mariette Sanders-van Gansewinkel and Larysa Velyka. Four of them had Dufour in first place with a total of 73.300%. Only German judge at C, Peter Holler, was slightly lower and had her third. Dufour's marks ranged from 70.600% to 75.300%. 
"I'm so happy with him today, especially after our very bad show in Odense. He was so cool and even though I rode very safely, we had a good score," Dufour told Eurodressage. 
With her winning result Dufour has bagged her first official Danish Olympic qualification score. Her next show will be the CDI Drachten in January and the rider wants to go from there.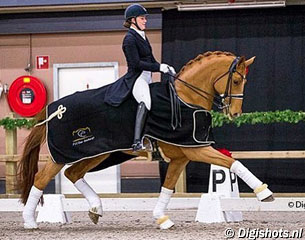 "The qualification to the Olympics is achieved now, but it's only my second normal senior competition so we'll see. I think we have to prove that we can deliver good results after our flop in Odense - so that's our plan from now on. We'll do some competitions this winter and then see where it takes us," she explained.
Belgian Jorinde Verwimp, who contested the young riders classes on her now against Dufour back in 2013, has made a quicker transition to senior Grand Prix level and already competed in her first senior European Championships in Aachen last summer. At the CDI Roosendaal Indoor she finished second in the Grand Prix with 71.220% with the judges being more in unison on her scores.
"I went for more expression today than compared to Stuttgart. He was really one the aids, maybe even a bit too much as he broke into canter in the first trot extension," Jorinde explainde. "He also was slightly a bit tense in the first piaffe-passage line because the arena here is quite narrow. But the piaffe and passage felt very good and expressive; also the tempi changes were smooth and easy."
Jorinde has clearly set the Rio Olympics as her goal this season, but for now is focusing on the indoor World Cup circuit. After competing in Stuttgart, she will be heading to London in two weeks, followed by the World Dressage Masters in Mechelen at the end of the month
The third placed rider in the Roosendaal Grand Prix was Belgian routinier Jeroen Devroe on his Belgian warmblood gelding Eres DL (by Sir Lui x Balzflug). The duo kept a close pace to his Aachen European Championship team mate Jorinde Verwimp and landed third place with 70.160% His marks ranged from 67.000% to 72.800%
"I was very happy with his disposition. This was definitely one of his better tests," Devroe told Eurodressage. "I'm able to ask for more expression in the test because of his maturity. 
Devroe has also set his mind on competing in Rio and will be competing regularly at high-star dressage competitions to boost his place on the Olympic Rider Ranking as Belgium has not qualified a team for Rio. Devroe missed out on both London and Hong Kong due to injuries. Third time's a charm?!
Photos © Leanjo de Koster
Related Links
Scores 2015 CDI Roosendaal Indoor
Triple Gold for Cathrine Dufour at 2012 European Young Riders Championships
Jorinde Verwimp Named 2014 VLP Talent of the Year
De Schepper, Verberne, Kielenstijn, Devroe Win 2015 Belgian Dressage Championships