Eurodressage F.O.C.U.S.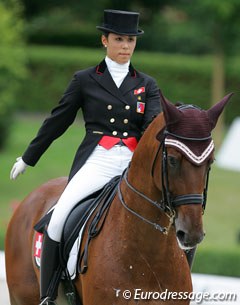 Swiss young rider turned Philippine Grand Prix rider Anne Rita Bertschy has made her senior Grand Prix debut in 2015 on two horses, Tenson and Ventoux. Now proud to compete for her mother's nation, the Philippines, 26-year old Anne Rita has relocated permanently to The Netherlands to focus on her sport career.
"It's a great honor to compete for the Philippines as it is my second country," Anne Rita told Eurodressage. "I was born in Switzerland but through the years I have grown to appreciate my mother's heritage. My siblings and I have always been very attached to our philippino roots so it makes me very proud riding under the Philippine flag. It is my way of showing how much I appreciate my half country."
While Anne Rita admits it is a challenge to ride for the Phillippines, she adds that it is also a great opportunity to bring something new to the Philippines and to the sport of dressage itself.

"The Philippines actually have a jumping team doing a great job competing at an international level, but in dressage it's a first.  I think it's a chance to introduce the equestrian dressage discipline into the Philippines and perhaps one day we will have a team! That would be really great.  I also think it is very positive and healthy for the sport to have different countries from all around the world competing together!"
Bertschy has two irons in the fire: her long-time partner, 15-year old Dutch warmblood Tenson (by Krack C x Zeoliet) with which she competed at one Under 25 CDI in Zandhoven in September 2014 before moving to the senior Grand Prix division; and the 13-year old Dutch warmblood Ventoux (by Ferro x Farmer) who was previously campaigned by Angelique Vroom and Jordi Domingo Coll.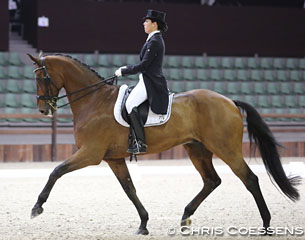 On her way to top level dressage, Bertschy has faced her own set of hurdles. In 2010 Tenson injured himself severely after a great season. The bay gelding had to be turned out for almost two years for his recovery.
"We had competed at the 2010 European Championships in Kronberg, where we finished 10th in the Finals, and together we also won the Swiss Championships for Young Riders," Bertschy explained. "When he got injured we had already qualified for the World Cup Finals for Young Riders in Frankfurt but had to withdraw a few days before."
Anne admitted that she was devastated and really worried about her horse's health.
"We decided to put him in the field and give him all the time he needed to recover. At that time it was really hard because I didn't know if he would ever get back to top sport and he was my only horse. He has out for almost two years, but it was the best thing I could have done for him because he recovered completely," she stated.
During this time she devoted herself to her university studies: a Bachelor in Psychology and Sport and a Masters in Clinical Psychology.
"When Tenson recovered I could compete again, but I still had exams twice a year, so my studies were always interrupted by my training, or shall I say the other way around, that my training was always being interrupted by my studies!"
Bertschy has been loyal to her coach of six years, Anky van Grunsven. While Anne studied at the University in Lausanne, she would take weekend trips to Holland, leaving Friday evenings and returning on Monday mornings. Bertschy is now rounding off her Masters.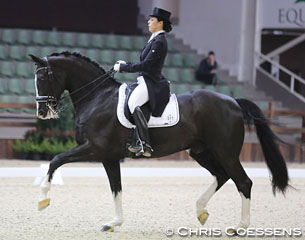 "I am about to finish my Masters Degree in Clinical Psychology, and I am at the moment writing my thesis. If everything goes well I will be officially done with my studies as of February 2016. Now that I'm almost finished, I can say that the timing wasn't so bad, I am happy I was able to manage to do both, and this summer when I finally finished my course and last exams in June and I was able to devote all my time to training in Holland."
Anne's number one is now the 13-year old Ventoux, who she has had in training since last April. "We are still a new team and we are taking the time we need to get to know each other. He is an amazing horse with lots of potential. He has the best character I have ever seen, he is so cool with everything.  Easy to handle, very sweet, a real gentleman," she added.

After missing many years of competition and with it valuable experience and mileage, Anne has much to make up for now. Her plan is to train, train and train.
"I would like to learn, improve and gain all the experience I can. In 2016 I will compete in some national and international shows and see where it goes from there.  But for sure, I would like to keep training in Erp with Anky and continue my path to becoming a top dressage rider, achieve the best scores in Grand Prix, and hopefully finally put the Philippines on the global dressage map."
by Sarah Warne - Photos © Astrid Appels - Chris Coessens
Related Links
Winnewisser, Wettstein, Neuhauser, Aerne-Caliezi Win 2014 Swiss Dressage Championships
Bertschy to Represent Switzerland at 2010 Young Riders World Cup Final
Corinth Did It Again at the 2010 Swiss Dressage Championships
Swiss Riders Selected for 2010 European Junior/Young Riders Championships
Scores: 2015 CDI Lier
Scores: 2015 CDI Maastricht