2015 CDI Zakrzow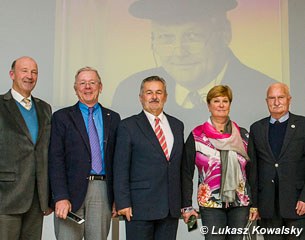 The second international indoor dressage competition in Zakrzow, Poland, on 6 - 8 November 2015 drew a huge field of riders from all over the world. Seventy-two pairs from fourteen countries were entered to compete. Polish Beata Stremler became the big tour winner, while Austrian Belinda Weinbauer swept the small tour.
After an early spring indoor edition in April, the 2015 CDI Zakrzow also staged an indoor in November. The Grand Prix class was dedicated to the late Polish O-judge Wojtek Markowski. A special inaugural "Wojtek Markowski Memorial Cup" was given to the winner of the Grand Prix and the ground jury got closely involved in a special commemorative ceremony during the prize giving.
The ground jury included Sławomir Pietrzak 4* (POL), Peter Holler 5* (GER), Eduard de Wolff van Westerrode 5* (NED), Elisabeth Max-Theurer 4* (AUT), Peter Hansághy 4* (HUN), and Wacław Pruchniewicz 4* (POL).
Check out a photo report from Eurodressage's Polish equestrian photography liaison Lukasz Kowalski.
Related Links
Scores 2015 CDI Zakrzow