2015 CDI Zakrzow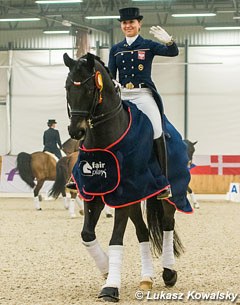 Polish rider Beata Stemler and Rubicon D made their lengthy break from the show ring count by taking victory in the Grand Prix as well as the Speial at the 2015 CDI Zakrow - 6 - 8 November 2015. The German based Polish rider scored 72.660% and 73.647% at their second international since the 2014 World Equestrian Games in Caen, France, fifteen months ago.
"Rubicon D felt really powerful in Zakrzow. It was so easy and fun riding him there. CDI Zakrzow is a very nice show with very motivated people organising it and very good grounds and stables," Beata told Eurodressage.

By winning the Grand Prix Stremler claimed the inaugural 'Wojtek Markowski Memorial Cup', which was extra special for her as Dr. Markowski was very important in her life.
"He was the one who said I must make the move to Germany when I was just 18, and he has  always been there for me since I was a junior, with all his knowledge and all his great advice; I miss him so much."
Taking a substantial amount of time  off with 12-year old Rubicon D to have a chip removed, Beata agreed with the horse's owners and her coach Ton de Ridder to take her time bringing him back into competition.
"Much like Ton and Beatriz did with Delgado," Beata added. "Now I am more than happy to enter the show grounds again with this special horse and our first competition after our break was in Perl in September, where he did a very nice job scoring 71% in the Grand Prix and 70% in the Special.  I could feel though that he still needed a bit more show condition and at the CDI Zakrzow he already felt much stronger!"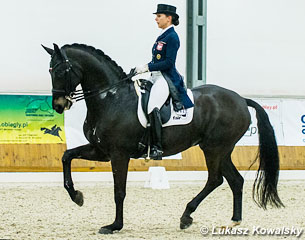 Beata really enjoys riding for Poland as there is a very motivated Federation helping her a lot with the financial side of competition.
"I am really very grateful for this," said Stremler. "I also love representing my country, which maybe doesn't have a big name in the equestrian world, so it is a really nice feeling when I see that even riders from such countries can achieve something.  That spreads the hope and shows other riders from my country that everything is possible."

Beata is aware she has faced hurdles similar to the ones every rider comes across in an active equestrian career. For her it is important to stay focused and always work on one self.
"One day you will achieve some of your goals. I think in our sport it is normal that sometimes we don't get enough points but from the other side, and sometimes we also get too many," she said. "The most important thing is to keep working on ourselves and try to be so good that we just have to get good points! That's it!"
Beata co-owns Rubicon D with Regine and Manfred Loose. He is a very clever and sensitive horse.
"He has learned all the Grand Prix movements without me having to use a whip even once. He doesn't even know what work i hand is. I could teach him everything just playing around. He always wants to do everything right but sometimes his energy takes over and he just has to buck or run a bit too quick.  I have never punished him for it. It's just the way he is."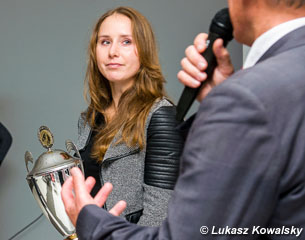 Rubicon D is Beata's second self trained Grand Prix horse after Martini. She took the latter to 2012 Olympics in London and hopes to head to Rio with the Rhinelander gelding. She knows that this goal is very hard to achieve but she will see it through until the very end.
Stremler is based at Gestut Wiesenhof in Krefeld, Germany, and recently took over the ride on the 2012 Trakehner Licensing Champion Donauruf from Fie Skarsoe. Since 2011 she has been coached by Ton de Ridder and she has turned her passion into her profession. Her goals working with horses are to make them supple and happy.
"I love doing basic work and lots of gymnastics during riding. When this works well horses learn the difficult exercises without even realising it. I feel that this way of riding develops their motivation to work for us, and results in easy to ride horses."
by Sarah Warne - Photos © Lukasz Kowalski
Related Links
Scores 2015 CDI Zakrzow