2015 French Youth Riders Championships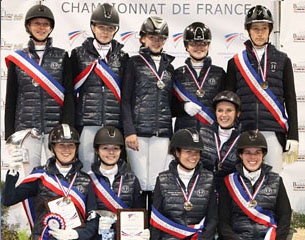 Children rider Mado Pinto, junior rider Hanna Chevanne, young rider Alexia Ducos Blanchet and Under 25 rider Camille Judet Cheret became the grand winners of the 2015 French Youth Riders Championships held in Le Mans, France, on 29 October - 1 November 2015. The event featured 11 championship classes and gathered 900 combinations in total for a weekend of national competition.
The Children division was the largest with 10 riders in total contesting the Championships. Mado Pinto became the overall winner on Rafale du Coussoul (by Mistral du Coussoul) with an average of 72.094% after three rounds. The silver went to Eugenie Burban on the KWPN licensed stallion Sandreo (by Sandro Hit) with 69.992%. The bronze was for Jade Leborgne on Don Calypso DB (by Donnerhall) with 67.359%.
Pony riders did not compete in Le Mans as they had their own, separate Championships at the Grand Nationals in Lamotte-Beuvron in the summer.
In the Junior division Hanna Chevanne topped the leader board on Wineyard (by Wolkentanz II x Matcho AA) with three winning rounds, averaging 70.175%. Justine Ludot and the Hanoverian Bellevue (by Belissimo M x Daidalos) were good for silver with 68.140%. Charlotte Charrier and her Trakehner Rendez Vous (by Connery x Caprimond) settled for bronze with 67.415%.
Alexia Ducos Blanchet and the black Floretta d'Orion (by Falkenfurst x Laser) had to climb to board to take the gold medal in the Young Riders division. The pair won the first round, was second in the second round and third in the Kur, but their average of 68.692% put them first overall and granted them the title. Thomas Bobis and the Hanoverian Woodstock de la Guiche (by Weltmeyer x Lauries Crusador xx) were overall one percentage point behind the winner and got silver with an average of 67.756%. Caroline Dufil and the Dutch warmblood Ardante (by Gribaldi x Inferno) were good for bronze with a 67.297% average.
Three riders contested the Under 25 division and routinier Camille Judet Cheret grabbed the gold with two winning rounds on Rehus Hit (by Sandro Hit x Quat Sous). Judet Cheret scored an average of 66.218% and earned the title. Corentin Pottier and the 13-year old Gotcha (by Goethe x Calypso II) got the silver with an average of 64.885, while Pauline Leclercq and the French bred Khallgazel du Maupas (by Gauguin de Lully x Donnerhall) landed the bronze with an average of 62.405%.
Related Links
Karen Tebar Wins 2015 French Grand Prix Championships
Hel and Judet Cheret Win Gold at 2009 French Youth Riders Championships