Spanish Dressage News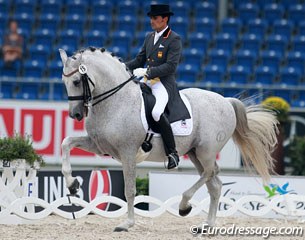 Jose Antonio Garcia Mena's 15-year old PRE stallion Norte will be retired from competition sport in a special ceremony at the 2015 SICAB Fair in Seville, Spain, on Saturday 21 November 2015.
The grey stallion Norte is born in 2000 and is bred and owned by stud farm Lovera in Cordoba, Spain. He is by Cortesano VII out of Iluminada VII (by Aquiles III).
The horse first claimed the spot light as a youngster at Spanish breed shows including performances at SICAB from 2004 till 2007. He was first show by Manuel Mata, but in 2005 Norte began his dressage training as a young horse with Jerez de la Frontera based Jose Antonio Garcia Mena and has stayed with him his entire career.
Norte made his Grand Prix debut in 2009 and in 2010 he began his international show career at the Sunshine Tour in Vejer, where Spanish team trainer Jan Bemelmans at the time had asked the pair to compete.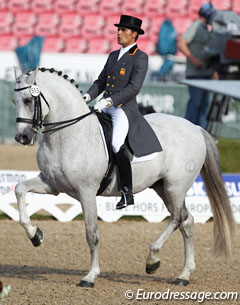 Garcia Mena and Norte were a fixture on the Spanish dressage team since then. He made a stellar first team performance at the 2010 World Equestrian Games in Lexington, Kentucky. He was the second best scoring Spanish duo there.
Shortly after the CDI Vejer in March 2011, Norte sustained a severe injury and it took him almost two years to return to the show ring at the CDI Vejer in February 2013. Put on a lighter show schedule, the horse was able to win the 2013 Spanish Grand Prix Championships and he represented Spain at a major championships three more times: at the 2013 European Championships, 2014 World Equestrian Games and 2015 European Championships. At the latter event in Aachen, the pair was unable to move on to the Grand Prix Special after scoring 'only' 68.771%, after having made it the Special in Herning and Caen.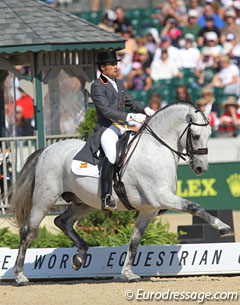 In an interview with Top Iberian, rider Garcia Mena said that "it's a shame we never made it to the Olympics because he certainly deserved it. That stings. I've have more opportunities, but he hadn't." Norte will now be retired from competition sport. "The horse and his welfare is all that matters," said Garcia Mena. "He will now continue his work as a breeding stallion and he'll be certainly a great schoolmaster."
Photos © Astrid Appels
Related Links
Eurodressage Photo Database: Norte
Spanish Team Selected for 2015 European Dressage Championships
Jose Antonio Garcia Mena and Norte Win 2013 Spanish Grand Prix Championship
When God Smiles on Spanish Talent, Garcia Mena Shines at 2013 CDI Toledo
Garcia Mena and Norte Bring Dash to the Arena at 2011 Sunshine Tour