Dutch Dressage News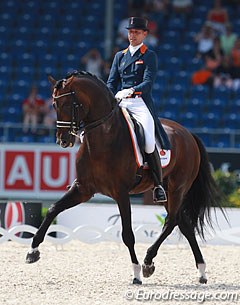 Hans Peter Minderhoud's European championship Special bronze medal winning mount, Johnson, has been added to the NOP Team which financially supports Dutch horses to prevent them from being sold abroad.
The NOP foundation, which stands for Dutch Olympic Horse, is supported by Rabobank and the Dutch Olympic Committee NOC*NSF and financially backs riders and owners to stimulate them not to sell their horses before the upcoming Olympic Games. They get a substantial amount each month to help cover the costs for training, transport, vet bills, etc.
So far four Dutch dressage horses are part of the NOP project: Diederik van Silfhout's Arlando, Edward Gal's Undercover, Adelinde Cornelissen's Parzival and Danielle Heijkoop's Siro. The 13-year old KWPN licensed stallion Johnson (by Jazz) will be the fifth addition.
Johnson, who was originally named Verdi when he got licensed as a 3-year old, is owned by Gaston Glock in partnership with Team Nijhoff.
Photo © Astrid Appels
Related Links
Dujardin Claims Gold in Shocking Grand Prix Special at 2015 European Dressage Championships
Glock Buys Half Ownership in Johnson
Hans Peter Minderhoud to Compete Johnson at 2014 World Cup Final
Wynton, Johnson, Dreamcatcher Win 2008 KWPN Stallion Competition Finals
Vico and Verdi, 2005 KWPN Stallion Licensing Champions