British Dressage News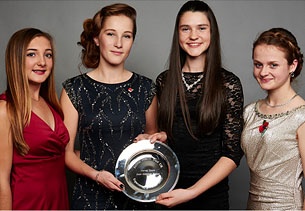 The British pony dressage team that won gold at the 2015 European Pony Championships in Malmo became the recipient of the Dressage Award at the 2015 Animal Health Trust (AHT) UK Equestrian Awards, held at The Dorchester London Hotel on Thursday 29 October 2015.
More than 350 people from the equestrian world attended the new-look awards evening to applaud equestrian achievements in 2015 and to raise vital funds for the charity fighting disease and injury in animals, through treatment and research.
This year Mike Tucker and Zoey Bird presented the 27th UK Equestrian Awards, joined by a host of esteemed guests including Chief Executive of British Showjumping Iain Graham, to give Awards to respective winners in eight categories – Dressage, Eventing, Showjumping, Racing, Voluntary Service, Veterinary, the Animal Health Trust Special Award and, in a brand new category for 2015, the Under 25's Star of the Future Award.
The Dressage Award was awarded to the British Pony Dressage Team, including Phoebe Peters with SL Lucci, Rebecca Bell with Valido's Sunshine, Isobel Berrington with Langar and Clare Hole with Rembrandt DDH. The British Pony Team has had a very successful past two years at the FEI European Pony Championships, and 2015 has been no exception. Earlier this year, in Malmo, Sweden, the team claimed team gold ahead of Germany and Denmark – making history as the first time that Great Britain has ever won the team gold. In 2014 in Millstreet, Ireland they took silver and in 2013 at Arezzo, Italy they took bronze. Last year the team were also the proud recipients of this award at the AHT UK Equestrian Awards 2014, with Phoebe Peters and Rebecca Bell representing the British Pony Team in both years.
Sophie Tyser, Fundraising Officer at the Animal Health Trust, said: "The AHT UK Equestrian Awards is the flagship event in our fundraising calendar, raising vital funds for our work fighting disease and injury in horses, dogs and cats.  We're thrilled that it has been so well supported yet again and would especially like to thank Lady Harris, who has chaired the organising committee during 2015. The addition on the Under 25's Star of the Future Award and new venue have really helped to keep the Awards evening exciting and more relevant to those who will no doubt go on to make equestrian history and will be celebrated in these awards for years to come. Our thanks go to all of our sponsors, and all those who attended on the night who have helped us reach a record-breaking fundraising total, and, of course, to all of the members of the organising committee for their continued support and dedication to making this event such a success. We are already looking forward to celebrating equestrian excellence in 2016."
Related Links
Phoebe Peters Secures Team Gold for Great Britain at 2015 European Pony Championships
Phoebe Peters Claims Kur Gold with World Record Score at 2015 European Pony Championships
Daily Turnout Prevents Dressage Horses from Injury
Roly Owers: "Do Federations Actively Place Welfare at the Heart of Their Strategy?"
Veterinary Focus for 2013 British National Equine Forum
Study on Pirouettes Practised in the Warm-up and Grand Prix Show Ring