2015 Nurnberger Burgpokal Finals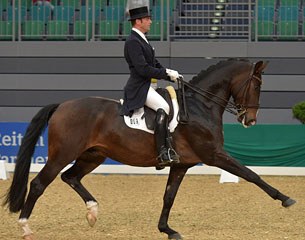 Fifteen combinations have qualified for the 2015 Nurnberger Burgpokal Finals to be held at the 2015 CDI Frankfurt in Germany on 17 - 20 December 2015.
The Nurnberger Burgpokal show circuit with its annual final in Frankfurt is the German equivalent of a Developing Prix St Georges Horse championship for horses between 7 and 9 years of age. 
Fifteen qualifiers throughout Germany took place from April until the end of October. The winners of each qualifying Prix St Georges Special class are automatically be eligble to compete in Frankfurt.
One of the qualified combinations - Lena Waldmann on Dissertation - will not make an appearance in Frankfurt as the horse sold to the Rothenberger family.  A substitute will be announced soon. The horse Lord Carnaby, on the other hand, qualified under two different riders. For the finals only one rider is eligible to compete him.
The qualified pairs are:
Hagen: Isabell Werth- Lord Carnaby - 75,341%
Mannheim: Dorothee Schneider    Santiago - 74,439%
Redefin: Matthias Bouten - Fraeulein Auguste - 75,00%
München-Riem: Carola Koppelmann - Sandiego - 76,536%
Balve: Beatrice Buchwald -  Lord Carnaby - 75,024%
Berlin: Kira Wulferding -  Silver Black -  73,634%
Bettenrode: Manuel Bammel - Hayden HR - 73,317%
Trierweiler: Anja Plönzke - Revolverheld - 73,220%
Neu-Anspach: Lena Waldmann -  Dissertation - 74,732%
Verden: Ann-Christin Wienkamp - Royal Ascot - 75,483%
Dresden: Stephanie Fiedler  - Quadroneur - 69,366%
Schenefeld: Susan Pape  - Don Noblesse  - 74,878%
Perl: Leif Hamberger  - Fahrenheit - 75,122%
Donaueschingen: Matthias Bouten  -  Dante Delux MJ - 73,927%
Nürnberg: Heiner Schiergen - Carlos -74.122%
Photo © Rainer Dill
Related Links
Rath and Samba King Win 2014 Nurnberger Burgpokal Finals
Beatrice Buchwald and Weihegold OLD Win 2013 Nurnberger Burgpokal Final
Schurmann and Burlington Secure Victory in 2012 Nurnberger Burgpokal Finals
Desperado OLD Wins 2011 Nurnberger Burgpokal Finals
Meyer zu Strohen and Rassolini Win 2010 Nurnberger Burgpokal Finals in Frankfurt
Blind Date, 2009 Nurnberger Burgpokal Winner
Victoria Max-Theurer and Augustin Win the 2007 Nurnberg Burgpokal Finals
Comic Hilltop FRH Wins 2006 Nurnberg Burgpokal Finals
Ann Kathrin Linsenhoff and Wahajama Unicef win 2002 Nurnberger Burgpokal
Cockney, 1999 Nurnberger Burgpokal Winner