Oldenburg Breeding News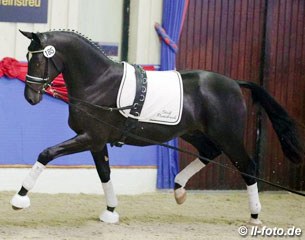 Forty dressage bred colts have been selected to participate in the 2015 Oldenburg Stallion Licensing, which takes place on 19 - 21 November 2015.
Over 190 young colts were shown at the pre-selection days in Vechta, Germany, on 9 - 10 October and the licensing committee made a pick of forty colts to move on to the actual licensing.
The best represented sires are Bordeaux, De Niro, Desperado and Furstenball, each with three accepted colts. Ampere, Sezuan, Foundation and Furst Romancier each have two offspring selected.
The selected dressage colts are:
Ampere x Davignon - owner: Lena Nystrom
Bordeaux x Rousseau - Owner: Platinum Stables
De Niro x Lord Liberty G - Owner: J. Westendarp
De Niro x Sir Donnerhall I - Owner: C.-A. Berding
Desperado x Jazz - Owner: Ad Valk Dressage horses
Fürstenball x Rosario - Owner: Johannes Westendarp
Sezuan x Licotus - Owner: Gestüt Peterhof
Sir Donnerhall I x Welt Hit II - Owner: A. Schwierking & H. Gießelmann
Zack x De Niro - Owner: Blue Hors Aps
Ampere x Dimaggio - Owner: Ingetraud Bolz
Desperado x Wynton - Owner: Ad Valk Dressage horses
Destano x Fürst Heinrich - Owner: Gestüt Sprehe GmbH
For Romance x Dimaggio - Owner: Drpf.leistungszentrum. Lodbergen
Sandro Hit  x Ehrenwort - Owner: Walter Niewerth
Sezuan x Donnerschlag - Owner: Iris Haus
Benicio x Sir Donnerhall I - Owner: W. Sieverding & A. Haase
Bon Bravour x Donnerschwee - Owner: Home of stallions
Charmeur x Ferro - Owner: J. v. Uytert & M. v. de Goor
De Kooning x Ferro - Owner: H. Ramsbrock
Vivaldi x Florestan - Owner: H. Ramsbrock
Damsey x Florencio - Owner: Johan Ifversen
Desperado x Fürst Romancier - Owner: Drpf.leistungszentrum. Lodbergen
Fernando Torres x Osmium - Owner: Fernando Torres Dressage
Foundation x Del Martino - Owner: A. Helgstrand & U. Wagner
Fürstenball x Stedinger - Owner: Laszlo Vagi
Totilas x Sir Donnerhall - Owner: Josef Kathmann
De Niro x Florencio - Owner: Stephanie Kötter-Gribbe
Don Juan de Hus x Benetton Dream - Owner: Jennifer Domesku
Foundation x Sandro Hit - Owner: Alexia Heine
Bordeaux x Don Frederico - Owner: Ulrike Dassler
Bordeaux x Sandro Hit - Owner: Gestüt Lewitz
Fürst Romancier x Sir Donnerhall - Owner: Gestüt Lewitz
Fürst Romancier x Ragazzo - Owner: Sonja Hegenberger
Fürst Wilhelm x Ron William - Owner: Hofgut Blum
Fürstenball x Don Crusador - Owner: Gestüt Lewitz
Sir Fidergold x Don Romantic - Owner: Josef Wernke
Vitalis x Sandro Hit - Owner: Reesink Pferde GmbH
Millennium x Fürst Heinrich - Owner: H. Ramsbrock
Dancier x Don Frederico - Owner: Klausing GbR
Dream Boy x Gribaldi - Owner: Fam. Brinkmann
Photo © LL-foto
Related Links
Boreas, Champion of the 2015 Oldenburg Saddle Licensing
Morricone, Champion of the 2014 Oldenburg Stallion Licensing