USPREA Breeding News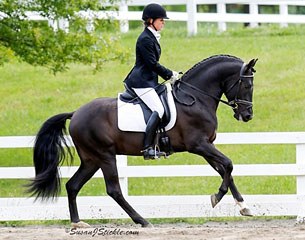 Aragon GAF, a 6-year old PRE stallion by Invasor III, owned by USPRE members Cynthia and Craig Roberts of Glen Aryn Farm, has won the PRE Breed class at the prestigious Devon Breed Show on Thursday 2 October 2015 in Devon, Pennsylvania, U.S.A.
Aragon GAF received the highest score of all three of the Andalusian/Iberian classes in the Breed Division for this year. The dark bay is also a successful dressage competitor trained by Felicitas Von Neumann-Cosel, having won the Copa USPRE for Five Year Olds in 2014 and a 2105 member of the USPRE Dressage Team.
Congratulations to all for this successful weekend at Devon and for representing the PRE Breed with excellence!
2015 Andalusian World Cup Show Successfully Completed in Las Vegas
On Saturday evening 26 September 2015 the 2015 Andalusian World Cup show came to a successful conclusion.  From the standpoint of United States PRE Association, we gathered more members and breeders together than ever before.  Not only did more members come to our Annual Meeting — the notes from this meeting to be published as a separate story — but they came to the USPRE booth, processed services, renewed memberships and we even gathered more new members than in any previous show.
At the culmination of the main show on Saturday afternoon the Born in America Awards were announced.
Colt:  Orlando de Guerra presented by breeder and member Juan Guerra, Yeguarda Juan Guerra
Filly:  Fantasia de Trujillo presented by breeder and member Carlos Mondragon, Placeres del Oro Ranch
Stallion:  Relampago ARM V presented by member and breeder Raul Armendariz, Rancho Armendariz
Functionality:  Relampago ARM V presented by member and breeder Raul Armendariz, Rancho Armendariz
The award for mare was not officially presented by USPRE.  The arenas and vendor floor was full of activity for three solid days.  Betsy Ketcham, vice president of USPRE, was pleased to be a part of it all.  "You can see the renewed interest in the PRE.  Breeders are breeding again, we have had a record number of new owner codes in 2015 and new breeder codes issued this year.  And membership is growing again," she said.
For more information about the U.S. PRE Association, visit www.usprea.com
Related Links
Stenagers Welina, Grand Champion of the 2015 Devon Breed Show
USPRE Announces Winners of the First Copa USPRE
Wellington USPRE High Point Results at 2015 Global Dressage Festival
2015 USPRE Week, The Best One Yet!