2015 CDI-W Devon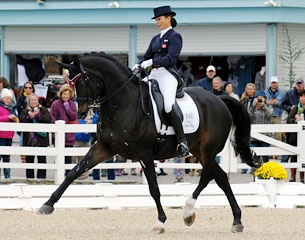 Danish Mikala Münter Gundersen and Janne Rumbough's My Lady put in a powerful performance at the world cup qualifier at the 2015 CDI-W Devon to pick up their fourth CDI victory in a row. Gundersen and the big Danish Warmblood mare danced through their burlesque themed freestyle to the tune of 77.875 percent, giving them a clear lead over the rest of a quality field.
Lisa Wilcox of the U.S. rode the exciting young Galant to second with a 73.95 percent, a significant accomplishment for the 9¬year­old who just recently stepped up to Grand Prix. Behind Wilcox were two Canadians who rode on the silver medal winning team at July's Pan American Games: Belinda Trussell on Anton in third and Brittany Fraser on All In in fourth.
Schedule changes due to wet weather meant that the Grand Prix Freestyle was held Sunday morning rather than in its usual Saturday night slot, which hosted the Grand Prix qualifier for the class instead. The shift meant that Gundersen wasn't able to bring My Lady into the Grand Prix with her usual preparation, although they pulled off the win regardless. In the Freestyle, with the benefit of going through the Grand Prix the night before, My Lady was back on her game.
"Today I had my horse again," Gundersen said. "Today I had the usual Lady. We had a good crowd, a better crowd than last night. For me there is something special about going under the lights at night, but I found the same feeling today."
The pair executed a flowing freestyle with just a couple bobbles, staying in time to their upbeat music arranged by British choreographer Gary Patterson.
"I had a few little mistakes in my first line of one­tempis that I normally never make, but I was trying to listen to the music instead of riding with the feel," Gundersen explained. "That's why I had a small mistake. Then she did a beautiful line of one­tempis. In my last transition from canter to the trot she was a little excited, and I couldn't really find the trot gear. But we found it, and she came out in a super extended trot and beautiful piaffe­passage on the centerline. I was really happy."
Gundersen noted the final centerline featuring passage half­passes into piaffe is one of her favorite parts to ride, but said the true highlight is how well the music fits My Lady, allowing her to really ride to the music.
"When the music comes on she knows exactly what to do," Gundersen said with a smile.
A year­round resident of Wellington, Florida, Gundersen is thinking about applying for dual citizenship with the U.S. when she is able. She couldn't say whether she'd look into riding for the U.S. in the future.
"I can't tell you that right now," she said. "I feel a little 50/50. I feel so welcome here in America and so close with all my American friends. Then I go back and still feel Danish so I don't know what it would change if I changed nationalities."
Part of Gundersen's goal in coming to Devon as well as September's NEDA Fall Festival CDI­W was to chalk up some strong scores toward qualifying for the 2016 Rio Olympic Games. She is aiming to earn an individual qualification for her country after Denmark failed to qualify as a team at the European Championships.
While the spot, if she secured it, would not be earmarked for her specifically, she hopes that by producing the best scores possible, she can earn both the qualification for her country as well as the chance to fill that spot and ride for Denmark in the Olympics. With personal best efforts at the NEDA Fall Festival and great scores at Devon under her belt now, Gundersen has set herself up to make a serious bid for Rio.
Text by MA Brakenridge & Sarah Warne - Photo © Hoof Print Images
Related Links
Scores: 2015 CDI-W Devon
Vinios Victorious in Small Tour at 2015 CDI-W Devon
Stenagers Welina, Grand Champion of the 2015 Devon Breed Show