2015 Swedish Young Horse Championships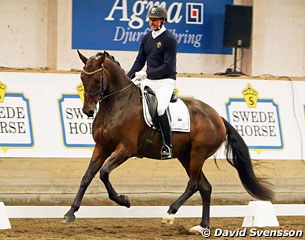 The 3-year old Dragon Welt, the 4-year old Final Countdown, the 5-year old Springbank VH, and the 6-year old Quarton became the winners of the 2015 Swedish Young Horse Championships held at the National State Stud in Flyinge, Sweden, on 29 September - 4 October 2015.
The 3-year old championship was judged by Sanders-Van Gansewinkel, Schenholm and Bo Jena. Ina-Linn Lundholm steered Jan Brink's chestnut stallion Dragon Welt (by Dancier x Weltmeyer) to victory with a 92.60 total score. The silver medal went to Jeanna Hogberg on the Swedish bred Sir Donovan (by Sir Donnerhall II x Don Primero) who totalled 88.200 points and referred Camilla Lindh on Anette Syren's Swedish bred Klifton (by Floricello x Briar) to the bronze with 86.600 points.
The 4-year old Championship is determined by a first round and a round in which a guest judge rider assesses the top ranked horses. For the third consecutive year, Patrik Kittel was the guest judge rider and helped sort out the final ranking. Swedish team rider Emilie Nyrerod  and her German bred Final Countdown (by Furstenball x Brentano II) topped the leader board in the overall ranking after scoring a winning 89.00 points in the first round and getting 94.500 points from Kittel (4th) in the final round. Her overall was 91.750 points, good for the victory. Rose Mathisen and the Swedish bred Heston for U (by Zuidenwind x Prestige) were the runners up with an 83.000 score (4th). Kittel ranked this horse first with 98.500 but the overall score of 90.750 points put them in the silver medal position. Sofie Lexner and Jenny Linden Umes's Valerian (by Vivaldi x Florestan) got bronze with 83.200 (3rd) and 98.000 (2nd) for a total of 90.600 points.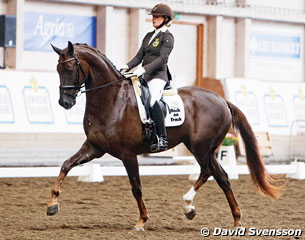 Judges Annette Fransen-Iacobaeus, Bo Jena and Mariette Sanders-van Gansewinkel assessed the Finals' round in the 5-year old Championship and placed Jeanna Hogberg on the liver chestnut Swedis bred Springbank VH (by Skovens Rafael x De Niro) first with 85.600 points. Minna Telde and the Swedish bred Barland I.M. (by Briar x Tip Top) became the reserve champion with 80.800 points. Ida Linn Lundholm collected her second medal of the weekend, bronze by scoring 77.400 points on the German bred Daimjenko (by Dancier x Worldly).
The last class of the weekend, the 6-year old Finals, was judged by Fransen-Iacobaeus, Sanders-van Gansewinkel and Lena Martenson, was won by Yvonne Osterholm on the Swedish warmblood Quarton (by Quaterback x Don Schufro) with a score of 86.40. They placed well ahead of the silver medal pair, Caroline Darcourt on Erik Stromqvist's Swedish bred Sankt Erik II (by Johnson x Weltmeyer) with a score of 85.00 points. Jeanna Hogberg and Absolut Dental's Swedish Fiorucci HT (by Florencio x Rubinrot) got bronze with 84.40 points.
Photos © David Svensson

Results - 2015 Swedish Young Horse Championships
3-year olds (top 10 only)
1. Ida-Linn Lundholm - Dragon Welt (by Dancier x Weltmeyer) - 92.600
2. Jeanna Högberg - Sir Donovan (by Sir Donnerhall II x Don Primero)  - 88.200
3. Camilla Lindh - Klifton (by Floricello x Briar) - 86.600
4. Angelica Byström - Mr Bojangle (by Benetton Dream x Wittinger) - 85.600
5. Yvonne Österholm - Diod (by Ampere x Don Schufro) - 85.200
6. Camilla Axelsson - Damien (by Zuidenwind x Don Schufro) - 84.400
7. Anna Svanberg - Allegra (by Ampere x Archipel) - 83.600
8. Emilie Nyreröd - Elholms Bonito (by Bögegårdens Boney M x Don Schufro) - 83.400
9. Mattias Jansson - Oban VH (by Floricello x De Niro) - 81.800
10. Sandra Sterntorp - Diorissima Vena (by Floricello x Belissimo M) - 81.200
4-year olds (top 10 only)
guest judge score - saddle test score - total
1. Emilie Nyreröd - Final Countdown (by Furstenball x Brentano II) - 94.500 - 89.000 --- 91.750
2. Rose Mathisen - Heston for U (by Zuidenwind x Prestige) - 98.500 - 83.000 --- 90.750
3. Sofie Lexner - Valerian (by Vivaldi x Florestan) - 98.000 - 83.200 --- 90.600
4. Ida Håkansson - Görklintgårds Quinto (by Quaterback - Sunny Boy) - 87.500 - 87.800 --- 87.650
5. Marina Mattsson - Fireball Macohl (by Furstenball x Rosentanz) - 95.000 - 78.400 --- 86.700
6. Sandra Sterntorp - Santana (by Scolari x Hochadel) - 91.000 - 80.000 --- 85.500
7. Jacob Nörby Sörensen - Amplemento (by Ampere x Sir Oldenburg) - 85.000 - 78.000 --- 81.500
8. Yvonne Österholm - Simmebros Bisquit (by Shooting Star x Florestan) - 85.500 - 77.000 --- 81.250
9. Yvonne Österholm - Dorina (by Belissimo M x Don Schufro) - 82.500 - 76.800 --- 79.650
10. Mads Hendeliowitz - Grappa Q (by Gribaldi x Jazz) - 80.500 - 78.200 --- 79.350
5-year olds (top 10 only)
1. Jeanna Högberg - Springbank VH (by Skovens Rafael x De Niro) - 85.600
2. Minna Telde - Barland I.M. (by Briar x Tip-Top) - 80.800
3. Ida-Linn Lundholm - Daimjenko (by Dancier x Worldly) - 77.400
4. Mia Runesson - Odd Molly (by Zuidenwind x Guinness) - 76.800
5. Anna Espelund - QC Sir Dennis (by Sir Donnerhall x De Niro) - 76.600
6. Yvonne Österholm - Dorette (by Quaterback x Don Schufro) - 76.400
7. Stefan Jansson - Zidney (by Zuidenwind x Laurentio) - 75.600
8. Christian Bengtsson - Fame (by Floriscount x Weltmeyer) - 75.000
9. Mikaela Alderin-Danielsson - Bossanova YL (by Bocelli x Lobo) - 74.600
10. Yvonne Österholm - Fiera Girl (by Faustinus x Rubinrot) - 73.400
6-year olds (top 10 only)
1. Yvonne Österholm - Quarton (by Quaterback x Don Schufro) - 86.400
2. Caroline Darcourt - Sankt Erik II (by Johnson x  Weltmeyer) - 85.000
3. Jeanna Högberg - Fiorucci Ht (by Florencio x Rubinrot) - 84.400
4. Mads Hendeliowitz - Lady Day (by Damino SD x Biggles) - 81.400
5. Stefan Jansson - Locatelli (by Loredes x Rubinrot) - 81.200
6. Pernilla André Hokfelt - Rakeback VH (by Skovens Rafael x Corrado WL) - 77.800
7. Anna Svanberg - Missisippi (by Highcruiser x Maraton) - 76.400
8. Karin Öljemark - Samson (by Samba Hit II x Duntroon) - 76.200
9. Malin Rinné - Egeran M (by Painted Black x Ed King Hill) - 74.400
10. Anna Österberg - Rolecz (by Rosevelt x Calino) - 74.000
Related Links
Romeona, Frankie Boy, Scara Boena, Dan Brown Win the 2014 Swedish Young Horse Championships
Springbank, Revolution, Bilan, Rausing Win 2013 Swedish Young Horse Championships
Bonheur, Dunhill, Carlton Hill, JJ Rayban, Isac Win 2012 Swedish Young Horse Championships
Christo, Rausing, JJ Rayban, Isac and Hohenstaufen II Win 2011 Swedish Young Horse Championships
Sohn der Sonne, Bellagio, Isac, Jimmie Choo Win 2010 Swedish Young Horse Championships
Bellagio, Deja, Belamour and Paridon Magi Win 2009 Swedish Young Horse Championships
My Princess, Hohenstaufen II, Wladimir OA, and Yantuge win 2008 Swedish Young Horse Championships
First Wish, Excalibur of Avalon and Hermes, 2007 Swedish Young Horse Champions
Scores 2006 Swedish Young Horse Championships
Scores 2005 Swedish Young Horse Championships
Scores 2003 Swedish Young Horse Championships