2015 Devon Breed Show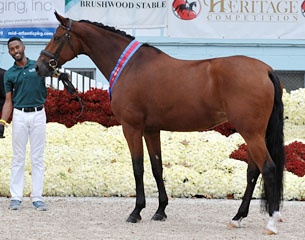 The 6-year old Danish warmblood mare Stenagers Welina (by Wilkens x Sandro Hit) was named the Grand Champion of the 2015 Devon Breed Show, which took place in Devon, PA on 29 September - 1 October 2015 right before the CDI-W Devon.
Dressage at Devon is proud to be one of the few dressage shows in the country that offers a complete Breed Show including in-hand and under saddle classes. Beginning as only a few in-hand classes in 1975, now 40 years later, the Breed Show has grown to three days of competition.
Welina Wins 2015 Devon Grand Championship
The Mare Championship was won by Welina (by Wilkens out of Stenagers Santana (by Sandro Hit)), a bay Danish Warmblood mare bred by Bjarne & May-Britt Cristensen. She was sold as a foal in Denmark at the 2009 Elite Foal Auction and first presented there under saddle as a youngster before being imported into the U.S.A in 2014. Welina was also number one in the Mature Horse Championship. And, finally, Welina went home with the Grand Championship. The bay mare is now trained by Babsi Neidhardt-Clark and owned by Nancy Radtke.
The reserve Grand Champion was the Hanoverian yearling filly Danae MF (by Doctor Wendell x Rotspon), bred and owned by Maryanna Haymon. The other two contestants vying for the Grand Champion's title were the 3-year old Oldenburg filly Shcooter (by Shakespeare x Royal Prince) and the 10-year old Dutch warmblood mare Andorra ISF (by Sir Sinclair x Consul).
MW Feinermark (by Fidertanz out of Cindy) a five-year old chestnut German Oldenburg Verband (GOV) bred by Ludger Holthaus and owned by Jennifer Vanover of Middletown, NY, was a big winner, winning both the Stallion Championship as well as the Materiale Championship.
The Breeder's Group is awarded to a group of no more than three horses of any age or sex, all bred by the person exhibitor and entered under the exhibitor's name. This year, the winner was Iron Spring Farm.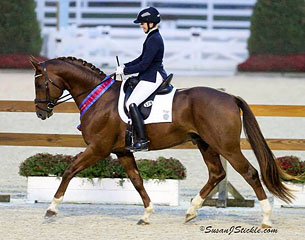 "Born in the USA" Breeders award was developed in 2003 by the Dressage at Devon committee to recognize and reward the achievements of American breeders of Sport Horses. To be eligible, horses must be conceived and foaled in the USA. Scores earned in the open competition Tuesday and Wednesday are used to identify the winners. This year, the high point winner was Kouture (by Florianus out of Glamour Girl). The bay filly bred by Lesley Feakins received a score of 83.625.
Foals and Youngsters
The 2015 Foal Championship was won by Florioso (by Floriscount out of Assprache), an Oldenburg colt owned by Scott Durkin of Kerhonkson, NY, with a score of 78.063.
The Colt/Gelding Final was won by Floristdanzo (by Floriscount out of Wisconsin), an Oldenburg colt owned by Cara Kettenbach, with a score of 78.875.
The 2015 Filly Final was won by Christabell (by Christ out of Danae), a 3-year old Hanovarian, owned by Hannah Salazar took home the honors with a score of 78.2.
Breed Classes

The Iberian horses started off the Individual Breed Class on Day 3 of Dressage at Devon.  They were followed by Oldenburgs, Danish Warmbloods, Appaloosas and more, totaling more than 20 breeds in the Dixon Oval.  Each breed is different, with different characteristics, personalities, movements and more. And each breed has devoted followers many of whom just can't understand why others don't see that their breed is the best!
The Hanoverians, for instance, were shown in two classes: 2 and under and 3 and older. The 2-year and under class was won by Steinbeck HTF (by Sternlicht out of Raja HTF), bred and owned by Hilltop Farm. The 3-year old and older class was won by Hotstreak CF (by Hotline out of Rococo OSH), a bay gelding owned by Mary Beth Stanton DVM.
Photos © Hoof Print Images / Sue Stickle
Related Links
Danseuse MF, Grand Champion of the 2014 Devon Breed Show
Sanibelle, Grand Champion of the 2013 Devon Breed Show
Beatrice VDL Named 2012 Devon Breed Show Grand Champion
Rheporter Claims 2011 Devon Breed Show Grand Champion's Title
Rabiola Renews Grand Champion's Title at 2010 Devon Breed Show
Rabiola Scores Hattrick at 2009 Devon Breed Show
Quarterback Offspring In the Ribbons at 2009 Dressage at Devon
Coverage of 2001 Dressage at Devon