KWPN Breeding News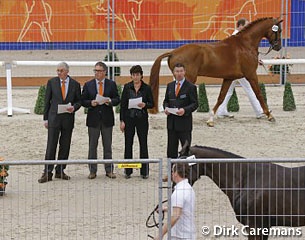 Bert Rutten will be replacing Wim Ernes as chair of the KWPN Stallion Licensing Committee as of 1 December 2015. The appointment was decided on the KWPN Members Meeting on 30 September 2015.
Wim Ernes resigned early from his position as chair of the KWPN Stallion Licensing Committee because of a conflicting time schedule with his duties as Dutch dressage team trainer.
Rutten will now take over his slot as chair for a three-year period from December 2015 till December 2018.
The 54-year old Rutten has his own breeding and dressage stable in the south of The Netherlands. He has trained 12 horses to Grand Prix level and was member of the Dutch Olympic team in 1984 with Parcival (by Kristal). He won team silver at the 1986 World Championships and finished 10th individually. He also competed Garibaldi and KWPN stallion Zirkoon at several European Championships.
Rutten has owned and trained many, most home bred, KWPN dressage stallions including Clavecimbel, Havidoff, El Corona and Montecristo. He has been a member of the KWPN licensing committee before he became Dutch team trainer in the early 2000s.
Photo © Dirk Caremans
Related Links
Sjef Janssen Resigns as Dutch Chef d'Equipe
Sjef Janssen, New Dutch Grand Prix Team Trainer
Bert Rutten, New Dutch Dressage Chef d'Equipe
Jo Rutten Passed Away