2015 Italian Dressage Championships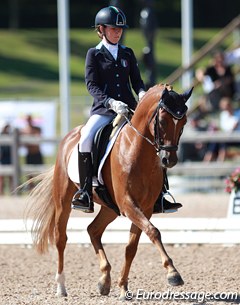 Pony rider Nina Teresa Zennaro, junior rider Valentina Remold, young riders Annachiara Menin and Francesca Rapazzoli and Grand Prix rider Micol Rustignoli became the winners and gold medalists at the 2015 Italian Dressage Championships at the Arezzo Equestrian Centre in Arezzo, Italy, on 25 - 27 September 2015.
The Italian Championships are two-pronged: a technical championship with the team and individual test scores combined -- for the seniors those are the Grand Prix and Special -- and then a separate Italian Championship just for the freestyle classes. In all divisions except young riders the technical and freestyle champion were the same. Young Riders Annachiari Menin and Francesca Rapazzoli had to share gold though.
In the pony division Nina Teresa Zennaro was unbeatable aboard her chestnut Duesmann (by Der Feine Lord). She won the technical championship with 72.487% and 71.878% and the freestyle championship with 71.075 %. Two silver medals went to Caterina Nero on Blakt's Thomas (by Rietheim's Walter), but the technical bronze was for Viola Sansone on Real Nice Boy (by Stukhuster Ricardo Go for Gold), while the freestyle bronze went to Cecila Magni on FS Cascada (by Champion de Luxe).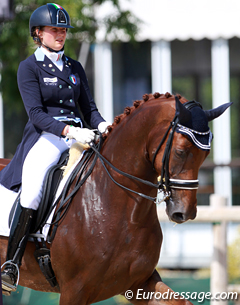 In the junior riders' category Valentina Remold reigned supreme on Broadway (by Vivaldi x Clavecimbel), posting winning scores in the technical and freestyle championship: 71.189%, 71.789% and  76.050 %. Lucia Berni and her grey Westfalian Ebony (by Ehrentusch) collected double silver, while Alice Campanella made a double bronze medal winning debut on her new ride De Miro, a 13-year old  by De Niro x Feinbrand previously owned and ridden by Jacqueline Tonnaer.
In the Young Riders division the battle for gold raged between Annachiara Menin on Donatello van de Helle (by Donnerhall x Akzent II) and Francesca Rapazzoli on Classiker (by Coriando x Grosso Z). The former won the Technical championship with 68.632% and 67.842%, while the latter got gold in the freestyle with a 68.275 % score. Rapazzoli got technical silver, Simone Citelli technical and freestyle bronze.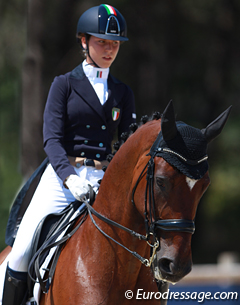 At Grand Prix level Italian team rider Micol Rustignoli on the 16-year old Corallo Nero (by Sherwood x Landadel) won the Technical gold with a second place in the Grand Prix (67.900%) and a first in the Special with (67.431%). She also won freestyle gold with a 72.275 % score. Rustignoli was the only rider to score above 70% in the Kur. The technical silver went to newcomer Stefano Mantica on Eva Zanella's Vancouver, who was previously shown by Stefano's life partner Monica Iemi.  Mantica rode his first National Grand Prix Championships and scored 66.120% and 64.745%. Technical bronze and freestyle silver went to team rider Federica Scolari on Beldonwelt with modest scores of 64.440%, 65.118% and  72.275%. Team rider Ester Soldi and Harmonia bagged freestyle bronze with 68.350%. 
Valentina Truppa made her come back in Arezzo after her fall and head injury in June. She won the Grand Prix  with 75.280% but during the warm-up for the Special she decided to withdraw her 14-year old Eremo del Castegno (by Rohdiamant x Weltmeyer) from further competition. The fourth Italian team rider Leonardo Tiozzo did not compete at the 2015 Italian Championships.
Photos © Astrid Appels
Results - 2015 Italian Dressage Championships
Technical Championships
Pony Riders
1. Nina teresa Zennaro - Duesmann - 72.487 -71.878  --- 144.365 %
2. Caterina Neri - Blakt's Thomas - 68.872 - 68.951 --- 137.823 %
3. Viola Lucrezia Sansone - Real Nice Boy - 67.744 - 66.902 --- 134.646 %
4. Mael Bombaci - Popcorn - 67.718 - 66.902 --- 134.620 %
5. Francesca Cintia - Golden Empire - 66.718 - 65.122 --- 131.840 %
6. Cecilia Magni - FS Cascada - 65.205 - 65.146 --- 131.659 %
Maria Vittoria Brugnaro - Keerlke - 65.205 - ELI
Junior Riders
1. Valentina Remold - Broadway -  71.189 -  71.789 --- 142.978 %
2. Lucia Berni - Ebony - 71.081 - 69.895  --- 140.976 %
3. Alice Campanella - De Miro - 68.162 - 68.395 --- 136.557 %
4. Matilde Pirazzini - Waronia L -  67.622 - 66?316 --- 133.938 %
5. Filippo di Marco - Anava Welt - 65.730 - 65.553 --- 131.283 %
6. Ginevra Coperchio - Don Rodrigo - 66.946 - 62.579 --- 129.525 %
7. Camilla Colombo - Venus E - 66.649 -  61.368 --- 128.017 %
8. Rebecca Teresa Brugnoli - First Love - 66.730 -  60.947  --- 127.677 %
9. Marta Bafile - Dovizioso - 63.865 -  62.921 --- 126.786 %
10. Maria Letizia Massa - Furst Diamond -  63.054 -  62.921 --- 125.975 %
11. Sofia Fontana - Romeo -  63.541 -  62.184 --- 125.725 %
12. Anita Bacchetti - Vilight - 64.135 -  60.079 --- 124.214 %
13. Carolina Accolla - Eliko -  57.973 - 54.579 --- 112.552 %
14. Chiara Luccioli - Tropea -  57.838 - 54.053 --- 111.891 %
Young Riders
1. Annachiara Menin - Donatello van de Helle - 68.632 - 67.842 --- 136.474 %
2. Francesca Rapazzoli - Classiker -  67.711 -  65.658  --- 133.369 %
3. Simone Citelli - Ray -  66.447 -  64.263 --- 130.710 %
4. Roberto Callegari - Red Top -  65.263 - 63.395 --- 128.658 %
5. Camilla Mauro - Santo Stefano Francis -  64.184 - 61.553 --- 125.737 %
6. Flaminia Veneziani - Riverdance - 63.658 - 60.632  --- 124.290 %
Grand Prix Riders
1. Micol Rustignoli - Corallo Nero - 67.900 - 67.431 --- 135.331 %
2. Stefano Mantica - Vancouver - 66.120 - 64.745 --- 130.865 %
3. Federica Scolari - Beldonwelt - 64.440 -  65.118 --- 129.558 %
4. Ester Soldi - Harmonia - 64.520 -  64.961 --- 129.481 %
5. Giuseppe Utili - Ultimate Dream - 62.880 -  62.294  --- 125.174 %
6. Eva Rosenthal - Xeres do Zambujal - 62.200 -  60.725 --- 122.925 %
Valentina Truppa - Eremo del Castegno - 75.280 - DNS
Freestyle Championships
Pony Riders
Judges: Milanese, Poncino, Hamoud, Petaccia
1. Nina Teresa Zennaro - Duesmann - 71.075 %
2. Caterina Neri - Blakt's Thomas - 69.525 %
3. Cecilia Magni - FS Cascada -  66.000 %
4. Viola Lucrezia Sansone - Real Nice Boy -  65.300 %
5. Francesca Cintia - Golden Empire - 64.900 %
6. Mael Bombaci - Popcorn - 64.025 %
Junior Riders
Judges: Poncino, Hamoud, Rovida, Petaccia
1. Valentina Remold - Broadway - 76.050 %
2. Lucia Berni - Ebony -  71.825 %
3. Alice Campanella - De Miro -  71.200 %
4. Camilla Colombo - Venus E -  68.325 %
5. Filippo Di Marco - Anava Welt - 67.825 %
6. Matilde Pirazzini - Waronia L - 67.575 %
7. Ginevra Coperchio - Don Rodrigo - 66.400 %
8. Rebecca Teresa Brugnoli - First Love - 66.275 %
9. Marta Bafile - Dovizioso -  65.525 %
10. Anita Bacchetti - Vilight - 64.500 %
11. Sofia Fontana - Romeo -  64.000 %
12. Maria Letizia Massa - Furst Diamond - 63.975 %
13. Chiara Luccioli - Tropea - 61.325 %
Young Riders
Judges: Gatti, Rovida, Poncino, Hamoud
1. Francesca Rapazzoli - Classiker - 68.275 %
2. Annachiara Menin - Donatella van de Helle - 67.500 %
3. Simone Citelli - Ray - 66.275 %
4. Camilla Mauro - Santo Stefano Francis - 65.450 %
5. Roberto Callegari - Red Top - 60.425 %
Grand Prix Riders
Judges: Petaccia, Rovida, Hamoud, Poncino
1. Micol Rustignoli - Corallo Nero - 72.275 %
2. Federica Scolari - Beldonwelt - 68.700 %
3. Ester Soldi - Harmonia - 68.350 %
4. Stefano Mantica - Vancouver -  68.225 %
5. Eva Rosenthal - Xeres do Zambujal -  65.675 %
6. Giuseppe Utili - Ultimate Dream - 59.975 %
Related Links
Berni, Remold, Menin, Redaelli, Truppa Win 2014 Italian Dressage Championships
Berni, Mauro, Citelli, Truppa Win 2013 Italian Dressage Championships
Valentina Truppa Sweeps the 2011 Italian Dressage Championships
Pierluigi Sangiorgi Wins 2008 Italian Dressage Championships