French Breeding News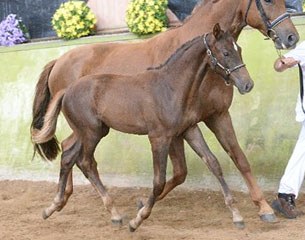 The colt Qir Royal du Payrol and the filly Briseis d'Arion became the winners of the 2015 French Foal Championships held in Saumur, France, on 25 - 27 September 2015.
This year's French Foal Championships were judged by Franz Rupp, Konrad Ratzinger and Jean-Marc Zalkind.
In the colt category the Oldenburg branded Qir Royal du Payrol (by Quaterbold out of Why Not) topped the leader board with a total of 81.00 points for the national title. All three judges placed this colt first. Geraldine Cillo's Fratelli Figerro (by Finest out of Lisee Verchere) became the reserve champion with 78.00 points. Zalkind had him second, Rupp third and Ratzinger eleventh. Dorothee Kuhn's Hanoverian bred Django Doremy (by Dancier out of Weltina Pic) completed the top three with 78 points as well and was ranked third with all three judges. 
In the filly category Isabelle Furlanetto's Hanoverian bred Briseis d'Arion (by Benicio out of Solaria d'Arion) topped the leader board for the title with 85.00 points. Rupp and Ratzinger had her first, Zalkind fourth. Jean Claude Ferrand's Flora L.H. (by Fursten Look out of SPR Dolores) became the reserve champion with 84.000 points. Isabelle Furlanetto also bred the third ranked filly, Freyja L.H. (by Don Olymbrio out of Donna Laura) who scored 79.667 points.
Results - 2015 French Foal Championships
Colts
1. Qir Royal du Payrol (by Quaterbold) - 81.000
2. Fratelli Figerro (by Finest) - 78.000
3. Django Doremuy (by Dancier) - 78.00
4. Famous Grez Neuville (by Negro) - 77.000
5. Zackarius (by Zirkon) - 76.667
6. Feeling de Bonnaire (by Tolegro) -75.667
7. Fandreo de la Blanche (by Sandreo) - 75.333
8. Fergal Tosta (by Soliman de Hus) - 75.000
9. Feniks de la Baronnie (by Negro) - 74.333
10. Rossini Boderes (by Willi's Beste) - 74.000
Fillies
1. Briseis d'Arion (by Benicio) - 85.000
2. Flora LH (by Fursten Look) - 84.000
3. Dynamic Star d'Arion (by Devereaux) - 81.333
4. Freyja LH (by Don Olymbrio) - 79.667
5. Fhara de la Baronnier (by Negro) - 77.000
6. Firenze du Presard (by Idole de Lauture) - 75.333
7. Francia Grez Neuville (by Danciano) - 73.000
8. Loua Chich de Lunezy (by Quazar de la Font) - 67.000
Related Links
Sinatra de Hus and Nacre des Pres Win 2013 French Foal Championships
Soleio d'Arion and Atomic Kitten LH Win 2011 French Foal Championships
Erasme de Voulx and Fantasy Boderes Win 2010 French Foal Championship
Shenandoah and Sambejah Win 2006 French Foal Championship