2015 French Young Horse Championships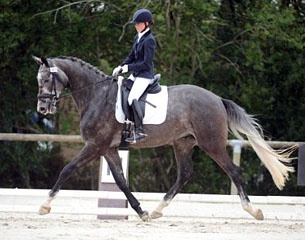 The 4-year old Flair Royal, the 5-year old Quaterdance, and the 6-year old Quaterbold du Payrol became the winners of the 2015 French Young Horse Championships held in Saumur, France, on 25 - 27 September 2015. The French Young Horse Nationals becomes more and more an international affair with foreign riders attending the Championships, which are staged during this "Grande Semaine" in Saumur which includes the CDI 3* as well as national breed finals.
British Sarah Rogers won the 4-year old division on Marietta Almasy's Oldenburg gelding Flair Royal (by Fairbanks x Royal Diamond). The grey gelding won the first round with 86.83% and the final round with 81.40 to total a winning average of 82.306%. Caroline Godin steered her own Hanoverian bred Quarida de Hus (by Quaterback x Furst Heinrich) to silver. The pair finished fifteenth in the first round with 80.83% and was second in the finals with 81.00% to finish on a second overall place with 80.972%. German Tassja Janssen rode Bernadette Brune's black Oldenburg Sirano de Luxe (by Sir Donnerhall x De Niro) to bronze with two third place finishes on 85.83% and 80.00%.
In the 5-year old division Belgian Amandine Prevost renewed the French young horse title aboard the German Sporthorse bred Quaterdance (by Quaterback x Expose) winning both rounds with 88.17 and 83.20 to finish on gold with 83.848%. Renaud Ramadier earned silver on the Lusitano cross bred Alquazar de Massa (by San Amour x Landim). He was fourth in the first round (81.33)% and second in the finals (82.00) to rank second overall with 81.913%. Isabelle Pinto and the Hanoverian Sultan des Paluds (by Soliman de Hus x De Niro) got the bronze with 87.00 and 80.50 to average 81.348%.
In the 6-year old division Alizee Roussel took highest honour aboard the Oldenburg bred Quaterbold du Payrol (by Quaterback x Donnerschwee). The duo was undefeated in both rounds with 86.50% and 82.20% to finish first on 82.591%. Belgian Larissa Pauluis and the Dutch bred Extasy K (by Don Massimo x Ferro) were second overall with 86.33 and 82.00% (average 82.394%). Local hero Gildas Flament got bronze aboard the Hanoverian bred Al Capone (by Belissimo M x x Lauries Crusador xx) after finished fifth (83.50%) and third (81.000%).
Results - 2015 French Young Horse Championships
4-year olds (top 10)

1. Sarah Rogers - Flair Royal (by Fairbanks x Royal Diamond) - 82.306
2. Caroline Godin - Querida de Hus (by Quaterback x Furst Heinrich) - 80.972
3. Tassja Janssen - Sirano de Luxe (by Sir Donnerhall x De Niro) - 80.972
4. Lena Thouvenin - Diamondgio (by Diamo Gold x Pik Noir) - 79.917
5. Odile van Doorn - Friedland (by Fidertanz x De Vito) - 79.472
6. Isabelle Augustin - Qupidon de Hus (by Quaterback x Don Frederico) - 78.972
7. Olivier Carlens - Foxtrott du Jade (by Floriscount x Rubinstein) - 78.083
8. Sarah Rogers - Schabernack (by Sandro hit x De Niro) - 77.667
9. Larissa Pauluis - Gerhard (by Zhivago x Ferro) - 76.333
10. Alexia Mayer - Very Nice (by Vitalis x Florestan) - 75.972
5-year olds (top 10)
1. Amandine Prevost - Quaterdance (by Quaterback x Expose) - 83.848
2. Renaud Ramadier - Alquazar de Massa (by San Amour x Landim) - 81.913
3. Isabelle Pinto - Sultan des Paluds (by Soliman de Hus x De Niro) - 81.348
4. Lena Thouvenin - Brisbane (by Bonifatius x Salierià) - 78.543
5. Damien Dumoulin - Bellissimo du Hans (by Benetton Dream x Wolkentanz I) - 77.522
6. Victoria Saint Cast - Aida Star (by Joeris x Jazz) - 77.109
7. Tassja Janssen - Solero BB (by Silvio x Carolus) - 75.522
8. Aurelia Paris - Finesse du Hans (by Furstenball x Sandro Hit) - 74.391
9. Christelle Marie - Athena (by Soliman de Hus x Gribaldi) - 74.174
10. Lena Thouvenin - Perergrina (by Painted Black x Wolkenstein II) - 73.870
6-year olds (top 10)
1. Alizee Roussel - Quaterbold du Payrol (by Quaterback x Donnerschwee) - 82.591
2. Larissa Pauluis - Extasy K (by Don Massimo x Ferro) - 82.394
3. Gildas Flament - Al Capone (by Belissimo M x x Lauries Crusador xx) - 81.227
4. Pierra Volla - Jynx's Back Astola (by Quaterback x Diorello) - 79.985
5. Naoufal Hassani - Quazotti (by Quaterback x Stedinger) - 79.576
6. Carlos da Silva - Herz du Lion (by Herzensdieb x Brentano II) - 77.894
7. Marc Brule - Juriana (by Jazz Rubin x Don Bedo) - 77.697
8. Thierry Marais - For You Only du Riwan (by Furstenball x Rohdiamant) - 77.561
9. Marie Agnes Bonassies - Sir Misty Cavok (by Scolari x Royal Prince) - 76.818
10. Alizee Roussel - Escapade Utopia (by Vivaldi x Uphill) - 74.727
Related Links
Quaterdance, Kojak, Hermes de Hus Win 2014 French Young Horse Championships
Kojak, Hermes de Hus, Django de Charry Win 2013 French Young Horse Championships
Don Juan de Hus, Danciero de Hus, Dona Primera Win 2012 French Young Horse Championships
Blacktime, Grand Passion, Socrate de Hus Win 2010 French Young Horse Championships
Rock N Roll Star, Socrate de Hus and Wodan are 2009 French Young Horse Champions
Jessica Michel, Triple French Champion with Prime Time, Noble Dream, Riwera at 2007 French Young Horse Championships