2015 CDI-P Vienna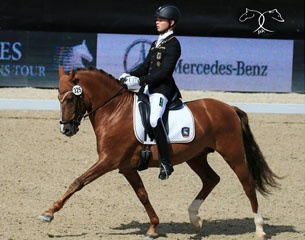 Taking place along side the prestigious Global Champions Tour for show jumping on the historic Vienna market square on 18 - 20 September 2015, the CSI Vienna made room for a small international dressage pony tour of which the winners were Raphael Netz and Rebecca Bell.Both agree that to ride with the best show jumpers in the world was an amazing opportunity and the atmosphere in Vienna was incredible.
Winner of the Individual and Kur Pony tests with 73.740% and 76.292% was German youngster Raphael Netz on his 10-year old chestnut stallion Schierensees Don't Do It (by Don't Worry x Martel). The pair was particularly touched by the event as it was their last ever pony competition.
"It was amazing in Vienna and the atmosphere in the arena is something I cannot describe," 16-year old Raphael told Eurodressage. "To ride in front of the townhall was so wonderful and for me it was really touching because it was my last pony competition as I'm going to start in juniors next year. So we saved the best for last."
While he was not affected by the Jumping hype, Raphael says that to train with the show jumping pairs in the warm-up was very difficult. At the same time it was very interesting to see the best jumpers of the world!
"During our first day it was really hot and that's why "keks" was a bit tired. However on the other days it was perfect to ride and although it was windy the wind couldn't get  in the main arena.   I have to admit that Thursday evening there was a storm which destroyed our stable tent so we had to evacuate all the ponies. This made it a really long night for all of us but luckily no one was injured," Raphael reminisced.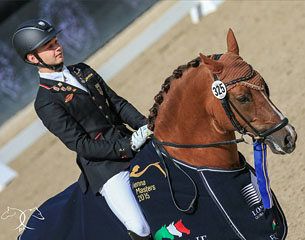 Netz, who is based in Wiesbaden, Germany and who trains with Leif Hamberger as well as pony team trainer Connie Endres, felt that Schierensees Don't Do It was very happy throughout the competition though.  "He is a very smart pony with a lovely character  and as I have been with him for three years now we are like best friends. My plan for 2016 is to compete in the Juniors tour and as I am currently studying at a German Gymnasium once I pass my Abitur I want to become an equine physiotherapist to positively impact my riding skills and to help the horses in feeling better.  I also want to stay in the riding sport and my life will always be around horses."
British Rebecca Bell also had her final pony competition on her European Championship team gold medal winning 12-year old German riding pony mare Valido's Sunshine (by Valido). They won the team test with 73.120% and felt that the atmosphere was absolutely incredible.
"You don't usually get so many spectators at a pony dressage show and to be competing in central Vienna in front of a building such as the Rathaus was surreal.  There was also a great atmosphere around the competition and everyone in the organising committee was really helpful," said 16-year old Rebecca..
For Rebecca and her pony the jumper hype was actually a huge help. Her pony really rose to the occasion.
"It was also an amazing feeling to be congratulated by some of my idols from when I was younger and used to show jump a little. My mare felt really good thoughout the show and she loves competing, however it was a long week so she felt a little tired in the kur. Despite this she gave me her all in every test and never once spooked in what was a very 'scary' arena!"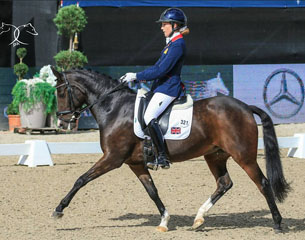 Having ridden Valido's Sunshine for 6 years, Rebecca has been coached by Caron Roberts. Sunshine has been the sunlight in Rebecca's youth.
"She has a generous, cheeky and kind character and she always puts a smile on the face of anyone who meets her. I couldn't think of a better partner to have shared my pony time with and I will miss her immensely when she moves on to her next rider."
Bell has just begun her transition to horses and does not have a definite plan for 2016. For now she has leased an experienced competition horse from Rob and Sue Fearis. Her new mount is called Waranos and he is a Dutch warmblood gelding by Fidermark x Contango.
"I hope that with him as a schoolmaster I can make a successful transition to horses and compete at Juniors or Young Riders level next year," Rebecca explained. "I'm also currently in lower sixth form at school and I'm starting my A levels. I would love to be a professional horse rider as soon as I leave school but it's a very expensive sport and for this reason I'd like to go to University and get a good degree so I can get a job and earn enough money to compete successfully.  My dream is to go to Oxford University as not only is it one of the best but it's only 30 minutes from my home, meaning I could keep my horses there and continue to train around my studies."
by Sarah Warne - Photos © Petra Kerschbaum
Related Links
Scores: 2015 CDI-P Vienna
Now and Forever Feivel For First at the 2014 CDI Vienna
Adelinde Cornelissen and Parzival to Compete at 2013 CDI Vienna