2015 British Dressage Championships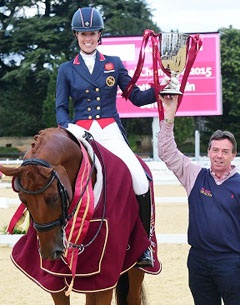 Charlotte Dujardin dominated the fourth and final day of competition at the 2015 British Dressage Championships at Stoneleigh Park in Warwickshire on 17 – 20 September 2015. Alongside winning the 5-year old young horse title on Sunday 20 September, she also grabbed her first ever British Grand Prix Champion's title by winning the Grand Prix on Saturday and the Freestyle on Sunday.
Piloting Carl Hester and Anne Cohn's Barolo in the Grand Prix Freestyle and riding to the beat of Valegro's old music, Charlotte secured victory with a breath-taking 76.80% - which is even more impressive when considering this was the horse's first freestyle of any kind.
A clearly delighted Charlotte said; "I'm really proud of Barolo. I came here thinking he might be able to win the grand prix on a good day; he's only done three grands prix and there's so much to look at here, plus he freaked out last year and had meltdown. He's never done a freestyle in his life and he really nailed his first! It was underpowered and green in places but the canter work feels secure. There's more to do on the trot work but he's only nine and still learning; he's such an exciting horse to have as a back up for next year. It was quite emotional riding to that music because in my mind, that's Blueberry's music; but I just love riding to that music!"
The 30-year-old international superstar from Newent, Gloucestershire was also crowned National Champion, which was one of the last of few titles she had left to gain.
"Carl's never been keen on me coming here to take 'his title' but I'm really happy I could take advantage of him not being here! I'm still a way off his number of titles but I'll keep trying to get there!" she teased.
Back in the freestyle, the audience reminisced once more as Lara Griffith and Rubin Al Asad danced to the music of Mistral Hojris, Laura Tomlinson's now retired Olympic horse. With an impressive 75.65%, Lara and the Bechtolsheimer's 13-year-old gelding not only claimed second place but also a personal best. Third place went to Hayley Watson-Greaves and her own WG Rubins Nite, whose technically challenging test scored 75.18% and received four round of applause from the packed out nationals crowd.
Photo © Kevin Sparrow
Related Links
Sunday Scores of the 2015 British Dressage Championships
Moody and Dujardin Win FEI Level Titles on Day Three of the 2015 British Dressage Championships
Eilberg and Farouche Win on Day Two of 2015 British Dressage Championships
Oppenheimer and Eilberg Win First Titles on Day One of 2015 British Dressage Championships