PRE Breeding News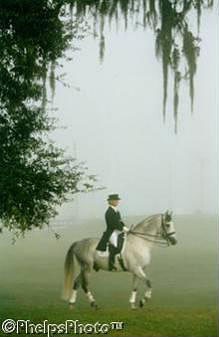 The renowned Spanish bred PRE stallion Gaucho III has passed away at age 26 at his home Janne Rumbough's Mtica farms in Wellington, Florida. He was euthanized as he was suffering from old age. 
Bred by Senorio de Bariain, Gaucho III was by Panadero VIII out of Bizarra XIII (by Peruano x Valenciano XIII). In Spain he was a successful halter horse who won "Best Movement" at SICAB in Sevilla and gained high points in the ANCCE "Book of Merits" both for conformation and movement.
Gaucho III was imported into the U.S.A by Danish born American Janne Rumbough in 1996. She began competing him in 1998 and in two years time moved from small tour level to Grand Prix. He was named the Region 3 Prix St. Georges Champion and Intermediare 1 Freestyle Champion. He started off his Grand Prix career by winning his first and second show and he was second in his third Grand Prix. Gaucho III had to be retired from competition when in 2000 he slipped during a vet check and sustained a sever injury.
In 2007 he was presented at the first PRE tribunal and became a "qualified Stallion" at age 17. He was the first PRE stallion to rank in the USEF Leading Dressage Sires Standings, ranking 7th out of 1079 in 2009.
Gaucho sired 94 offspring in total. His most famous dressage offspring is Junior, who is competed at international Grand Prix level by Rumbough. Other Gaucho III offspring doing well in the dressage ring are Espiritu (Pati Pierucci), Festivo RS (Emily Copeland), and Noble GF (Michael Etherly).
"It is with a very sad heart, but at the same time I am so grateful to have had this amazing horse in my life for 19 years," said Rumbough, who is grateful for having had the grey stallion in her life. "Gaucho III made every day a wonderful day for me. His legs could not hold him up any longer at 26 years old!"
Photo © Mary Phelps
Related Links
Hot Dressage at 2000 Palm Beach Dressage Derby
Janne Rumbough Leads 2013 USEF Dressage Owners Ranking
Photo Report: Horse Inspection at 2014 Palm Beach Dressage Derby Brings Back Memories