Hanoverian Breeding News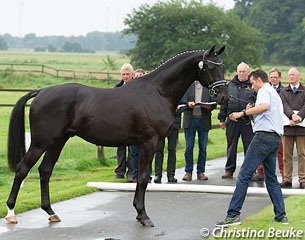 The Hanoverian society has announced the list of colts which have been selected to participate in the 2015 Hanoverian Stallion Licensing in Verden, Germany, on 22 - 24 October 2015.
The pre-selectin days took place from 8 till 16 September 2015 and they were hosted at twenty different venues spread out over the north of Germany, including Wickrath, the head quarters of the Rhinelander society with which the Hanoverian verband works in partnership.
The best represented sires at the pre-selection are Gestut Sprehe's trendy Trakehner stallion Millennium, the auction price highlight sensation Lemony's Nicket, who hardly ever appears in the show ring, Hanover's number one state stud stallion Dancier, the heavily promoted Sporcken, who is dropping in popularity now, and Don Index. 
The selected dressage colts are:
Beltano    Florestan I    Julio Mariner xx
Floriscount    Rubin-Royal    Lemon Park
Lemony's Nicket    Friedenstraum I    Pit I
Millennium/T.    Lord Loxley    Ferragamo
Perigueux    Laptop    Acord II
Quasar de Charry    Lauries Crusador xx    Sandro Hit
Don Index    Weltruhm    Grandseigneur
Licosto    Wolkenstein II    Matcho AA
Millennium/T.    Laurentio    De Niro
Savoy    A Jungle Prince    Davignon I                
Damsey    Worldly    Matcho AA
De Niro    Wolkenstein II    Matcho AA
Deveraux    His Highness    Longchamp
Lemony's Nicket    De Niro    Stedinger
Lemony's Nicket    Fürst Piccolo    Hitchcock
Licosto    Wanderer    Matcho AA
Quasar de Charry    Desperados    Welt Hit II
Fürst Romancier    Bergamon    Espri                 
Belissimo M    Hochadel    A Jungle Prince
Lemony's Nicket    Stedinger    White Star
Dancier    Londonderry    Feiner Stern
Diamond Hit    Likoto xx    Weltmeyer
Don Darius    Lavauzelle AA    Askan
Don Index    Lauries Crusador xx    Weltruhm
Quaterback    Weltmeyer    Grenadier
Bretton Woods    Münchhausen/T.    Weltmeyer
Dancier    Cordoba    Wenzel I
Don Frederic    Weltmeyer    Airport
Floriscount    Don Schufro    Rubinstein I
Spörcken    Rubinstein I    Top of Class
Belissimo M    Fürst Grandios    Rubinstein I
Londontime    Laudabilis    Davignon I
Fidertanz    Dancier    Wild Dance
For Romance    Sir Donnerhall I    Feinbrand
Fürst Romancier    Sir Donnerhall I    Walt Disney I
Spörcken    Fürst Heinrich    Wolkenstein II
De Niro    Stedinger    Donnerhall
Deveraux    Florestan I    Pik Bube I
Franziskus    Rohdiamant    Sherlock Holmes
Spörcken    Weltmeyer    Wanderbursch II
Zack    Brentano II    Feiner Stern
Zack    De Niro    Weltmeyer
Ampere     De Niro    Wendepunkt
Don Index    His Highness    Landjuwel Gold
Millennium/T.    Rubinstern Noir    Kolibri
Don Principe    Fürst Heinrich    Calypso II
For Compliment    Londonderry    De Niro
Londontime    Belissimo M    Lauries Crusador xx
Rocky Lee    Rouletto    Wendenburg
Christ    Hotline    Don Bosco
Christ    Welt Hit I O    Strohmann xx
Desperados    Londonderry    Falkland
Dimaggio    Argentinus    Shogun xx
Don Index    Stedinger    Bonheur
Benicio    Stedinger    Wolkenstein II
Jazz    Calypso II    Akzent II
Bon Bravour    Ferro    Hohenstein/T.
Dancier    St. Moritz    Rotspon
Dimaggio    Lauries Crusador xx    Atatürk
Spörcken    Brentano II    Weltmeyer
Dancier    Ravallo    Westbury
De Niro    Sandro Hit    Airport
Destano    Harvard    Weltmeyer
Metall    Stedinger    World Magic
Millennium/T.    Farewell III    Warkant
Damon Hill    Florencio I    Duntroon
Don Frederico    Wolkentanz    Askan
De L'Or    Dimaggio    Wenzel I
Royal Classic    Riverside    Wolkentanz II
Bon Bravour    De Niro    Caprimond
Don Frederic    Fidertanz    Sandro Hit
Feedback    Carabas    Rheinblick
For Romance    Rubiloh    Ehrentusch
Fürstenball    Lord Sinclair I    Montmartre
Sezuan    Calypso II    Good Match xx
Vitalis    Florestan I    Entree
Bretton Woods    Fürst Heinrich    Hohenstein/T.
Deveraux    Mytens xx    Pik Bube I
Fürst Romancier    Stedinger    Akzent II
Londontime    Wild Dance    Lancier
Quasar de Charry    Londonderry    Grossmogul
Licosto    Don Davidoff    Warkant
Fürstenball    Donnerhall    Prince Thatch xx
Ampere    Stedinger     
Vitalis    Fürst Piccolo          
Bon Bravour    Scolari    Rotspon
Photo © Christina Beuke
Related Links
More Than 500 Colts Registered for 2014 Hanoverian Stallion Pre-Selection
Colts Selected for the 2013 Hanoverian Stallion Licensing
705 Young Stallions Entered for 2011 Hanoverian Stallion Pre-Selection