FEI Dressage News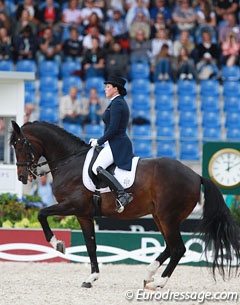 Russian Inessa Merkulova stands in the lead of the FEI Olympic Ranking List of which the latest version was released on 8 September 2015. Twenty slots out of a designated 60 will be open to individual riders for the 2016 Olympic Games.
Australia, Brazil, France, Germany, Great Britain, Netherlands, Spain, Sweden and the United States have already qualified teams of four riders at the 2014 World Equestrian Games, 2015 European Championships and 2015 Pan American Games. apan and South Africa go head to head at the 2015 CDI Perl on 10 - 13 September for the last team slot.
Forty slots are open to the teams and twenty are allocated to individual riders. For the Olympic Ranking List the four best results count over the period of 9 March 2015 to 6 march 2016. If one nation is able to qualify a minimum of three and a maximum of four riders through the Olympic ranking list, they can create a "composite team".
Two individual riders from Canada and Mexico have also qualified through the Pan Ams, so 18 slots remain. The allocation is determined according to three criteria:
1. Athletes from nations placed first and second in each of Olympic Groups A, B and C (Northwestern, Southwestern, Central and Eastern Europe and Central Asia) will each obtain one quota place for a total of six.
2. Athletes from nations placed first in each Group D and E (North, Central and South America) will each obtain one individual quota in addition to the two places allocated at the Pan Ams for a total of four.
3. Athletes from nations placed first in each Group F and G (Africa, Middle East, Southeast Asia and Oceania) will each obtain one individual quota place, plus another two at the special qualification event this week for a total of four.
The final six individual quota places will be allocated to the athletes of nations from the ranking list next March.
Inessa Merkulova and the Russian bred Mister X (by Egeus) are currently in the lead with 1100 points, followed by Danish Anna Kasprzak on Donnperignon (1083). After years of being a top nation, Denmark was unable to qualify a team at the 2015 European Championships. It will try to achieve a composite team with Daniel Bachmann now ranked 5th (940 points) and Mikala Gundersen 6th (934 points).
Other top 10 ranked combinations at the moment are Austrian Victoria Max-Theurer, Swiss Marcela Krinke-Susmelj, Irish Judy Reynolds, and Belgian Fanny Verliefden. Norwegian Trude Hestengen is in the top 10 but she recently sold her horse.
View the current Olympic Riders Ranking
Photo © Astrid Appels
Related Links
David Stickland: So You Want to Go to Rio?
Robert Dover: Rethinking the Future Olympic Formula
2013 FEI Sports Forum Opens with Debate on Olympic and Paralympic Qualification