2015 Irish Dressage Championships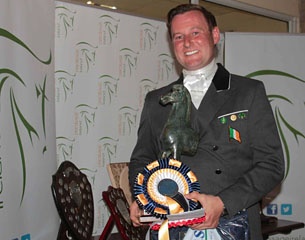 British based Roland Tong became the Irish Grand Prix Champion of 2015 winning the Intermediaire II and Grand Prix class at the 2015 Irish Championships held at the Cavan Equestrian centre on 4 - 6 September 2015. For Judy Reynolds it was a repeat victory at small tour level as she won the Prix St Georges, Inter I and PSG Kur on Zigal again, just like in 2014. Alana Cazabon-Sullivan won the FEI Pony Riders division.
The Irish Dressage Championships do not require riders to show consistency throughout the weekend at FEI Level for them to earn a title by totalling scores over two or three rounds. Just like in Great Britain, there is a title to be won in every class and the form of the day decides the winner. The Pony Rider championship, however, was run over two rounds with the team and individual test counting.
Roland Tong and the 10-year ol Dutch warmblood Ambience (by Trento B x Metall) were a league of their own with no competition on their heels. His bay Ambience, which he owns in partnership with Sandra Kirkpatrick, scored a winning 67.039% in the Intermediaire II and a strong 70.600% in the Grand Prix for two victories. This year no Grand Prix kur to music was ridden in Cavan. This is Tong's second Irish national title since he switched nationality from Great Britain to Ireland. He also won the Nationals in 2013.
"The Irish nationals were great. It's a lovely show with great mix of foreign judges," Tong told Eurodressage. "I'm very pleased with all scores from international judges in his first year and am thrilled how Ambience tried and kept his concentration. He just needs more milage." Tong and Kirkpatrick acquired Ambience when the horse was a 2-year old and Roland has been carefully training him up to Grand Prix level. "I plan to show him until he settles down in big show atmospheres as tends to get very enthusiastic. There is no pressure as he's mine. I just need to wait for him."
2014 Irish Grand Prix champion Judy Reynolds made the trip from Germany to Ireland again for the Nationals but left her Grand prix horse Vancouver K at home after contesting the 2015 European Championships with him as sole Irish representative. Reynolds brought along the 11-year old Dutch warmblood Zigal (by Future x Beethoven x Samber), with whom she won the small tour championships last year. This year she scored 70.921% in the Prix St Georges, 70.00% in the Intermediaire I and 73.188% in the PSG Kur to Music.
At Pony level Irish team rider Alana Cazabon-Sullivan topped the overall ranking aboard her 8-year old buckskin Maverick S (by The Braes My Mobility x Michelangelo). The pair scored 67.692 and 67.012% for the gold medal. Team mate Katie Burns landed silver on Caracas II and team rider Sofie Walshe finished on the bronze step of the podium with her grey gelding Horseleap Bruno.
Results - 2015 Irish Grand Prix Championships
Pony Riders
1. Maverick S - Alana Cazabon-Sullivan -  67.692  - 67.012 --- 67.352 
2. Caracas II -  Katie Burns -  64.423  -   66.524 ---  65.474  
3. Horseleap Bruno - Sofie Walshe - 64.167  - 63.537   --- 63.852
4. Tisrara Hill - Emily Kate Robinson -  61.154  -  63.598 --- 62.376

Prix St Georges
1. Zigal - Judy Reynolds - 70.921 
2. Snowdon Faberge -  Kate Dwyer  -  65.000  
3. Armagnac -  Abigail Hutton -  64.671   
4. Get-Set -  Lucy Adams  - 63.289  
5. Lets Go  - Josephine Delahoyde  -  62.171  
6. Has to be Fun -  Bethany Quinn -  61.842
7. Ballustree Bualadh Bos -  Susanne Hirsch    -  61.382   
8. VSH Absolute Turbo  - Ruth Hayes  -  60.855 
9. Zilver Prince - Camilla Alexandra Brogaard  -  60.329  
10. Bannerman Breeze -  Jo May  - 59.803
11. Winnes Hit II -  Elaine Potter - 59.539 
12. Bon Viveur -  Katy Price - 58.684  
13. Henri - Meriel Moore-Colyer - 57.566
14. Witto -  Anna Dangerfield - 56.645 
15. Castletown Jaro - Wolfgang Frank - 47.434
Intermediaire I
1. Zigal  - Judy Reynolds - 70.000
2. Snowdon Faberge  - Kate Dwyer  -  68.355
3. Armagnac  -  Abigail Hutton - 65.000
4. Ballustree Bualadh Bos  - Susanne Hirsch -   64.737
5. VSH Absolute Turbo  -  Ruth Hayes -  64.342 
6. Get-Set -  Lucy Adams - 63.816
7. Winnes Hit II -  Elaine Potter - 63.158 
8. Lets Go - Josephine Delahoyde  -  63.158  
9. Henri  -  Meriel Moore-Colyer -  61.184  
10. Bon Viveur - Katy Price  -  59.868
PSG Kur to Music
1.  Zigal - Judy Reynolds - 73.188   
2. Zilver Prince  - Camilla Alexandra Brogaard - 70.500 
3. Armagnac  - Abigail Hutton  - 68.625 
4. Get-Set  - Lucy Adams -64.750
5. Lets Go - Josephine Delahoyde  -  63.188  
6. Ballustree Bualadh Bos - Susanne Hirsch -  63.125 
7. Winnes Hit II  - Elaine Potter - 62.563   
8. Has to be Fun -  Bethany Quinn  -  61.438   
9. Pennsylvania Vinckenburgh - Alison Keogh    - 61.188
Intermediaire II
1. Ambience - Roland Tong - 67.039 
2. Saint Emilion - Sandra Blake Farrell-  62.697  
3. Urbanus - Anne Marie Dunphy- 60.789 
4. Earlspark Loretto  -  Tara Oliver -  60.263 
5. Salancio - Marguerite McSweeney   - 58.355
Grand Prix
1. Ambience -  Roland Tong  -  70.600
2. Urbanus - Anne Marie Dunphy  - 62.767
3. Saint Emilion -  Sandra Blake Farrell  - 61.767
4. Earlspark Loretto - Tara Oliver -  60.300   
5. Salancio - Marguerite McSweeney -    59.900
Related Links
Judy Reynolds Wins 2014 Irish Dressage Championship
Roland Tong Wins the 2013 Irish Dressage Championships
Hamilton Dominates Star-Studded 2011 Irish Dressage Championships
Sarah Mellor Wins 2010 Irish Grand Prix Championship
Truesdale Wins 2009 Irish Dressage Championships
Heike Holstein, 2007 Irish Dressage Champion