American Dressage News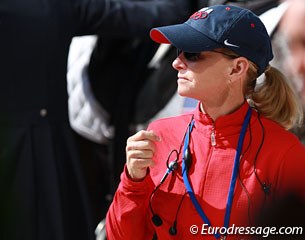 Debbie McDonald has resigned as the U.S. Developing Dressage Coach, a position which she held over the past 10 years. She will step down from the position on 1 May 2016 in order to spend more time with her family and focus on personal clients.
"It has truly been an honor to serve in this role, and I am so thankful to have been given the opportunity," said McDonald. "We have come so far with this program; I am grateful to the USEF sponsors and members, the USET Foundation, and especially Akiko Yamazaki and the Red Husky Foundation for their belief in seeing this program flourish. With their support, we have enhanced the impact of this program and are now able to give riders the opportunity to train and compete in Europe as part of the program. It has been such a privilege to see the riders and horses in this program go on to achieve great things at the highest levels of this sport. I will always remain supportive of all the USEF pipeline programs and now look forward to spending more time with my family and personal students."
As the U.S. Developing Dressage Coach, McDonald has been instrumental in the growth and success of the USEF Developing Dressage Program as a key step in the dressage pipeline, transitioning athletes and horses alike to the top levels of the sport.
"Debbie has been a tremendous coach for our Developing Program and instrumental in our shared goal of future Olympic Games and World Championship medals. I wish her well and know she will continue to be a strong force for the U.S. dressage community," said Robert Dover, U.S. Dressage Chef d'Equipe/Technical Advisor.
"We are extremely grateful to Debbie for all her tireless work and the vision she brought to the U.S. Developing Dressage Program. We wish her the best of luck in all her future endeavors," said Hallye Griffin, U.S. Managing Director of Dressage.
Photo © Astrid Appels
Related Links
Eurodressage Photo Database: Debbie McDonald
Debbie McDonald to Lead USEF Developing Dressage Program
Debbie McDonald, USEF Developmental Coach of the Year 2008
Debbie McDonald Observing Horses and Riders in Hopes of Developing Elite Competitors for U.S.