2015 KWPN Foal Auction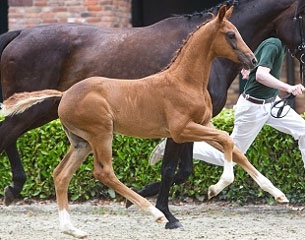 The bay colt Kyton became the price highlight in the dressage collection at the 2015 KWPN foal auction in Borculo, The Netherlands, on 27 August 2015. He sold for 31,000 euro.
The chestnut colt Kyton (by Ferguson x Ferro) was the dressage top seller of the auction.
The second most expensive colt was King de Niro (by De Niro x Ampère) which was acquired by a dressage enthusiast for 20,000 euro.
The best selling filly was Kassandra de Jeu (by Dante Weltino x Don Romantic) which sold for 21,000 euro. The bay colt HL Winchester (by Zack x Don Schufro) achieved the same knock down price of 21,000 euro. The chestnut filly Romance  (by For Romance x San Amour) even got knocked down at 17,000 euro.
Colt Fortunato (by Florencio x Diamond Hit) and Kartouche (by Negro x Krack C) both sold for 16,000 euro , while colt Kylian (by Bordeaux x Jazz) sold for 15,000 euro and colt Knight Rider (by Wynton x Negro) for 14,000 euro. 
Dutch stallion owner Joop van Uyters acquired two dressage colts in partnership with Sander van Vliet: the bay colt Kingston (by Galaxie x Gribaldi) for 11,000 euro and the bay colt Kidono Paulowna (by Damon Hill x Krack C) for 13,00 euro.
The bay colt Kathmandu STRH (by De Niro x Zhivago) sold for 20,000 euro to Azerbaijan.
The black filly Kirginia (by Grey Flanell x Florencio)  switched owners for 14,000 euro and the colt Kinetic De La Sina (by Governor x Flemmingh) sold for 12,000 euro.
The average price for a foal at the 2015 Borculo Foal Auction was 10,750 euro which is about a 1000 euro less than last year.
Related Links
Joolz, Price Highlight of the 2014 Borculo Foal Auction
I'm Special, Price Highlight of the 2013 Borculo Elite Foal Auction
High Five, Price Highlight of 2012 Borculo Foal Auction
Gambo, Price Highlight of 2011 Borculo Elite Foal Auction
Excellent Average Price at 2010 KWPN Foal Auction in Borculo