KWPN Breeding News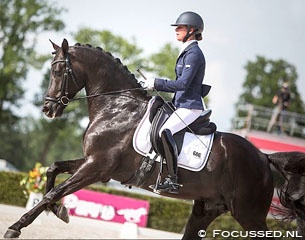 On Saturday 22 August 2015 the KWPN society held a mandatory offspring inspection sired by young KWPN stallions from the E, F, and G crop at the KWPN head quarters in Ermelo, The Netherlands.
Offspring of no less than 16 sires was presented in Ermelo: A foal inspection took place of crops sired by Ferguson, Ebony, Feel Good, Franklin, Fashion Hll, Fellini, For Gribaldi, George Clooney, Galaxie, Giovanni, Geniaal, Toto Jr, Glamourdale, Gotcha Utopia, Governor, Ghandi, and Grenoble.
Each stallion has a group of minimum 6  and maximum 10 foals which were selected by the stallion owners. The past few months the KWPN selectors also inspected a crop of foals picked by the studbook itself and assesses at the breeders' home in orde to get a fair impression of the quality of the foals.
With some stallions, a clear discrepancy was noticable between the two groups of foals. The position and correctness of the front legs differed within groups sired by Fashion Hill (by Uphill x San Remo), Fellini (Ampere x Jazz), and Giovani (by Chippendale x Scandic). With Toto Jr (by Totilas x Desperados) there was a difference spotted in the quality and length of the back.
The full report can be read here (in Dutch).
Photo © Focussed.nl
Related Links
KWPN Offspring Inspection for Cachet, Dorado, Chagall, Don Tango, Astrix
KWPN Offspring Inspection for Cover Story, Dream Boy, Cupido and Diego
New Format for KWPN Foal Inspection
Eight Sires Pass 2011 KWPN Foal Inspection