Clinics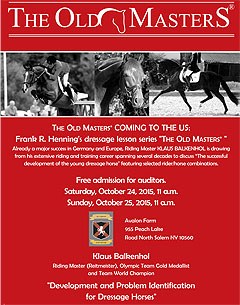 Don't miss riding master Klaus Balkenhol's THE OLD MASTERS® clinic on "The successful development of the young dressage horse" at Avalon Farm in North Salem, NY, U.S.A. on 24 -25 October 2015. The equestrian lesson series "THE OLD MASTERS®", initiated by Frank R. Henning, already a major success in Germany and Europe is now coming to the United States.
For this teaching event Frank R. Henning recruited Olympic Team Gold Medalist and Team World Champion Klaus Balkenhol, a trainer who belongs to the big dressage trainers of our time.
Klaus Balkenhol is a great example, who imparts values and knowledge. Horses of mixed age and of different training levels are being chosen prior to the event. Klaus Balkenhol trains them together with their riders in the indoor arena of Avalon Farm. The horses are being trained by Klaus Balkenhol in his own manner of what he thinks is correct for the individual horse. He gives suggestions how to solve problems in the training of this particular horse. Watching the individual trainings the auditors will be able to find suggestions and ideas for their own everyday training.
By passing on information and knowledge the riders and horse owners will be stimulated to change views towards acknowledging the horse as a real partner, learning to understand and accepting their horse in order to avoid possible problems.
The lesson series "THE OLD MASTERS®" sets its goal to promote "harmony between rider and horse". It strives for a turn towards the former "good horsemanship".
Venue
Avalon Farm
955 Peach Lake Road
North Salem, NY 10560
U.S.A.
Time Schedule
 Saturday 24 October 2015: teaching begins at 11 a.m.
Sunday 25 October 2015: teaching begins at 11 a.m.
Free admission for auditors
For further information please call: Avalon Farm – tel: +1 516 629 3829