Hanoverian Breeding News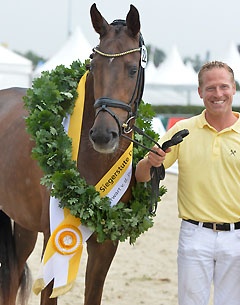 The best mares born in 2012 shone at the 2015 Hanoverian Elite Mare Show, aka the Herwart v. d. Decken show, in Verden on 5 August 2015. Bonita Spring (by Boston x Fidertanz) was named dressage champion.
 
"I am already looking forward to seeing some of the mares again in sport," summarized Theo Lohmann. Together with Wilhelm Weerda, Konrath Böth and Dr. Werner Schade, he acted as judge and evaluated the 20 show jumping and 46 dressage horse ladies.
The first three-year-old young mare with a dressage pedigree entering the triangle captivated the audience. She presented awesome trot movement and left nothing to be desired as regards conformation: Hanoverian state premium candidate Bonita Spring (by Boston x Fidertanz), bred and owned by Ulla Katzork was named the champion dressage mare. 
This is a fantastic success for the breeders from Rhineland who have been part of the Hannoveraner Verband since the beginning of 2015. It was the first time that the Nord Rhine-Westphalian regional breeding district had nominated mares for the Show in Verden. The eagerly and impressively moving dark liver chestnut mare traces back to the Hanoverian dam line of Oböe.
Serafina (by Scolari x Royal Prince), bred and owned by Ingo Pape, was named reserve champion mare.
"The dressage mares had an outstandingly high quality level," said Hanoverian Breeding director Dr. Werner Schade. "We saw many horses with brilliant basic gaits and an excellently balanced composition of bloodlines."
Hanoverian state premium candidate Bellissima (by Bonaparte N AA x Stakkato), bred and owned by Herbert Putfarcken, Hamburg) was named best halfbred mare. She competed in the division of show jumping prospects.
Photo © Karl Heinz Frieler
Related Links
Fine Lady, Champion of the 2014 Hanoverian Elite Mare Show
Lizeth Wins Prestigious 2013 Herwart von der Decken Prize
Liliefee Named Champion of the 2012 Hanoverian Elite Mare Show
Delany, Champion of the 2011 Hanoverian Elite Mare Show