Belgian Dressage News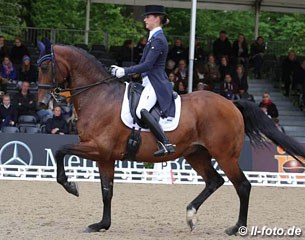 Following the 2015 Belgian Dressage Championships of which the Grand Prix division concluded on Saturday 1 August 2015, chef d'equipe Jeroen van Lent and team trainer Sjef Janssen announced the team that will represent Belgium at the 2015 European Dressage Championships in Aachen on 12 - 16 August 2015.
Taking show results of the 2015 season into consideration as well as the final ranking at the 2015 Belgian championships, where Jeroen Devroe, Jorinde Verwimp and Laurence Vanommeslaghe took the podium places, the following team was selected:
Jeroen Devroe  - Eres DL
Jorinde Verwimp  - Tiamo
Fanny Verliefden - Annarico
Laurence Vanommeslaghe - Avec Plaisir
Two riders have been selected as reserve, Delphine Meiresonne (Wipsy van 't Heihof) and Claudia Fassaert (Donnerfee). They will participate in the training camp after which the final reserve combination will be announced.
Fanny Verliefden did not compete at the Belgian Championships and 2012 Belgian Olympic representative and 2013 and 2014 Belgian team rider Claudia Fassaert performed below her usual level at the Nationals and scratched for the freestyle, whereas Delphine Meiresonne rode on a high and finished fifth overall.
Photo © LL-foto
Related Link
Eurodressage On the Scene at the 2015 European Dressage Championships