Swedish Dressage News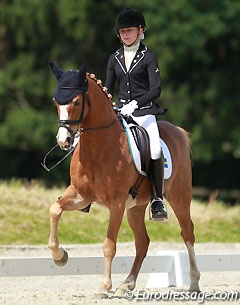 The Swedish Equestrian Federation has announced the team that will represent Sweden on home turf at the 2015 European Pony Championships in Malmo, Sweden on 5 - 9 August 2015. The team selection was not without bumps in the road after a late nomination of one of the riders.
The original selected Swedish pony team included Egholm Hebsgaard, Mattsson, Viebke and Ebba Nilsson, with Emma Tegelskar as a reserve, but the FEI refused to accept Nilsson's spot on the team as Swedish pony team captain Bobo Lundberg declared the ride too late. Lundberg submitted the team on 6 July 2015.
Ebba Nilsson and Roman won silver at the 2015 Swedish Pony Championships and thereby earned a spot on the team. Unfortunately this was past the FEI's deadline.
"I took it for granted that the FEI would accept this late nomination," Lundberg told Ridsport. The Swedish equestrian federation pleaded with the FEI for consideration, supported by Swedish dressage officials Bo Jena and Eric Lette, but the FEI has stuck to its rules.
The Swedish equestrian federation therefore had to look back to the team that was first declared before 6 July. They had originally declared four riders and three reserves, but in the meantime one pony has been sold and two are injured. This means that Sweden will have no reserve combination available as Nilsson was dropped and Tegelskar submitted.
The Swedish Pony team now includes:
Clara Egholm Hebsgaard -  Extrem
Elin Mattsson - Bodo
Ella Viebke -  Drink Pink
Emma Tegelskär -  B Capriole
Photo © Astrid Appels
Related Link
Eurodressage On the Scen at the 2015 European Pony Championships