2015 Bundeschampionate Qualifier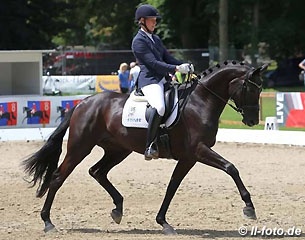 The 5-year old Dark Rose de Fangar and the 6-year old Sir Locksley EB were the winners of the Bundeschampionate qualification classes held at the 2015 Westfalian Regional Championships in Freudenberg, Germany, on 17 - 18 July 2015. A smaller field of contestants gathered at this big regional dressage and show jumping championship across the levels.
In the 5-year old division Franziska Bechmann topped the leader board on the Hanoverian mare Dark Rose de Fangar (by Dancier x Rubin Royal). The combination scored a winning 7.8 with a 7.5 for trot, and canter, 8.5 for walk, 7.5 for submission and 8.5 for general impression. Martin Pfeiffer and the Rhinelander gelding Lapusch (by Louis Le Bon x Future) were the runners-up with 7.4. The bay gelding scored 7 for trot and 7.5 for walk, canter, submission and general impression.
In the M-level dressage horse test Beckmann led the pack once again but this time on the 6-year old Hanoverian gelding Sir Locksley EB (by Sir Donnerhall x Londonderry). The duo scored 7.7 and got 8 for trot, 9 for walk, 7 for canter and submission and 7.5 for general impression. Lars Viereck and the Rhinelander mare Sonrisa Divina (by Sir Donnerhall x Rubinstein) were second with 7.6. The chestnut mare got 8 for walk and trot, 7.5 for canter, 7 for submission and 7.5 for general impression.
Photo © LL-foto
Results - 2015 Bundeschampionate Qualifier - Freudenberg
5-year olds
1. Franziska Beckmann - Dark Rose de Fangar - 7.8
2. Martin Pfeiffer - Lapusch - 7.4
3. Marina Welbers - Aston - 7.3
3. Franziska Beckmann - Raconteur B - 7.3
5. Marion Wiebusch - Acheron - 7.2
5. Jessica Suss - La Grande Bellezza - 7.2
7. Janine Finke - Roma Cherie - 7.1
8. Petra Middelberg - Bodyguard WF - 7.0
8. Stefan Wieser - Farewell's Anyway - 7.0
10. Martin Pfeiffer - Dimanche Royal NG - 6.9
11. Anika Krimpmann - Becks Gold - 6.6
6-year olds
1. Franziska Beckmann - Sir Locksley EB - 7.7
2. Lars Viereck - Sonrisa Divina - 7.6
3. Johanna von Fircks - Best of Nymphenburg - 7.5
4. Annika Baumer - Kamani Hill - 7.3
5. Peggy Flynn - Charlize - 7.2
6. Julia Deitermann - Dream of Dance F - 7.1
7. Christian Gesing - Lemon Tree HP - 6.9
Related Link
Eurodressage Coverage of the 2015 Bundeschampionate