2015 North American Junior Young Riders Championships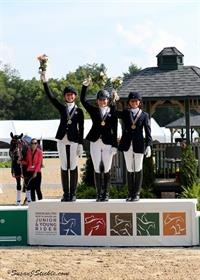 The 2015 North American Junior and Young Rider Dressage Championships concluded on Saturday 18 July 2015 at the Kentucky Horse Park with the Dressage Freestyle competition.  Bebe Davis earned the Gold medal score in the Junior division and Naima Moreira Laliberte took the top position atop the podium in the Young Riders.
Bebe Davis and Rotano Ride to Individual Junior Freestyle Gold
The top 18 Junior Individuals advanced to the Freestyle Championship on Saturday where they were judged by Brenda Minor at E, Marian Cunningham at H, Jayne Ayers at C, Anne Prain at M and Mercedes Campdera at B.
Barbara "BeBe" Davis (17, Wellington, Fla.) of Region 3 earned the highest Junior Freestyle score of the day with a 71.825% and secured the Gold medal.
"I had a previous [Freestyle] that I won Bronze with here in 2013. So I decided to change it," Davis said. "I have all new music and all new choreography. I have a very difficult pattern in my canter tour. I have a half pass to the left and four changes on a 20-meter circle every seven strides. Then I have to half pass back to the right to the centerline. It went absolutely perfect today. So after that movement I was completely over the moon."
Davis continued, "[Winning the Gold] is amazing. It's been a long journey. This is my last year of juniors; I'm aging out this year. I've been working toward this moment for a very long time. It's amazing to see that my hard work has finally paid off. All of the hours and all of the long days and early mornings have led to this. I'm extremely happy."
Helen Claire McNulty (15, Holland, Mich.) of Region 2 and Checkmate earned the Silver medal with a score of 71.725%. McNulty turned in a solid freestyle test, despite admitting to a slight change of plans part way through.
"I picked up the counter canter, and when I asked him to do the changes on the quarter line he threw in a couple one-tempis. That sort of messed up what I was going to do with it, so I sort of had to just play along. The canter work that I wanted to use would have been harder than what I did use, but that was okay. It turned out pretty good."
The Bronze medal went to Camille Carier Bergeron (15, Mascouche, Que.) of British Columbia-Quebec. She and her mount Delfiano rode to a score of 71.375% in their freestyle test set to upbeat African-style music.

Naima Moreira Laliberte Leaves with Second 2015 NAYRC Medal
On Friday, Naima Moreira Laliberte (18, Montreal, Que.), earned the Young Rider Individual Bronze medal, and on Saturday she returned to claim the Young Rider Freestyle Gold medal.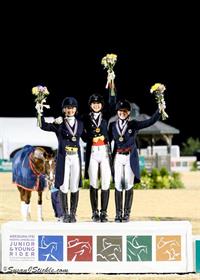 Laliberte and her mount, Belafonte, earned a score of 71.825% in one of their first times performing their freestyle test together in full.
"I won't lie. I only rode it once and qualified," Laliberte said. "I just know the music and know the patterns. That's kind of my style – just feel the groove, practice everyday, and build up. You practice a little piece here and a little piece there. It's much easier when you put the music together yourself because you know when you make the cues and the timing. You know your music."
The judges for the Young Rider class were Gabriel Armando at E, Lorraine Stubbs at H, Janet Foy at C, Ulrike Nivelle at M, and Cesar Torrente at B.
The ground jury scored the combination of Hannah Bauer (16, Purcellville, Va.) and Trustful with a 70.000%, securing them the Silver medal.
"I'm super excited," Bauer said. "My freestyle went pretty well. There are some things where you think, 'oh if I just could have fixed that,' but I'm super happy. My horse was in a good mood; I was in a good mood. I think I'm most happy with that feeling of it."
The Bronze medal went to Kerrigan Gluch (Mt. Pleasant, Mich.) who earned a score of 69.050% on Vacquero HGF.
Photos © Sue Stickle
Related Links
Scores 2015 North American Junior/Young Riders Championships
McNulty and Pai Win Individual Test Gold at 2015 North American Junior/Young Riders Championships
Ontario and US's Region 7 Win Team Gold at 2015 North American Junior/Young Riders Championships