2015 North American Junior Young Riders Championships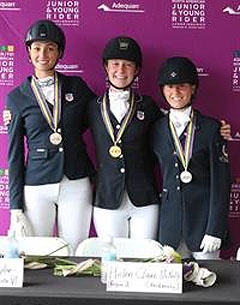 Dressage riders from across the United States and Canada competed for Individual medals at the 2015 North American Junior & Young Rider Championships on Friday 17 July 2015 in Lexington, KY. Junior rider Helen Claire McNulty claimed individual test gold in the Junior division, while Natalie Pai (Region 3) got the gold in the young riders division.
Helen Claire McNulty Wins Individual Test Gold
The top three in the Junior Individual dressage competition all finished within less than one percent of each other, but at the top of the list was Helen Claire McNulty of Region 2. The 15-year-old and her mount, Checkmate, finished the day on a score of 70.816% to claim the Individual Gold medal.
"I did [the NAJYRC] last year, and I finished 11th individually and fifth in the freestyle. It's pretty cool to come back here and win it," McNulty said.
McNulty (Holland, Mich.) continued, "My horse and I, we have had a lot of problems. Last night I said to myself that if you want to do well, you have to start pushing a little bit more and asking a little bit more because he can give it to you. I just did that today, and it paid it off. I took some risks that maybe could have ended badly, but they didn't."
Camille Bergeron (15, Mascouche, Que.) of Team British Columbia/Quebec rode Delfiano to the Silver medal after earning a score of 70.079%.
"We train all year to get here. Just to be here and to win is a dream come true. It proves all of our hard work paid off," Bergeron said.
The Bronze medal was awarded to Region 9's Chloe Taylor (17, Wimberley, Texas) riding Calecto V.
"I'm really pleased with my test and my horse, and I really want to congratulate my teammates because I think everybody did a really, really good job today. All of the tests were beautiful," Taylor said.
Young Rider Individual Test Gold Goes to Natalie Pai
On Wednesday Natalie Pai claimed Team Silver alongside her Region 3 teammates, and after Friday's Individual competition she will also be going home with a Gold.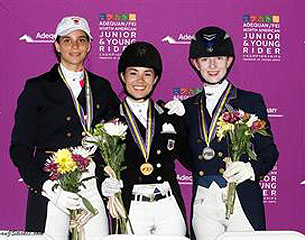 Pai (18, Wellington, Fla.) and Fritz San Tino finished Friday's Individual test with a score of 69.132% to secure their victory.
"I honestly just came here to have a lot fun," Pai said. "I'm so thrilled with how it turned out. He was such a good boy, and I'm so happy with him."
Fresh off the USEF Young Rider European Tour, last year's Individual, Team, and Freestyle Gold medalist, Catherine Chamberlain, came into this year's competition feeling the pressure of returning as the defending champion, and now, she is thrilled to be leaving with another Young Rider medal. She claimed the Individual Silver medal on  Avesto Van Weltevreden with a score of 68.711%.
"I was on a different horse this year. He's really green; he's only 10," Chamberlain said. "We just did our first Prix St. George test in February. It's been quite the journey with him. He's a very talented horse. I've been thrilled with how he's really developed over the last few months, and I couldn't be happier with him. He's trying really hard, and he's just such a good boy. This is my last year here; I age out. To come here and to get this result is amazing. I'm very happy."
Finishing in third and taking home the Bronze medal was Naima Moreira Laliberte (18, Montreal, Que.) on Belafonte. The pair from the team of Quebec earned a score of 68.447%.
Photos © Sue Stickle
Related Links
Scores 2015 North American Junior/Young Riders Championships
Ontario and US's Region 7 Win Team Gold at 2015 North American Junior/Young Riders Championships