2015 Pan American Games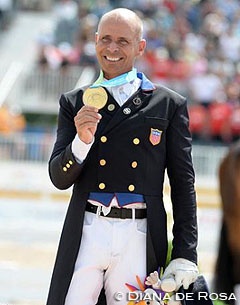 Steffen Peters and Akiko Yamazaki's Westfalian gelding Legolas won the individual gold medal at the 2015 Pan American Games on Tuesday 14 July 2015. At the Caledon equestrian park in Palgrave, Ontario, Peters won the Kur to Music finals with a score of 80.075% to earn gold. Laura Graves ended up with silver and Canada's Chris von Martels got individual bronze.
The final day of dressage competition saw 21 athlete-and-horse combinations performing their Intermediaire I Freestyles for the Small Tour and Grand Prix Freestyles for the Big Tour.
Decorated American dressage athlete Peters and Legolas performed the Grand Prix Freestyle with their usual skill earning a huge score of 80.075%. Speaking to the highlights of the test, Peters said "he kept the cadence from the passage and the piaffe felt huge, the passage in the half-pass felt just as big as the half-passes on the straight line, his changes were clean, and he did not make a mistake - that in itself is a huge highlight for Legolas."

Peters and Legolas 92 have the distinction of earning both Team and Individual Gold medals at these games. In addition, Peters won the Team and Individual Gold medals at the 2011 Pan American Games on Weltino's Magic. The 2015 Pan American Games were a new opportunity for Peters to affirm his number one position as American Grand Prix rider after he lost his top spot to Laura Graves at the 2014 World Equestrian Games and 2015 World Cup Finals in Las Vegas.
"I had to work today, he was very relaxed, and I gave it all," said Peters. "This is just like the Olympic Games, there is no difference. From this morning, I had that mindset - we have to do this, we have to bring it home. Legolas gave it his all; he was just as good [today] as he was in the Grand Prix on the first day [Saturday]. What an awesome feeling, I am so extremely proud of him. For him to finish the season like this, it is just fantastic."
Silver for Laura Graves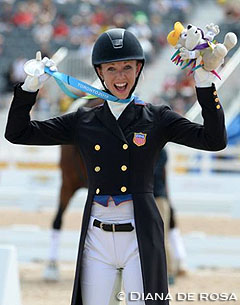 The final combination to appear in Individual competition was the consistently successful team of Graves and her own Verdades (by Florett As). Always competitive in the best of company, they performed with characteristic accuracy and animation to achieve a score of 79.825% and earn the Individual Silver medal. The pair has had a career of ascending success including a fourth place team finish at the 2014 World Equestrian Games and a fourth place individual finish at the 2015 World Cup Finals.
"Today we went in and did the best we could, it's for yourself, so even though I am not as high as I was on Sunday, I am so thrilled to have another American on the top of the podium and a Canadian who rode extremely well this morning in Bronze," said Graves of her Silver medal finish. "The highlight for me this week was really our Team Gold -  that is what we came here for. To finish with a Silver medal next to Steffen is amazing."
Chef d'Equipe Robert Dover praised the efforts of his human and equine athletes and is excited about their prospects.
"I could not be more thrilled and proud of my riders and everybody that contributed - their horses are obviously incredible. I am very hopeful that the depth in our country will continue improving and will be prepared to contend for a medal in Rio [at the Olympic Games]."
Chris von Martels Secures Individual Bronze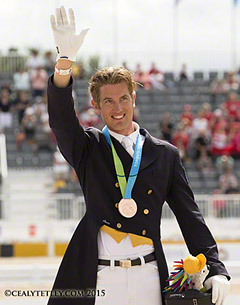 Chris von Martels of Ridgetown, ON, claimed the individual bronze medal in dressage freestyle competition. Von Martels and Zilverstar (by Roussuea) went from strength to strength, producing a fluid, energetic test set to music by U2. The five-member panel of judges rewarded the pair with a score of 79.50%, giving von Martels the individual bronze medal.
"I'm obviously very happy and thrilled with Zilverstar," said von Martels of his 11-year-old bay Dutch Warmblood gelding sired by Rousseau. "He has been absolutely fantastic throughout the whole Games here. He is peaking at the right moment, and I am very proud of him for being able to come onto the international scene and shine like he has."
For von Martels, earning personal best scores in all three phases in front of a home crowd was a thrill.  "I'm very proud," said von Martels, 32. "Our home town audience is, of course, very fanatical and supportive, which is a boost."
Continuing to speak of the Canadian Dressage Team's strong results at these Games, von Martels noted, "I think it paints a clear picture that we are really competitive on the international scene. Not only here in Canada, but in Europe or the U.S. We have proven at this competition that we are absolutely right on track with the rest of the top countries of the world."
Canada Completes Top Five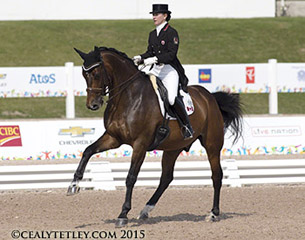 Canada's other two representatives, Belinda Trussell and Brittany Fraser, both received a score of 76.800%. Using the artistic marks to break the tie, Trussell was placed fourth while Fraser earned fifth. Trussell choreographed the required technical movements for the grand prix freestyle to an original composition by Arlene Bynon and Dave Grein. Her freestyle choreography featured an impressive piaffe and passage tour that started her test with Anton, a 15-year-old dark bay Sachsen-Anhaltiner gelding (Antaeus x Melit) owned by Robyn Eames and Marc Trussell, on a high note.
"That part of the test felt really great; it's so fun to ride!" said Trussell, 43. "My goal here was to get three personal bests and that's what happened. I found out that my score from the Grand Prix Special on Sunday is a Canadian record at a major games. I'm pretty excited about that!"
Hailing from nearby Stouffville, ON, Trussell enjoyed being supported by a home audience, as well as her family and friends.
"It was so great, it was like a sea of red!" said the Canadian Olympian. "I love it! With all the flags, it was sensational. It is what I have dreamed of doing for a long time."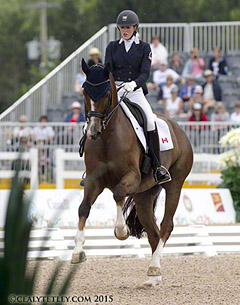 Fraser of New Glasgow, NS, was also thrilled with her top five placing in her major games debut. She has been partnered with All In, a 10-year-old liver chestnut Dutch Warmblood gelding (by Tango x Damiro) owned in partnership with Marc-Andre Beaulieu, since purchasing him at an auction in The Netherlands in 2010.
Of her major games debut, Fraser, 26, said, "I think it was an amazing experience for me and our team. I had great teammates. We are all good friends. The support behind us has been incredible. It's amazing for my first team experience to get personal bests, and 76 percent in the freestyle is awesome!"
At her first major games in the role of chef d'equipe, Alison Martin was thrilled with the Canadian Dressage Team's performance, noting, "They rode exceptionally well. So many personal bests were achieved this week. They fought hard and I really feel they came out with an excellent experience.

"They were excited about showing on home turf, having a major games in their home country and, for Megan and Belinda, in their hometown," continued Martin of North Vancouver, BC. "They felt super supported. They were totally energized by the opportunity to show here, and the fact that we were fighting for gold."
Read more about the 2015 Pan American Games on Dressagedaily.com
-- USEF / Equine Canada PR - Photos © Diana De Rosa - Cealy Tetley
Related Links
Scores 2015 Pan American Games
Eurodressage Coverage of the 2015 Pan American Games