FEI News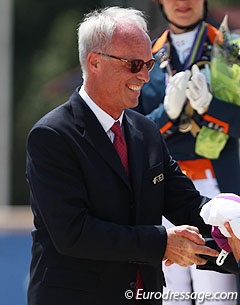 The FEI published the following statement on 13 July 2015 regarding the 2015 Pan American Games Individual Final taking place July 14 at the  Caledon Equestrian Park. The finals caused much debate as there were conflicting rules between PASO and the FEI about the number of riders per country eligible to contest the finals.


FEI Bulletin: ​Final decision on riders eligible for individual dressage final
A final decision has been reached on the number of riders per country for tomorrow's Individual Dressage Final and a new start list has been made following a draw.
Fifty per cent of those that started in the Team Competitions qualify for the Individual Final, and the Technical Handbook for Dressage at the Pan-American Games does not mention any restrictions on the number of riders per nation that can continue through to the Individual Final, provided they are qualified. The competitions at the Pan-American Games are staged under Pan American Sports Organization (PASO) rules, but the FEI decides on the sports format and this year introduced a new concept with the combination of Small Tour and Big Tour.
Based on the Technical Handbook, it was announced at a meeting of chefs d'equipe yesterday (12 July) that four riders would be eligible to go through to the Individual Final and the draw was then made for the Individual Final (Freestyle), including four riders from both the United States of America and Canada.
No protest was lodged within the 30 minute deadline after that meeting, and an attempt to lodge a protest after the deadline was rejected by the Ground Jury (Judges).
However, at a chefs d'equipe meeting this morning (13 July) it was announced that according to the PASO rules, a maximum of three riders per country would be eligible to go through to the Individual Final. The chefs d'equipe present at the meeting unanimously agreed to ask PASO for an exception so that four riders could participate, and that the two riders that would lose their places could start in the Individual Final as extra riders.
PASO has the right to make exceptions to its own rules, and agreed that it was prepared to consider the unanimous request from the chefs d'equipe. However, later in the day, two nations – Venezuela and Mexico – stated that they had changed their minds. When PASO was informed that there were two countries that were no longer in agreement with the original vote, PASO said it would not agree to an exception in these circumstances.
Following today's PASO decision not to grant an exception, a re-draw has been made with three riders each from the USA and Canada on the start list. The Individual Final takes place at 11.00 local time in Toronto tomorrow (14 July).
"This is an unfortunate situation, in which PASO was very willing to make an exception to its own rules providing all competing countries were in agreement", FEI Director Dressage and Para-Equestrian Dressage Trond Asmyr said, "but the unanimity at the morning's chefs d'equipe meeting no longer prevailed this afternoon and PASO had no choice but to enforce its rules of allowing only three riders through to the Individual Final."
Related Link
Eurodressage Coverage of the 2015 Pan American Games