2015 Pan American Games
With strong performances by all four American team riders over two days at the 2015 Pan American Games resulted in a Team Gold medal win and direct qualification for the 2016 Olympic Games in Rio de Janeiro, Brazil. Canada won silver and Brazil bronze. The 2015 Pan American Games are taking place at the Caledon Equestrian Park in Palgrave, Ontario on 11 - 14 July 2015.
The new requirement of mixed teams with big and small tour combinations for Olympic eligibility was introduced at the 2015 Pan Am Games. A total of 10 countries contested the team medals, with Argentina, Canada, Mexico and the United States eligible for Olympic qualification.
The U.S. team, composed of Sabine Schut-Kery on Sanceo and Kimberly Herslow on Rosmarin in the Small Tour, and Laura Graves on Verdades and Steffen Peters on Legolas in the Big Tour, scored an overall score of 460.506. Both Graves and Herslow marked personal best scores in the Grand Prix Special and Intermediaire I tests, respectively.
"I am so pleased that the team came and had personal bests here," said a very proud Chef d'Equipe, Robert Dover. "It showed that our Small Tour horses are beautifully trained and our Big Tour combinations showed why they are ranked seventh and eighth in the world right now. What could be better for a Chef d'Equipe than to bring a team and have them earn personal bests at a very important moment. Having earned qualification for the Olympic Games, it allows us to now focus and put our energy into preparing for Rio [de Janerio]."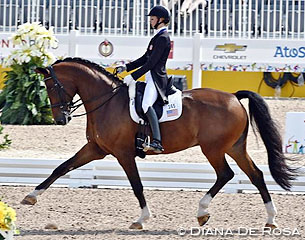 As the sun rose in Canada this morning, the U.S. Dressage Team sat in first place by a small margin over Canada after the first day of competition, which featured the Prix St Georges and Grand Prix classes for the mixed teams. The athletes felt the pressure as they faced FEI Intermediaire I and Grand Prix Special tests against formidable international competitors with especially Canada on best form.
Steffen Peters said, "The Canadians did a wonderful job. They rode extremely well and gave us quite the run; it wasn't easy."
Canada took the team silver medal with a score of 454.938 and Brazil won team bronze on 414.895.
Graves and her KWPN gelding Verdades won the Grand Prix Special test. The pair achieved a personal best score of 77.177%, impressing the judges with their energy and precision. Graves was effusive in her praise of her mount. "He was amazing out there, really on again today. He loves Toronto!"
Herslow and Rosmarin were second to go in the Small Tour for the U.S. The pair bested yesterday's ride with brilliant extension and expressive movement. With a score of 77.158%, which set a new personal best, they were rewarded for their efforts. Herslow credits her coaches and her team for the great performances. "I feel like I had the most expression I have ever had in that test. It was an incredible score for an incredible ride. I am so happy to do my personal best here and contribute this score to the team."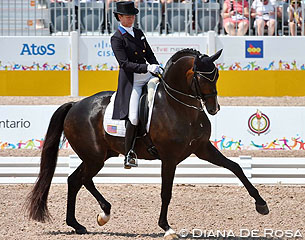 Schut-Kery and Sanceo performed an excellent Intermediaire I test this morning. The first of the U.S. athletes to ride down the center line, the pair improved on yesterday's score in earning a 73.553%. The nine-year-old Hanoverian stallion continued to be focused and energetic as the duo ironed out some minor bobbles in yesterday's ride to show an improved score. Their test today was highlighted by clean changes and precise pirouettes. "Our test felt really good," said Schut-Kery. "We stepped up and improved from yesterday which was our goal. Going into [Tuesday's] Freestyle, we will aim to continue to better our performance."
Peters and his accomplished mount Legolas 92 faced some challenges in their performance in the Grand Prix Special. Their score of 72.667% reflects several bobbles in their execution of the test. Keeping the perspective of a champion, Peters was positive and forward thinking. "We had a few mistakes out there, but he delivered yesterday and Tuesday is a new day."
Team Silver for Canada
Following a hard fought battle with the United States, the Canadian Dressage Team claimed the silver medal. Brittany Fraser, Megan Lane, Belinda Trussell, and Chris von Martels earned the team silver medal for Canada in front of a home crowd.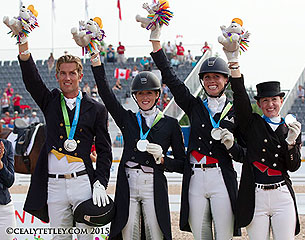 Canada's small tour riders Fraser and von Martels both produced strong performances in the Intermediaire I test. Riding Zilverstar, an 11-year-old bay Dutch Warmblood gelding sired by Rousseau, von Martels earned an impressive score of 76.210% from the judges, which ranked him third overall in Sunday's competition.
"It was a very good test; it was personal best again," said von Martels, 32, who is making his major games debut. "He's going so well at the moment. We've focused a lot over the last month and a half to prepare for these Games. He's peaking at the right point. We are thrilled."
For the second day in a row, Fraser produced a world-class performance for Canada riding All In to place just behind von Martels with a score of 76.079%. Strong trot and canter work were highlights for Fraser and the 10-year-old liver chestnut Dutch Warmblood gelding (by Tango x Damiro).
"It was awesome, just like yesterday," said Fraser, 26. "My horse did it again, and I'm really happy. We are so close with the U.S., and we all wanted to give really great performances."
Of her successful Pan Am Games debut, Fraser said, "It was amazing! It was like a dream come true. There is so much work that is involved in getting here, and it really pays off in the end. It's crazy! The amount of support I've been getting is really incredible. I'm so thankful for that."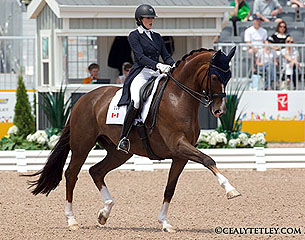 Lane and Trussell both contested the Grand Prix Special. The youngest member of the Canadian Dressage Team, Lane, 24, earned a score of 71.392% riding Caravella, a 14-year-old bay Dutch Warmblood mare (by Contango x Riverman).
"I think I have the best team that I could ask for," said Lane, who is based 10 minutes from the Caledon Equestrian Park at Deer Ridge Equestrian in Loretto, ON. "The dynamic, the energy, and the positivity are like nothing I've experienced. With that to lead up to a medal, I'm over the moon with this experience."
Lane has been partnered with Caravella, a mare that was competing as a hunter before Lane purchased her, for the past six years. The pair has grown up together, moving through the levels from junior up to grand prix.
"Capping off our career with a medal - that was on the 'to do' list!" smiled Lane. "I'm so happy with her. We're partners for life, and I couldn't ask for a better partner. It's moments like this when you can sit back and reminisce about all the effort that goes into it, and the support you have received, whether it be from sponsors, grooms - everybody who is behind the horse and yourself. It's an amazing experience!"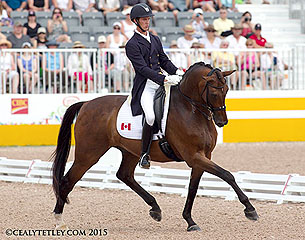 Riding in the anchor position for Canada was Belinda Trussell, who is an Olympian and three-time World Equestrian Games competitor. She was aboard her veteran partner Anton, a 15-year-old dark bay Sachsen-Anhaltiner gelding (Antaeus x Melit). The pair earned a score of 75.078%.
"I think, for Canada, that this Games has pushed us to a new level," said Trussell, who is competing in her first Pan American Games. "To be coming away with nothing below 70%, and highlights of 76%, has never been done. It's really exciting for Canada. We are so pumped as a nation, and pumped to go forward to the next games. We are international contenders. There is huge excitement!"
Of her first Pan Am team experience, Trussell said, "We are extremely supportive of one another. There's a lot of fun and camaraderie in the barn. We have a great group. I have to say thanks also to our International Support Team. They have done an absolutely phenomenal job for us and they have made our job so easy. It's just been an absolute pleasure."
Bronze for Brazil
The Brazilian team scored a total of 414.895 points for team bronze. The south American country is already pre-qualified for the Olympics as the home nation and the its team narrowly edged out Mexico (412.467) for the team bronze at the Pan Ams.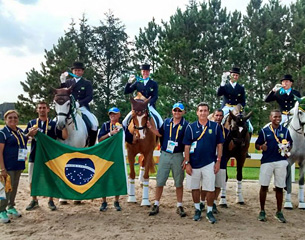 The race for bronze was an exciting one, a true thriller as it depended on the last performance of the Brazilian team rider, Joao dos Santos on Veleiro do Top for Brazil to secure a team medal. Dos Santos clocked a 70.158%, the highest score for the Brazilian team and secured the bronze. The Brazilian team caught up on Mexico who were in third place after the first day of competition.
"I'm enormously happy and my mission is accomplished," said Dos Santos. "I went in with the challenge to get a better score and my horse was brilliant." The 32-year old Joao has been competing in dressage for the past five years and is the head rider at the Sasa equestrian centre, which is owned by Portuguese Jose Eusebio and located in Soa Jose de Rio Preto.
The second best performing Brazilian was Joao Victor Marcari Oliva on Xama dos Pinhais. He scored 69.211 in the Intermediaire I. The former basketnall athlete stayed focused on the job and was key in Brazil getting bronze. The 19-year Joao is the youngest team member.
"I had a good ride but made a mistake at the end of the test which cost me a lot," said Marcari Oliva. "Without it it would have had an even better result, but I'm happy. My horses responded well to my aids."
The more experienced Brazilian rider Leandro Silva, who was also a team member at the 2011 Pan Ams in Guadalajara, saddled Di Caprio for these Games and scored 69.026% int he Intermediaire. Team newcomer Sarah Waddell and Donnelly scored 67.184% on the final day of the team competition.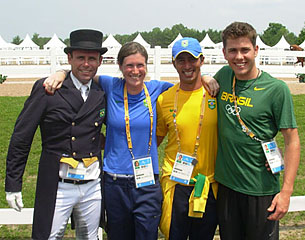 Sandra Smith, Brazil's Technical Director for Dressage, was ecstatic with the result. "This is the fruit of serious, hard work and the team spirit of entire Brazilian dressage. We won gold at the South American Championships in Odesur and now we got a medal at the Pan Ams. It is great to see young people developing and appearing more on the international stage."
At the 2011 Pan American Games, Brazil finished fifth and they now improved to third place.  This is the country's fourth team bronze medal at the Pan Ams, though. They previously achieved bronze at the 1975 Pan Ams in Mexico, 1983 Pan Ams in Caracas and 2007 Pan Ams in Rio de Janeiro.
A total of 23 horse-rider combinations will move forward to the Individual Final on Tuesday, July 14.  Riders do not carry forward their scores from the first two days of competition, allowing everyone to start on equal footing in the individual freestyle competition. Individual medals will be awarded at the conclusion of Tuesday's competition.
Normally the FEI rule says that only three riders per country can move towards the individual finals, but due to a change to the qualifying criteria for the 2015 Pan American Games, all four qualified riders athletes per national will move forward to the Individual Final.  Venezuela has filed an official protest against this unusual criterium. 
Read more about the 2015 Pan American Games on Dressagedaily.com
Photos © Diana DeRosa - Cealy Tetley - COB

Related Links
Scores 2015 Pan American Games
Eurodressage Coverage of the 2015 Pan American Games