2015 European Junior/Young Riders Championships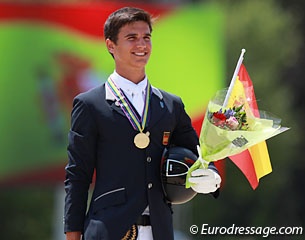 Spanish Juan Matute Guimon wrote history by winning Kur to Music gold at the 2015 European Junior Riders Championships in Vidauban, France, on Sunday morning 5 July 2015. Matute Guimon is the first Spanish youth rider ever to win an individual medal, let alone a golden one. The silver went to German Semmieke Rothenberger and the bronze to Danish Victoria Vallentin.
The judges' panel for the Junior Kur to Music included Yuri Romanov (RUS), Maja Stukelj (SLO), Jean-Michel Roudier (FRA), Susanne Baarup (DEN), and Ulrike Nivelle (GER). It was a coin toss for gold with Juan Matute Guimon finishing on 81.600% and Semmieke Rothenberger on 81.400%. Two judges had Matute first, three had Rothenberger first but the score differences were small.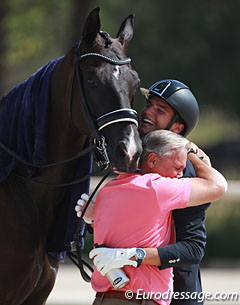 Matute Guimon and the Hanoverian gelding Dhannie (by Don Crusador) probably had the edge by riding a choreography with a high degree of technical difficulty. While most juniors were playing it safe with the amount of flying changes, Matute did not shy away from riding very difficult canter combinations with serpentine lines, tons of changes and bits with counter canter. The trot work was very strong with the horse moving in its best form that week. Dhannie, who is owned by Cristina Danguillecourt of Yeguada de Ymas, was still too tight in the neck and has to lengthen its frame more for an even prettier silhouette. The end halt was stretched.
"This is very exciting. It's been a very hard week but we managed pretty well," said the Madrid born and Florida based Juan at the press conference. "My horse felt fresh. My dad made the choreography, my mom chose the music and a Spanish composer tweaked things out." Juan is staying in Europe for the summer and after Vidauban will move to their Krefeld base in Germany before heading to the 2015 CDIO Hagen (8 - 12 July), where he'll contest the under 25 division with Don Diego.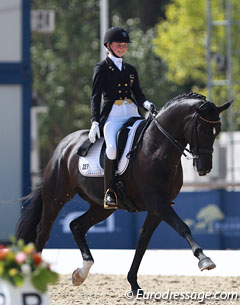 German Semmieke Rothenberger and her 13-year old Danish mare Geisha (by Gribaldi x Weltmeister) were on excellent form in the freestyle. They convinced with outstanding trot and canter extensions, lovely trot half passes and beautiful uphill flying changes, especially the ones on the centerline. There was a mistake in one change though. The extended walk had two hooves overtrack and good relaxation, but the walk pirouette was big. The canter half pass should have shown more collection. Semmieke finished her ride with a one-handed extended trot.
"I used the old music of Deveraux, which is based on the movie Spirit and Joost Peeters made some changes to it," Semmieke explained about her freestyle. "I had a very nice feeling. She was much better than yesterday even though I still had a mistake. My horse has a lot of potential and I know that Geisha and I have a bright future."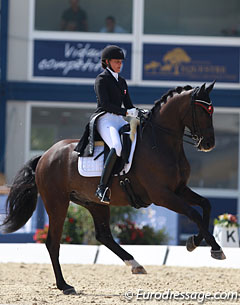 Danish Victoria Vallentin and the Toft family's 11-year old Danish bred Atnon (by De Noir x Akinos) were the deserved bronze medalists as the high quality of the horse and outstanding steering of the rider shone through. Riding to music of The Proclaimers, Vallentin made Atnon stand out with his highly balanced and super cadenced trot work. The extensions were powerful, but in the lateral movements the nose could have been more out. The collected walk could have been more through the back. The extended canter was fantastic with each stride uphill and ground covering.
For Vallentin getting a medal was double sweet as she shared the podium with Rothenberger on Geisha, the mare which she took to international junior level but which got sold to the Rothenbergers immediately after the CDIO-PJYR Hagen in June 2014. Vallentin was unable to qualify for the Danish team last year as she had sustained a head injury in a riding accident in the spring of 2014 and could not compete Geisha before the deadline. This year she also faced challenges as she only got two new junior riders' horses less than two months ago: Atnon and Furstentraum. The former horse proved to be the higher quality one and made it on the team.
"I used Geisha's music today," Vallentin explained. "Atnon was a little tired today. I didn't expect a medal, but after I was third in the team test on the first day I started to hope for one."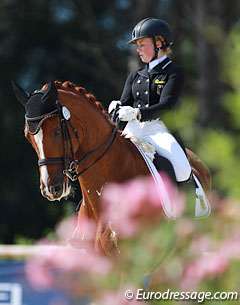 The individual test bronze medalist, Paulina Holzknecht, landed fourth place in the kur. Aboard Wolfgang Schmitz-Heinen's 12-year old Hanoverian Wells Fargo (by Welser x Fabriano), Paulina rode to music from Amy MacDonald and Beyonce. Her floorplan included lovely combinations such a shoulder in - extended trot - half pass, and an extended trot - walk pirouette - canter half pass. Some of the flying changes did not have enough spark, one was late on the aids. There could have been more neck stretch in the extended walk but the final halt was strong. Holzknecht scored 77.650%.
Russian Aleksandra Maksakova and her 13-year old Oldenburg gelding Scampalo (by Sandro Hit x Florestan) slotted in fifth with 77.075%. The long legged black gelding has amazing bounce and suppleness in trot. He flicks a bit with his front legs in the extensions, but generates good overtrack. Maksakova rode a nice line of half pass - shoulder in - half pass. The horse jogged in the extended walk. The canter tour was nice and forward but overall the horse needed to be more collected and closed in the frame. The halts were executed a bit sloppy as none of them were immobile.
Text and Photos © Astrid Appels - Eurodressage - NO REPRODUCTION ALLOWED - NO FACEBOOK
Eurodressage's Astrid Appels took photos of all riders competing in Vidauban. If you are interested in photos, contact us by email with your name and the name of the horse
Related Link
Eurodressage Coverage of the 2015 European Junior/Young Riders Championships