2015 European Junior/Young Riders Championships
FEI press release -- Germany took four of the eight titles on offer at the 2015 European Dressage Championships for Young Riders, Juniors and Children in Vidauban, France where the action drew to a close on Sunday 5 July 2015. However Dana Van Lierop broke their grip when claiming the Young Riders Individual honours for The Netherlands on Saturday, and there was a great flutter of excitement when Spain's Juan Matute Guimon topped Sunday's Junior Freestyle.
For the first time ever, the 2015 fixture also hosted Team and Individual Championships for Children, with Switzerland coming out on top in the Team event and Denmark's Sofia Valentina Hegstrup claiming Individual gold. It was non-stop action from the outset, with competitors not only having to battle with one another but also with the intense heat that bathed the Domaine Equestre de Grands Pins which is owned by German Dressage rider Bernadette Brune.
Juniors
The Junior team medal podium mirrored exactly the same result as last year, with Germany taking the top step followed by The Netherlands in silver and Denmark in bronze. The German win was definitive, their final total of 224.513 leaving them more than eight marks ahead of the Dutch who were closely followed by the Danes. Multiple medallist Semmieke Rothenberger has made a seamless transition from Pony to Junior level, and with the Gribaldi mare, Geisha, rooted the German result with a strong score of 76.351. However, although Kristin Biermann and Zwetcher posted 72.054 and Paulina Holzknecht and Wells Fargo scored 73.486, it fell to the relatively inexperienced Hannah Erbe to clinch it with her eight-year-old gelding Carlos. And she did it with great maturity, not over-playing her hand but producing a solid performance that earned 74.676 to firmly shut out the opposition.
The leading score for the Dutch team came from Lisanne Zoutendijk and Ringo Star who put 73.486 on the board, while Mercedes Verwey (Zarah) scored 72.054, Laura Quint (Velazquez) scored 70.838 and Marjan Hooge (Fulltime) posted 69.135. Denmark's Victoria Vallentin was impressive when earning 73.784 with Atnon, while team-mates Sille Engrmann (Darius), Nana Gajhede (Zoom in Firfod) and Kristine Koch Bejtrup (Cavalier) posted 71.216, 70.000 and 69.595 respectively.
A total of 15 nations fielded teams, and it was Russia that just missed out on the medal podium in fourth place.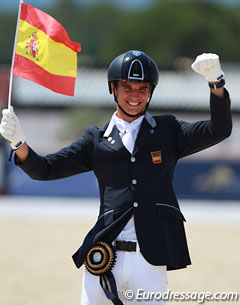 The Germans then proved untouchable once again in the Individual Championship in which Erbe and Carlos were outstanding when clinching gold with a score of 78.026. Rothenberger and Geisha took silver on a mark of 77.579 while Holzknecht and Wells Fargo's 75.553 claimed the bronze. Erbe was filled with emotion at the press conference afterwards, the 16-year-old however managing to express her deep gratitude to her support team.
Spain's Juan Matute Guimon lined up fourth here with Dhannie on a mark of 75.105, having already been impressive in the team event with a score of 72.514. And he just kept improving all weekend, sweeping to victory in this afternoon's Junior Freestyle.
His mark of 81.800 pinned Rothenberger (81.400) into silver-medal spot while Denmark's Victoria Vallentin claimed the bronze with a score of 78.275. Son of three-time Olympian and trainer, Juan Matute Sr., the newly-crowned Junior Freestyle champion said afterwards, "we all dream of a medal, but actually winning one is a world of difference! I'm so happy and so proud!" The Madrid-born 17-year-old explained, "we have been living for the last seven years in Wellington, Florida so we have the winter season there and then in the summer we come to Europe. In Florida from January to March the CDI is non-stop and it's a great place to compete and train, but when you come to Europe the quality of riders is much higher. I have been riding this horse for two years now and did Arezzo Europeans with him last summer. He is only eight years old and we will compete together in the 7/9 Year Old category at the World Dressage Championships in August - I'm really looking forward to that!"
Young Riders
The Young Riders Team leaderboard partially reflected last year's result with Germany taking gold ahead of The Netherlands in silver medal position. However this time around the Swedish team pushed the 2014 bronze medallists from Denmark off the podium.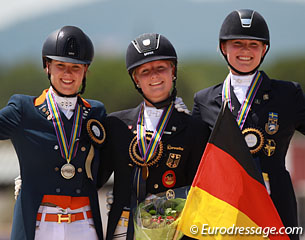 With 17 nations in contention the Team event was spread over two days and Claire-Louise Averkorn's leading score of 72.368 anchored the early German advantage, with Vivien Niemann and Don Vertino backing that up with a mark of 71.5. Such is the strength of the German Young Riders squad however that Niemann's mark turned out to be the discard when last year's Junior triple-gold-medallists, Anna-Christina Abbelen and Fuerst on Tour, posted 73.789 and Bianca Nowag and Fair Play RB then rounded things up with a massive 75.263.
 
That wasn't the biggest score of the class however. This was produced by The Netherlands' Dana Van Lierop and the elegant bay mare Equestricons Walkuere who earned 76.500. But when Denise Nekeman's 73.816 with Boston and Jeanine Nieuwenhuls' 70.780 with Hexagon's Baldacci were added, as Jeanine Nekeman and Vlingh produced the discard with a strong 70.789, the end result was a difference of just 0.315 between the gold-medal-winning Germans and the silver medallists from The Netherlands.
Marina Mattsson and Double Diamond ll produced the strongest Swedish score of 73.579 while Alva Lander (Herbie Hancock Graftebje), Victoria Appleyard (Sir Willy) and Emma Jonsson (Santo Domingo) posted 71.420, 70.026 and 68.921 respectively. The final Swedish tally of 215.026 left them more than five marks ahead of the fourth-placed Danes.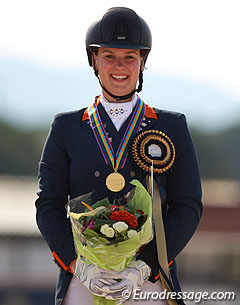 Van Lierop continued to dominate with a mark of 77.447 to clinch the Individual title ahead of Nowag in silver medal spot, while Sweden's Marina Mattsson took the bronze, but when it came to today's Freestyle the tables were turned. The 19-year-old Dutch rider posted a whopping 81.225 with her 10-year-old mare, but the 20-year-old German soared ahead with a score of 82.775 from her 11-year-old Westphalian mare that put the result beyond doubt.
Nowag said afterwards, "I was really surprised to win the Freestyle, but today I had a great ride and I'm very proud of my mare. Dana (Van Lierop) had some mistakes so I knew if I gave everything I might have a chance! I competed in the German Championships at Balve and we had good results there as well as at Wiesbaden in May. This is my last year in Young Riders so next year I will compete in the Under-25s and my target is to maintain the standard of work we have been producing." 
Children
Childrens Team gold went to the Swiss three-some of Jorina Miehling (Rising Star), Annina Luthi (Odin lll) and Meilin Ngovan (Don Paulo 2) whose total of 211.900 left them more than four marks ahead of the Russian silver medallists. Luthi's mark of 71.067 was cemented by 70.900 from Ngovan, while Miehling posted 69.933.
Russia's Irina Zhogina (Ithaka), Elizabeta Lyban (Erantos), Ekaterina Dkubrovina (Artig) and Anna Guseynova (Abe Fan It Hiem) were extremely consistent, but none broke the 70 per cent barrier. However one member of the French side - Mado Pinto riding Rafale du Coussoul - did just that when earning 71.600 which was enough to edge out the Hungarians for bronze. The remaining French scores were 66.333 for Enora de Vienne (Maestro De L'Aubois), 63.300 for Eugenie Burban (Sandreo) and 61.967 for Helena Gruny (Vip du Fayard). And her exceptional effort was good enough to leave Pinto in third individually at the end of the Team event, behind Cecilia Bergakra Berglund and I Do Kiss (71.833) in second while Austria's Lilli Ochsenhofer and Sanibel were the highest scorers of the Team competition with 72.333.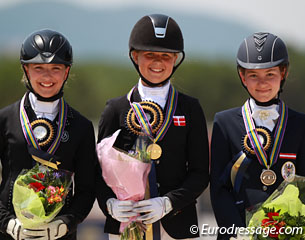 In the Childrens Individual Championship however it was Denmark's Sofia Valentina Hegstrup who reigned supreme with her seven-year-old Hanoverian mare Santa. Scoring 73.250 she finished well clear of Sweden's Cecilia Bergakra Berglund in silver medal spot on 71.250 while Austria's Lilli Ochsenhofer took the bronze with a mark of 71.250.
Hegstrup was almost overwhelmed by her success. "I'm so happy and excited!", the 13-year-old said. "I didn't expect a medal or anything when I came here, so I can hardly believe it, but after making a few mistakes yesterday we were so much better today and I'm really delighted!"
Text by Louise Parkes for the FEI - Photos © Astrid Appels - Eurodressage - NO REPRODUCTION ALLOWED - NO FACEBOOK
Eurodressage's Astrid Appels took photos of all riders competing in Vidauban. If you are interested in photos, contact us by email with your name and the name of the horse
Related Link
Eurodressage Coverage of the 2015 European Junior/Young Riders Championships