2015 Bundeschampionate Qualifier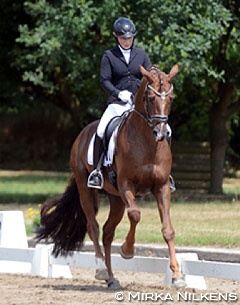 At the 2015 Rhinelander Regional Championships in Langenfeld, Germany, on 18 - 21 June 2015, the 5-year old Damon's Classic and the 6-year old Bodyguard qualified for the 2015 Bundeschampionate by winning the L and M-level dressage horse test. Thirteen  5-year olds and sixteen 6-year olds showed up in Langenfeld to earn a ticket to Warendorf.
In the 5-year old division Heiner Schiergen steered Christian Beck's Westfalian gelding Damon's Classic (by Damon Hill x Lauries Crusador xx) to victory with an 8.3 total score. The horse earned 8.5 for walk and canter, 8 for trot and submittion and 8.5 for general impression. Susane Brinkmann-Gerlach and the Hanoverian gelding Looping H (by Londontime x Hitchcock) were second with 8.1. The chestnut gelding for 8 for walk and trot, 8.5 for canter, 7.5 for submission and 8.5 for general impression.
Jana Freund and the Hanoverian stallion Bodyguard (by Burlington x Pik L) were the winners in the 6-year old division with an 8.5 total score. The liver chestnut licensed stallion got 8.5 for walk, trot and canter, 8 for submission and 9 for general impression. Stefanie Wolf and the Rhinelander mare Saphira (by San Amour) were the runners up with 8.2. The dark bay mare got 8 for trot, 8.5 for walk, 7.5 for canter, and 8.5 for submission and general impression.
Photo © Mirka Nilkens
Results - 2015 Bundeschampionate Qualifier - Langenfeld
5-year olds
1. Heiner Schirgen - Damon's Classic - 8.3
2. Susanne Brinkmann-Gerlach - Looping H - 8.1
3. Christina Konings - Lassira B - 8.0
4. Marina Welbers - Aston - 7.7
5. Kathrin Sudholter - Dantano - 7.6
6. Katharina Hartmann - Serano - 7.4
7. Linda Weiss - Belle au Bois Dormant - 7.3
7. Martin Pfeiffer - Lapusch - 7.3
9. Lisa Erlemeyer - Fiorella B - 7.2
10. Wendy Liebenstein - Fantastival - 7.0
10. Stefan Wieser - Farewell's Anyway - 7.0
12. Annika Korte - Rosenstolz - 6.9
Hannah Wiessner - Sieshof's Lamborghini - RET
6-year olds
1. Jana Freund - Bodyguard - 8.5
2. Stefanie Wolf - Saphira - 8.2
3. Marina Welbers - Bravo - 7.7
4. Ann Kristin Dornbracht - Fiesta Bonita - 7.5
5. Lydia Camp - Fidibus - 7.4
5. Kathrin Sudholter - Desario - 7.4
7. Annika Baumer - Kamani Hill - 7.3
7. Wendy Liebenstein - Dream of Tomason - 7.3
9. Franziska Stettner - Franzi's Floh - 7.2
10. Wendy Liebenstein - Rainbowdancer - 7.0
10. Stefan Michalke - Franklin E - 7.0
12. Lina Claren - Lebensfreude - 6.9
12. Ludget Neuhaus - Riva K - 6.9
14. Iris Brinckmann - La Lutzi - 6.5
Lina Claren - Benedetto Marone - RET
Annika Korte - Raul - RET
Related Link
Eurodressage Coverage of the 2015 Bundeschampionate