A Walk on the Premises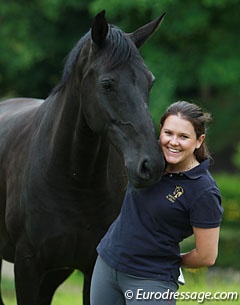 "Only the best is good enough" and that motto is strikingly clear when one walks over the premises of Mount St. John, a breeding paradise of dressage foals destined for high performance sport based in the North of England. Incredible mare lines, a professional team of horse caring personnel and a grand vision led by owner Emma Jane Blundell make Mount St John the epitome of modern dressage horse breeding.
Mount St John is located in the small village of Felixkirk on the edge of the North Yorkshire National Park. A stately home with origins in the 11th century overlooks the Yorkshire valley and boasts a jawdropping view. Behind the manor house run driveways which lead to gorgeous landscaped gardens which leads to the equestrian centre on the estate. Paddocks, fields and pastures are delicately nestled in the landscape near the stables laid in solid stones. At the edge of the centre there is a state-of-the-art new wooden barn, the "infitinity" outdoor school, storage and recipient mare barn. The entire property exudes English taste and refinement with the horses' welfare at the centre of attention.
The visionary behind Mount St. John is Emma Jane Blundell, a bubbly but straightforward and honest 28-year old with a good sense of humour. What fills the heart, will flow from the mouth and Emma has a passion for mares and foals. She has been travelling all around the world to find the best mares as a base for her brood farm. 
"Last year I really had to have Diva Dannebrog after I saw her on video. I convinced breeder and owner Dorthe Jeppesen that we could take a look at her, even though she was not for sale. Dorthe had already turned down offers from an Olympic rider. Dorthe ran Diva in-hand in her skirt and wellingtons and the mare was the best mover I had ever seen in the field," Blundell reminisced. "We vetted her on the spot, even though Dorthe kept saying no to a sale. Finally we were able to make a deal to buy the horse by paying the purchase price and giving Dorthe one embryo a year so she would still have foals out of her."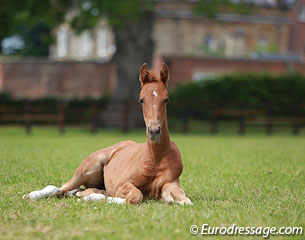 This is only one of the many fun-filled, amazing stories Emma recited about her explorations in search of breeders' best.
Breeding the Best of All

Blundell's vision for Mount St. John shows business savviness and drive that makes her succeed in her endeavours.  A gradutate in Business Management at Manchester University, Emma convinced her parents that a regular job was not her cup of tea, but that horses would be the centre of her life. She put a proper plan in place to make her dream a commercial success and convinced her parents to allow her to take over part of the family home. With top quality broodmares as a solid base she wants to breed her own future stars. Last year Blundell's first crop of foals sold for an average price of 20,000 euro per foal, a feat most breeders can only dream of.
"If you do what you love, you will never have to work a day in your life," said Emma about her highly time-consuming job at Mount St. John. She is a Renaissance woman in the truest sense, functioning as managing director, public relations person, breeding director, board member and aspiring FEI rider, all in one.
The Mount St John breeding program is mainly based on embryo transfer. A stellar collection of broodmares has been purchased in Great Britain, Germany, The Netherlands and Denmark and these mares are flushed on a regular basis to produce several foals a year. The older top broodmares enjoy a comfortable life in pastures that go beyone eye sight, whereas the younger broodmares are prepared for a sport career and get flushed only when it fits into their training schedule.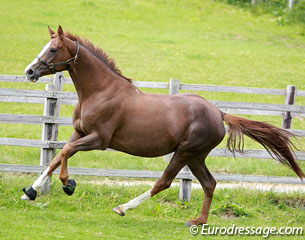 While walking past the fields, mares are peacefully chewing on grass or napping in the sunshine. When Emma starts to list the names and bloodlines, jaws drop. Furstin Fugger (full sister to Bundeschampionate Furst Fugger), Claire (granddam of double young horse World Champion Woodlander Farouche), Diva Dannebrog (the high scorer of the 2013 Oldenburg Mare Performance Test), Atterupgaards Dallara (Nr. 1 indexed Danish Warmblood mare), Della Bee (full sister to young horse World Champion Desperado), De La Beauté (Reserve Oldenburg and vice Bundeschampion), Clare Hester's Weidyfleur II (full sister to Valegro) and Deja'Vu (Bundeschampion and bronze medallist at the World Young Horse Championships) are just a few of the foundation mares Emma has stocked at Mount St. John.
When asked who the best broodmare in her collection is, Emma struggles to name the winner. She admitted that she certainly has a top three: Dejavu (by Dacaprio x Gluckspilz), Tia Roma (by Donnerhall x Rubinstein - from the damline that produced Rubin Royal), and her own small tour horse Keystone Diaz (by Dimaggio x Galant). At the moment Emma thinks Diaz' Vivaldi colt, Vegas, is the best foal she has bred in 2015, but the Finest offspring out of Diva Dannebrog (by Don Schufro), which has already sold to Charlotte Dujardin, is a close second.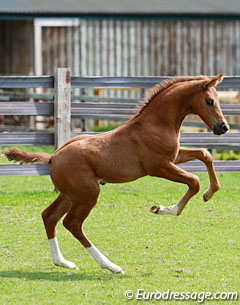 Emma's stallion choices are based on personal viewings of the sires at their home or at stallion shows as well as on the opinions on experiences of befriended breeders in Germany and Denmark. Emma usually goes for the established, older proven stallions and occasionally plays with a popular young sire that might be marketable as long as he matches her mares. For 2016 Emma is returning to Furstenball for the high quality of his semen as well as the great looks and fantastic personalities he passes on. Emma has also used Governor (by Totilas x Jazz), Dream Boy (by Vivaldi x Ferro) and Bon Coeur (by Benetton Dream x Sandro Hit) for several mares, alongside her preferred picks such as Ferro, Bordeaux, Diamond Hit, and Vivaldi.
With a superb technical staff on site, Mount St. John is also a favoured base for British breeders to bring their mares to for embryotransfer. They also welcome breeders who want assistance in making stallion choices, breeding options, or foal births.
Expanding to Sport with Emile Faurie and Charlotte Dujardin

While Emma can talk about foals and bloodlines non-stop in her bubbly way, she also makes it clear that breeding is not the exclusive core of Mount St. John.  Now that a basis has been developed, Emma definitely wants to branch out to sport and make Mount St. John a brand.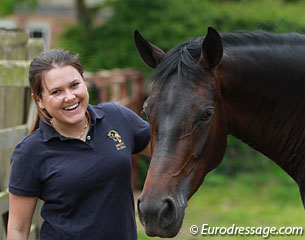 "The goal is not just to breed top quality foals. I want to have high quality mares prove themselves in sport," Blundell explained. "At the moment all Mount St. John bred horses carry the MSJ suffix, but the ones we bought will have Mount St. John in front of their sport name as a  distinction."
Mount St. John is not just a nursery of elite dressage horses, the sport aspect is making more ground each year. With exciting collaborations in place with British team rider Emile Faurie and British Olympic champion Charlotte Dujardin, Blundell is reaching for the stars and she secretely hopes to have at least one of her horses at a major continental championship in the near future. 
British 2011 European Team gold medal winning Emile Faurie is currently training and competing Mount St. John's "oldest" sport mare, the 7-year old Oldenburg mare De La Beauté (by Don Romantic x Depardieu x Landadel), who is now small tour ready. Emile also comes to Mount St. John on a monthly basis for two-day clinics.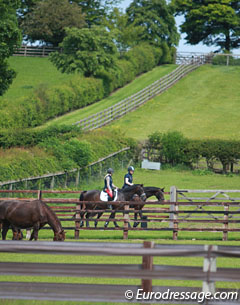 Emma has also partnered with Charlotte Dujardin, the world's favourite dressage rider and current world record holder. As Charlotte and Valegro's competition career will end after the 2016 Olympic Games following Valegro's retirement, Dujardin has made it no secret she will go independent after Rio. Blundell saw a great opportunity in working together with Charlotte and provided her with a talented young horse base to slowly build her future yard away from Carl's but maintaining him as her trainer.
Dujardin is currently riding four Mount St. John horses: the world class 4-year old Oldenburg mare Top Secret (by Totilas out of Deja'Vu), the 4-year old Quiana II (by Quaterback x Samba Hit), the 5-year old Oldenburg mare Best of All (by Bordeaux x Sir Donnerhall) and the 6-year old Freestyle (by Didermark x Donnerhall), soon to be joined by the 4-year old VIP (by Vivaldi x Donnerhall). VIP is out of Furstenball's dam and is currently in Germany as she's qualified for the 2015 Oldenburg Elite Mare Show in Rastede in July.
Giving Rising Talent a Future
Emma's vision goes beyond offering already well established Grand Prix riders the fruit of the loom. Blundell undertook a one-year search to find a proper resident trainer for the young dressage horses. She wanted a young rider,who was kind and gentle with the horses, classically schooled and with the right mentality to fit into the Mount St. John team.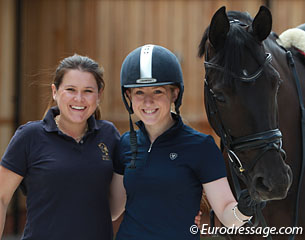 "I literally looked all over the world for a rider with a good training system, no diva behaviour, available to move to the U.K., and willing to get on young horses," Emma admitted. "I also needed someone who was willing to let me in. In the end I found someone locally in the showing world, where both Charlotte Dujardin and I have our background."
Lucinda Elliott is the newest addition to Mount St. John as resident young horse rider. Emma has known Lucinda and her family for six years in showing and Lucinda has already ridden horses for her in the past. Elliott arrived at the yard late 2014 and was immediately sent to Germany with eight horses for an immersion course young horse training with Simon Kohlenbrenner, Nadine Plaster, Andreas Senge and Sandra Kotter.
"Lucinda worked so hard there and by Christmas she was getting ill, her entire body was swollen. She said she had just developed some allergies but we had to hospitalize her with glandular fever. She was not allowed to ride for three months due to a swollen spleen, so the horses went to Emile Faurie, where Lucinda picked up the training again as soon as she was better," Emma explained. "She now also trains sometimes with Charlotte when her timing allows it."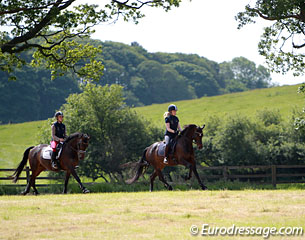 At her second national dressage show, Elliott has already qualified three Mount St. John horses for the 2015 British Dressage Championships, including Sophia (by Sam Amour x Furst Heinrich), MSJ Fascination (by Furstenball x Dacaprio) and Furstin Fugger (by Furst Heinrich x Weltmeyer).
The fearless Finnish eventing rider Pauliina Marttila does the breaking of the youngsters and together with Elliott she often takes the young ones out hacking in the Yorkshile fields so they can stretch their legs and stay fresh in their mind. It is a fixed part of the weekly training schedule of all dressage horses at Mount St. John.
Building Bridges
With her breeding yard in full swing Emma has surrounded herself with the proper expertise to make Mount St. John a success story. She is now able to travel the world and build a network. German stallion mogul Paul Schockemohle and his Danish business partner Lone Boegh Henriksen acquired six 2014 born colts from the farm, which says enough about the quality on offer at Mount St. John. Emma usually keeps the fillies for a few years to preserve the genes and get them started under saddle before deciding on their future.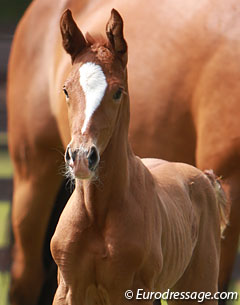 To build bridges with colleague breeders and professional dressage riders and to expand her network in general, Emma undertook trips to Wellington (FL, USA), Australia and Denmark. She met the most amazing breeder friends with whom she stays closely connected. Lone Boegh Henriksen is one of them
"I sold an embryo to Lone out of one of my top mares, Best of All, because it was sexed as a colt. Now it has turned out to be a smashing filly," said Emma. "Lone first didn't want to show me the filly when she was born, so I flew to Denmark one month later just to see this one. When I saw the filly I never felt that way before. I was so happy, but I could also cry. She is such an amazing foal. But Lone really has the best place for her to get reared and she will get to do the Oldenburg Mare Performance test and hopefully Rastede. I felt honoured when Lone asked me if she could name the filly Best of Mount St. John. Of course I agreed."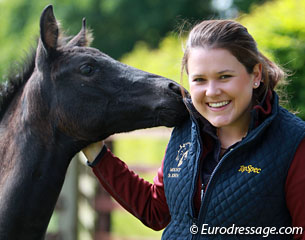 Emma certainly does not come across claiming all the sunshine for herself in the Mount St. John project. She loves to share her goals and passion for foals and dressage with the right people. Blundell sets a very high standerd but looks at the bigger picture: working together with high class professionals such as Emile Faurie and Charlotte Dujardin, finding the best riders to buy her foals and youngstock, and she is paying it forward by providing opportunities for young, gifted riders such as Lucinda and Pauliina to grow on her horses, and sponsoring young horse classes on the British show circuit. Emma wants Mount St. John to stamp the dressage and breeding world by exporting the best of Britain.
Mount St. John has its annual open day on Saturday 4 July 2015. Don't miss it as Charlotte Dujardin will be riding a set of youngsters and give a master class! More info on the MSJ Facebook page.
The official Mount St John webpage is www.mountstjohnequestrian.co.uk 
Text and Photos © Astrid Appels/Eurodressage
Related Links
Mount St. John, the State of the Art Dressage Breeding Centre in Great Britain
Mares Selected for 2015 Oldenburg Elite Mare Show in Rastede
Dujardin Invests in Future Stars of Dressage from Mount St. John
Selten HW Wins Mount St John Future Elite Championship at 2014 Horse of the Year Show