2015 CDN Massenhoven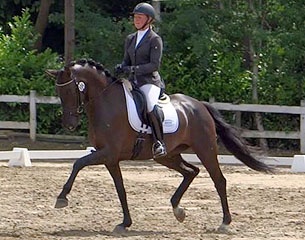 The sixth and final leg of the Belgian selection trial for the 2015 World Young Horse Championships took place at the national show in Massenhoven on Saturday 14 June 2015. The 5-year old Fabiola and the 6-year old Jar of Ballmore were the winners of the qualification classes and collected the last points for the provisional ranking to get invited to the decisive finals where a team will be picked.
The ten highest ranked horses out of six trials are invited to the finals at the CDN Overijse on 20 June 2015 were the actual team will be picked. The four best results achieved at these trials count for the WCYH ranking. The ground jury at the finals in Overijse will consist of two panels of two official judges and a panel of two experts, appointed by the Belgian Dressage Committee. They will decide on the final ranking of the horses in Overijse. The top four ranked horses in the 5 and 6-year old division will be nominated for Verden.
In Massenhoven, the 5-year old Dutch warmblood mare Fabiola (by Sir Oldenburg x Rolex) was a league of her own. Under owner and rider Rob van Puijenbroek, the mare scored an 83.400 and left all competition far behind her. Domien Michiels and the Belgian bred Kokoschka van de Burggrave (by Rubiquil x Krack C) landed second place wiht 78.000 points and edged out Katrien Verreet on the Oldenburg mare Gallartica Biolley (by Galliani Biolley x Florestan) with 77.400.
In the 6-year old division, the winners of the fifth qualifier, Tom Heylen and the Belgian warmblood stallion Jar of Ballmore (by Gribaldi x Sunny Boy), won again in Massenhoven; this time with a score of 82.60.  Katrien Verreet and her home bred Oldenburg gelding Quorum Y (by Quaterline x Uniform) were second with 81.600. The pair tied with Kara Bosman on Barbara Masselus and Yves De Smedt's mare Jersey Girl (by Johnson x Rosso di Sera).
Massenhoven also featured a 4-year old category which was won by Dominique Mohimont on the Dutch bred Genie (by Zhivago x Sandro Hit). The duo took home the trophy in Cheratte and in Schilde and now led with 86.200 points. Nick van Laer was the runner-up on Basali (by Belissimo M x Weltmeyer) with 82.200 points.  Van Laer took over the ride on the gelding from owner Flore de Winne. 
Results - 2015 Belgian WCYH Selection Trial - Massenhoven
4-year olds
1. Mohimont Dominique - Genie - 86,200
2. Van Laer Nick - Basali  - 82,200
3. Verreet Katrien  - Fortalezza Biolley - 75,800
4. Engelen Leopold  -  First Diamond "N" -  75,000
5. Martel Shawnee  -  Fürst De Niro -74,800
6. Vandecappelle Ine  -  Generaal - 73,600
7. Moordtgat Anke -   Dublin -  73,000
8. Engelen Leopold   - First Class "N" - 70,800
9. Vandecappelle Ine  -  Lady Kahn - 68,600
10. Michiels Jan -   L'Equipe -  67,600
11. Michiels Jan -   Ballantines M  -  65,200
12. Taymans Corine  -  Galando  -  56,400
5-year olds
1. Van Puyenbroek Rob - Fabiola -  83,400 
2. Michiels Domien - Kokoschka Van De Burggrave - 78,000
3. Verreet Katrien -  Gallartica Biolley - 77,400 
4. Laevens Kevin - Kozinsky Vd Dries -  77,000
5. Pauluis Larissa  -  Fame -  76,800
6. Samyn Anemone  - Forever Love  - 76,200
7. Franckx Tom -  showdancer - 75,600
8. Van Vugt Sofie  -  Lovely One - 74,200
9. Heylen Inge -  Kalagan "h" -   71,400
10. Van Hoey Wim  - Figo   - 66,800 
11. Vanpottalsberghe Maya - Berreaux   - 65,60
6-year olds
1. Heylen Tom - Jar of Ballmore -  82,600
2. Verreet Katrien  - Quorum Y - 81,600 
2. Bosman Kara -  Jersey Girl  - 81,600
4. Appelmans Eefje - Eldorado Pb -  80,600
5. Heylen Tom -  El Capone -  79,600
6. Mohimont Dominique  -  El Corona Texel - 75,400
7. Walravens Stephanie -  Esteban M -  72,600
8. Engelen Leopold -  Dolce 'N' -  69,800
9. Samyn Anemone  -  Fuchsberger -  66,700 
10. Hesters Steffi  -  Emporio SH   - 66,000
Related Links
Eurodressage Coverage of the 2015 World Young Horse Championships
Forever Love and Jar of Ballmore Win Fifth Leg of 2015 Belgian WCYH Selection Trials
San Amour II and El Capone Win Fourth Leg of 2015 Belgian WCYH Selection Trials
First Diamond N, Forever Love, Gallartica Biolley, El Capone Win Third Leg of 2015 Belgian WCYH Selection Trials
First Diamond N, First Lady, El Capone Win Second Leg of 2015 Belgian WCYH Selection Trials
First Diamond N, First Lady, El Capone Win First Leg of 2015 Belgian WCYH Selection Trials