Italian Dressage News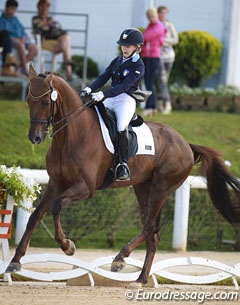 As one of the last countries to announce their teams for the 2015 European Junior/Young Riders Championships in Vidauban, France, on 1 - 5 July 2015, Italy has finally made its official team selection after some internal debate about qualification criteria. Italy will be sending a complete Children, Junior and Young Riders team to Vidauban. 
Whereas in the past riders had to score 66% three times at an international show, last year FISE (Italian federation) had changed its rules  allowing itself some leniency on the selection of the fourth team member to complete a team in case only three qualify.
"The rules for the fourth (are) chosen by FISE," chef d'equipe Laura Conz told Eurodressage. "The qualifications scores are good. Hopefully they will confirm at the European Championships."
Conz, who is the chief of the FISE dressage department, said that the rules for this year are: "At least three riders have to achive (66%) in 2 CDI abroad, just one (66%) in Italy is allowed and one (score) from 1 september to 31 december 2014, at least a 66% score in team or individaul test in a CDI. If there are two or less riders qualified, than FISE can decide to send or not to send a team."
This year's selection process concluded on 9 June 2015. All selected horses underwent a vet inspection by the team vet during the week of 15 - 21 June.
The Italian teams are supported by chef d'equipe Laura Conz, assistant chef d'equipe Laura Berruto and team veterinarian Danuele Dall'Ora.
The Italian teams include:
Children
Beatrice Arturi - Sandro Minka Est
Andrea Neri - Leo Pascal Santo Stefano
Leonardo Protti - Bailando Cobra
Junior Riders
Lucia Berni - Ebony
Alice Campanella - Varisto
Ginevra Coperchio - Don Rodrigo
Valentina Remold - Broadway
Young Riders
Anna Chiara Menin  - Donatello Van de Helle
Chiara Prijs Vitale  - Dior
Francesca Rapazzoli  - Classiker
Xenia Herta Schumann - Remidemi
Photo © Astrid Appels
Related Link
Eurodressage Coverage of the 2015 European Junior/Young Riders Championships