2015 Bundeschampionate Qualifier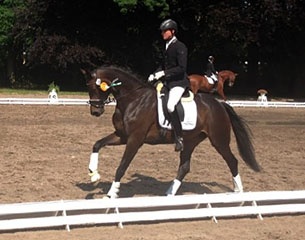 The 5-year old Biscaya OLD and the 6-year old Dark Sugar claimed their spot in the winner's circle at the regional dressage show in Bremen, Germany on 12 June 2015, where two Bundeschampionate qualification classes were held.  This well attended event was able to rally no less than 38 horses in total for two classes.
In the 5-year old division David Taylor steered Bernadette Brune's Oldenburg mare Biscaya OLD (by Bordeaux x Quattro B) to a winning score of 8.1. The elegant dark bay mare earned 8.5 for trot, 8 for walk, 7.5 for canter, 8 for submission and 8.5 for general impression. Steffen Frahm and Gestut Dillenburg's Hanoverian stallion Ben Kingsley (by Benetton Dream x Londonderry) were the runners-up with 8.0. The liver chestnut stallion got 7.5 for trot, 8 for walk, 8.5 for canter and 8 for submission and general impression.
Demona Engelbrecht and Alfons Brunen's Westfalian mare Dark Sugar reigned in the 6-year old division with a total score of 8.1. The dark bay mare got 8.5 for walk and trot, 8 for canter, 7.5 for submission and 8 for general impression. Yvonne Reiser and Heinz Ahlers' Oldenburg gelding Sunlight (by Sungold x Licotus) slotted in second with 8.0. The bay gelding got 8.5 for trot and canter, 7 for walk, and 8 for submission and general impression.
Results - 2015 Bundeschampionate Qualifier - Bremen
5-year olds
1. Biscaya OLD (by Bordeaux x Quattro B) - Taylor,David  - 8.10
2. Ben Kingsley (by Benetton Dream x Londonderry) - Frahm,Steffen  - 8.00
3. Fürst Ramiro M (byFürstenball  x Sunny-Boy) - Tewes,Melanie  -  7.70 
4. Boney M 1 (by Bonifatius x Don Vino) - Burger,Hermann  - 7.60  
4. Finesco (by Floriscount x Lauries Crusador xx) - Meyer,Michael  - 7.60   
4. Der Lichtblick (by Der Designer x Floresco) - Rippelbeck,Cathryn  - 7.60   
7. Bodhitara (by Bonifatius x Weltmeyer) - Bramall,Leonie  -  7.50   
7. Royal Cosmo (by Royal Classic x De Niro) - Bramall,Leonie  - 7.50   
9. Lando (by Londontime x Florencio) - Lackas,Felicitas  -  7.40   
9. Daimler (by Dancier x Rotspon) - Finger,Annemarie  - 7.40   
11. Donatello (by Damon Hill) - Leßnig,David  - 7.30   
11. QC Drama Queen (by Ampere x Donnerhall) - Pundsack,Marita  -  7.30   
11. Darco von Nymphenburg (by Danone x Weltruhm) - Bewerungen,Eike  -  7.30   
14. Raya (by Royal Classic x Waterford) - Kleemann,Anne Maria  - 7.20   
15. Rikard (by Royal Classic x Summertime) - Müller,Franziska  - 7.10   
16. Jocy S (by Just Perfect x Donnerschwee) - Becker,Anna-Marie  - 7.00   
16. Flavia de Luce (by Fidertanz x De Niro) - Horstmann,Anne  - 7.00   
18. Londonfly (by Londontime x Cordoba) - Tietze,Janina  - 6.80   
18. Livaldon (by Vivaldi x Donnerhall) - Böhnke,Sascha  -  6.80   
18. Sir Winston Churchill (by Sarkozy x Wolkenstein II) - Meyer,Michael  - 6.80   
21. Königsberg (by Imperio x Hibiskus) - Dierkes,Ariane  - 6.70   
22. Gandhi (by Gribaldi x De Niro) - Witte,Wolfhard  - 6.50   
Don't Worry K (by Dancier x Londonderry) - Engelking,Anne  - RET
Bellmeier (by  Belissimo M x Weltmeyer) - Plaster,Nadine  - RET              
6-year olds
1. Dark Sugar (by Damon Hill x Sandro Hit) - Engelbrecht,Demona  -   8.10
2. Sunlight  (by Sungold x Licotus) - Reiser,Yvonne  -   8.00
3. Schwarzgold  (by Imperio x Consul) - Böhnke,Sascha  -  7.80
4. Sunday Morning KDH (by Sir Donnerhall x Donatelli) - Wellhausen-Henschke,Birgit  - 7.70 
5. Brisbane (by  Belissimo M x Fürst Heinrich) - Schnieder,Rieke  -   7.60   
6. Sign of freedom (by Sandro Hit x Hohenstein) - Seymour,Tanya Karen  -  7.40    
6. Fortuna (by Fidertanz x De Niro) - Oberdieck,Sabine  - 7.40    
8. Sherlock Holmes A (by Sarkozy x Rubinstein) - Osborne Diez,Alvaro  - 7.20    
9. Doria (by Don Frederico x Rubin-Royal) - Burger,Hermann  - 7.10    
9. Federer (by Fineliner x Longchamp) - Frieling,Sandra  - 7.10    
9. Roscardy Couleur (by Rascalino x Weltbürger) - Stelling,Catharina  - 7.10    
12. Doc Hollywood (by Don Schufro x Sandro Hit) - Andras,Ruth  -  6.70    
13. Forrest Gump (by Fürst Romancier x First Game H) - Becker,Anna-Marie  -  6.60    
14. Cassy (by Casiro x Ginsberg) - Andras,Ruth  - 6.50
Related Link
Eurodressage Coverage of the 2015 Bundeschampionate