Opinions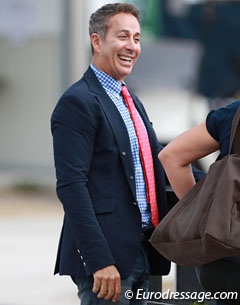 Guest columnist of the week is Robert Dover, U.S. team trainer and multiple U.S. Olympic team rider. He recently penned down his views on  Olympic qualification through the Pan American Games and appeals for a new Olympic qualification format excluding the Pan Ams as long as they still include small tour level combinations.
Rethinking the Future Olympic Formula
I have gone on record saying I believe the FEI has done a disservice to our sport by changing the number of countries able to achieve Olympic berths at the WEG's from four to three and from the Pan American Games from two to one.
Both the United States and Canada achieved an average score of over 70% at the WEG's with the USA averaging closer to 75%! In Jumping, the top 5 nations at the WEG's are given Olympic berths and had we at least stayed with the top 4, America would have its berth now and Canada would most likely gain theirs at the Pan Am's.
Australia, with a far lower score than Canada or the U.S., is in because they had the highest score from their Pan-Asian region at the WEG's. I love the Aussies but does this make sense to anyone?
We are where we are and America is as ready as we can possibly be to contend for that one team spot available through this unworthy system. But I certainly hope the small but powerful group of people leading our sport on the FEI Dressage Committee and our Director of Dressage at the FEI hear me and I believe all of us from our continent loud and clear.
A better formula using a minimum average team percentage threshold at the WEG's such as 72%, for instance, should automatically give those nations berths in the Olympics. After that, they can determine the rest by regional championships which must be meaningful. And by meaningful, a Pan American Games using Small Tour athletes is and always has been nonsense with regard to producing a berth for an Olympics. Only full Grand Prix Teams should be able to gain an Olympic spot.
I wish everyone the very best of luck and great sport in Toronto and hope that our leadership rethinks the future "Olympic Formula".
-- by Robert Dover
Photo © Astrid Appels
Related Links
Proposed Qualification System for the 2016 Olympic Games in Rio de Janeiro
Maribel Alonso Making Waves As Judge, Official and FEI Dressage Committee Member
Laura Tomlinson-Bechtolsheimer: FEI's Future of Dressage, Changes for the Better?
David Stickland: So You Want to Go to Rio?