2015 World Championships for Young Dressage Horses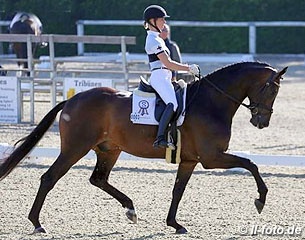 The German equestrian federation held its first selection and observation trial for German team selection for the World Young Horse Championships in Verden, Germany, 5 - 9 August 2015. This first out of two trials took place at the DOKR head quarters in Warendorf, Germany, on 16 - 17 June 2015.
The German equestrian federation has been using the same the selection format for Verden for the past three years. They schedule two training and selection days, whereas in 2012 they were still selecting based on one two-day period with a training and a test-riding day.
The first 2015 German WCYH trial consisted of a training day and the preliminary test riding the next. The second and final trial is scheduled for 1 July 2015.
Twenty-seven horses were presented in both age division and they were assessed by judges Reinhard Richenhagen, Klaus Ridder (Datteln) and team trainer Monica Theodorescu.
The long listed horses for the second trial are:
5-year olds:
Bluetooth, Oldenburger gelding by Bordeaux x Riccione - Rider: Eva Möller
Burberry, Hanoverian stallion by Belissimo M x De Niro - Rider: Jan-Dirk Gießelmann
Deluxe, Rhinelander mare by Don Primus x Wolkentanz II - Rider: Laura Blackert
Elysee, Bavarian  mare by L'Espoir x Ehrentanz I - Rider: Franz Trischberger
Filius Bonacci H, Westfalian stallion by Filius Bedo x Rubinstein - Rider: Tanja Sauerwald
Florina, Hanoverian mare by Fürst Romancier x Donnerhall - Rider: Claudia Rüscher
Fusion OLD, Oldenburger stallion by Fürst Romancier x Sion - Rider: Anja Engelbart
Quantensprung, Hanoverian stallion by Quando Quando x Donnerhall - Rider: Vera Nass
Rock Forever II, Westfalian stallion by Rockwell x Landstreicher - Rider: Ann-Kathrin Wilting
Rockman, Westfalian stallion by Rock Forever I x Show Star - Rider: Stefanie Wolf
Sir Olli, Oldenburger stallion by Sir Donnerhall x Florestan I - Rider: Ann-Christin Wienkamp
Zalando, Oldenburger stallion by Zack x Sunny Boy  - Rider: Nicole Casper
Zikade, Trakehner  mare by Singolo x Tambour - Rider: Dorothee Schneider
6-year olds:
Bodyguard, Hanoverian stallion by Burlington x Pik L  - Rider: Jana Freund
Brancusi, Trakehner gelding by Kaiserdom x Cupric xx  - Rider: Monika Mittermayer
Damon's Dejaron, Westfalian stallion by Damon Hill - Rider: Heiner Schiergen
Danza, Hannoveraner mare by Dimaggio x Rubin-Royal - Rider: Julia-Katharina von Platen
Danzarino OLD, Oldenburger stallion by Diamond Hit x Laurentio - Rider: Katrin Burger
Belantis, German sport horse stallion by Benetton Dream – Expo'se - Rider: Beatrice Buchwald
Fair Play H, Baden Württemberger gelding by Fürst Hohenstein x Disco-Tänzer  - Rider: Ines Knoll
Lady Loxley M, Rhinelander mare by Lord Loxley x Abanos - Rider: Carola Koppelmann
Quotenkönig, Westfalian stallion by Quaterback x Fürst Piccolo - Rider: Lisa Lindner
Ray Dance, Westfalian stallion by Rockwell x Van the Man - Rider: Ann-Christin Wienkamp
Soiree d'Amour, Oldenburger mare by San Amour x Latimer - Rider: Kira Wulferding
Stanford, Rhinelander stallion by Sir Donnerhall x Diamond Hit - Rider: Dorothee Schneider
Super Mario, Oldenburger stallion by For Compliment x Royal Dance - Rider: Marianne Helgstrand
Sweetheart FH, Hanoverian mare by Hohenstein - Rider: Marcus Hermes
Related Link
Eurodressage Coverage of the 2015 World Young Horse Championships